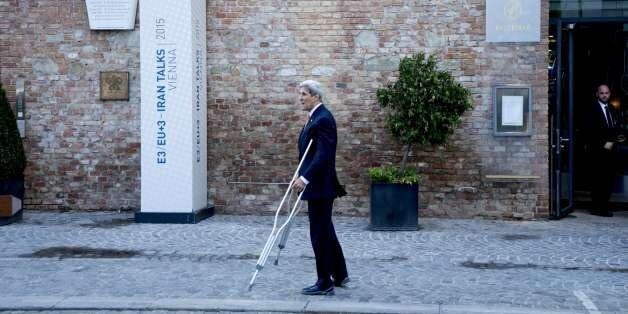 Iran and six world powers passed another milestone on Thursday in their months-long negotiations over Tehran's controversial nuclear program with still no agreement in place.
Their failure to conclude a deal by midnight Thursday doubles the amount of time that Congress has to review the deal once it comes through, to 60 days, before U.S. sanctions can be lifted, casting further uncertainty over its smooth passage through the U.S. legislature.
Earlier Thursday, U.S. Secretary of State John Kerry told reporters in Vienna, where the negotiations are being held, that the U.S. would not rush a deal, and was still willing to walk away if no satisfactory agreement can be made.
"We are not going to sit at the negotiating table forever," Kerry said. "But we should not get up and leave simply because the clock strikes midnight."
The top adviser to Iran's Supreme Leader Ayatollah Ali Khamenei accused Kerry of trying to heap pressure on Iranian negotiators, and said they would not budge on their own "red lines." Kerry's comments are "part of America's psychological warfare against Iran," Ali Akbar Velayati said, according to the semi-official Tasnim news agency.
Iran and the so-called P5+1 group -- the U.N. Security Council's five permanent members, plus Germany -- have been negotiating for months over a deal to curb Iran's nuclear program in exchange for sanctions relief. The sides are still wrangling over the the pace and scope of sanctions relief to Iran, as well as how the deal will be monitored, according to Reuters.
In 2013, Iran and the six countries -- China, France, Russia, the U.S., the United Kingdom and Germany -- reached an interim accord that froze some of Tehran's nuclear work in exchange for partial sanctions relief. In April of this year, they said a framework deal had been reached and set a June 30 deadline for a final deal, which was extended twice in recent weeks.
Some in the international community suspect Tehran of using its nuclear enrichment program to build a nuclear weapon. Iran insists that the program is solely for peaceful purposes.
Under legislation passed in May, President Barack Obama had until Thursday to present the deal to Congress before the review period was extended to 60 days, during which Obama cannot suspend congressionally enacted sanctions. During the review period, Congress has the opportunity to vote against the deal, which would need a two-thirds majority in both Houses to override Obama's presidential veto. A resolution of disapproval is currently unlikely to get that many votes, but advocates of the nuclear deal fear that extra delays could bolster the opposition camp and eventually sink the deal.
Obama administration officials say the U.S. remains ready to leave from the negotiations entirely if they aren't able to reach a good deal. They will need to convince not only domestic opponents, but also skeptical regional powers like Israel and Saudi Arabia who could take unilateral action to prevent a nuclear-armed Iran.
Calling all HuffPost superfans!
Sign up for membership to become a founding member and help shape HuffPost's next chapter
BEFORE YOU GO
PHOTO GALLERY
Iran Celebrates Nuclear Agreement