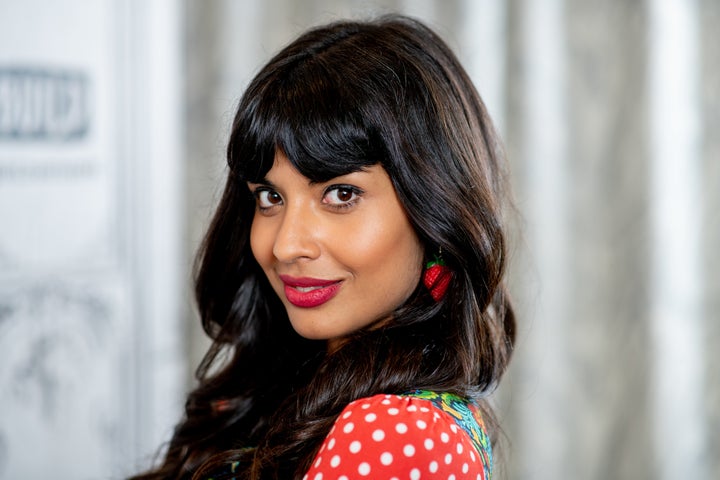 For the past few seasons, "The Good Place" has received rave reviews, and the diversity of the NBC show's cast has only added value. 
Jameela Jamil, a South Asian actress who plays boujee upper-echelon princess Tahani Al-Jamil, recently told NPR that the diversity on the show has been refreshing.
She recalled one particular episode that included her and two other South Asian actresses ― "none of whom were playing South Asian people with South Asian accents, we were just playing people."
"We constantly talk about this whenever we're on screen together, that it's so nice to have more than one [of us] on set at a time, and also for that not to be the staple part of our character," Jamil said. "It is really quite sad how remarkable it is, but I hope more people kind of see that we haven't bombed because there are brown people on television, and they will follow suit." 
The U.S. entertainment industry can be limiting for actors of color. In 2015, Aziz Ansari said at EW Fest that they often have to grapple with unwritten racial quotas. And these quotas are particularly unforgiving when it comes to Asians, as "there would never be two Indian people in one show. ... Asian people, Indian people, there can be one, but there can't be two," he said. 
South Asian actors also struggle in the face of Hollywood's deep-seated colorism. In April, former "Quantico" star Priyanka Chopra revealed that she lost out on a movie role last year because of her skin color. 
"I was out for a movie, and somebody [from the studio] called one of my agents and said, 'She's the wrong ― what word did they use? ― physicality.' So in my defense as an actor, I'm like, 'Do I need to be skinnier? Do I need to get in shape? Do I need to have abs?' Like, what does 'wrong physicality' mean?" Chopra told InStyle. "And then my agent broke it down for me. Like, 'I think, Priy, they meant that they wanted someone who's not brown.'"
Yet study after study shows that audiences crave diverse content. Research earlier this year from UCLA once again demonstrated that projects with diverse casts earn the highest box office and viewership numbers ― but Hollywood is slow to get the message.
"Our reports have continually shown that diversity sells, but the TV and film product continues to fall short," wrote Ana-Christina Ramón, one of the report's co-authors. "So audiences are left starved for more representation on screen that reflects the world they see in their daily lives."
REAL LIFE. REAL NEWS. REAL VOICES.
Help us tell more of the stories that matter from voices that too often remain unheard.