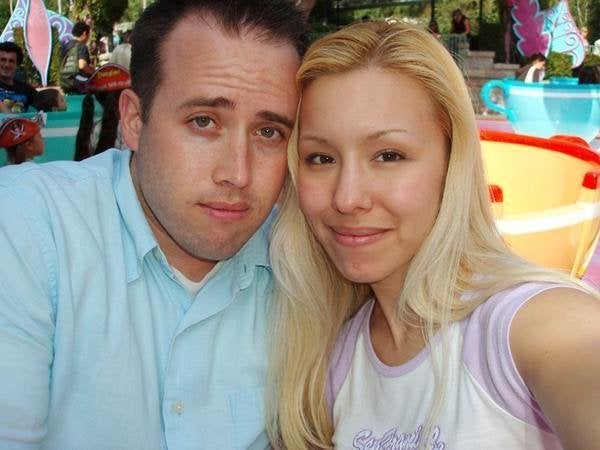 MESA, Ariz. -- Prosecutors presented a phone recording of murder suspect Jodi Arias' first conversation with police in court today on the second day of the long-awaited trial for her boyfriend's 2008 slaying.
The body of 30-year-old Travis Alexander, the man Arias dated for months, was found by his friends in his shower in Mesa, Ariz. His throat had been cut from ear to ear, and he had been shot in the face and stabbed 27 times, prosecutors said Wednesday. Arias was slapped with a first-degree murder charge and faces the death penalty if convicted.
The recording is part of the evidence detailing Arias' behavior shortly after Alexander's grisly death. It was played in court after Maricopa County Prosecutor Juan M. Martinez called Mesa Police Det. Esteban Flores to the witness stand.
Flores, the lead detective in the case, said he was at Alexander's house on June 9, 2008, after the victim's body was discovered by friends. Flores said he conducted a phone interview with Arias the following day, after he was notified she wanted to speak with him.
During the recorded call, she described herself as a good friend of Alexander's and said she wanted to help police in any way that she could.
PHOTO from the courtroom (story continues below):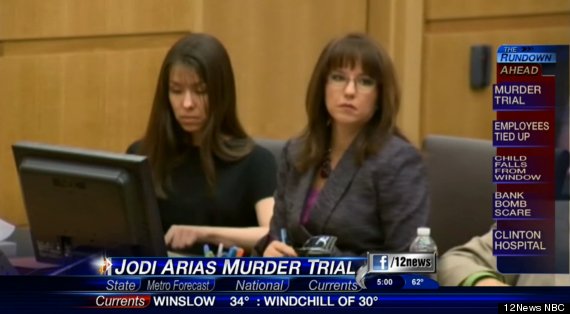 Jodi Arias (left) looks down as her lawyer, Jennifer Willmott, looks on.
Arias, who seemed to go from giddy to emotional at various times throughout the audio recording, told Flores that she had heard Alexander had passed away and that there was a lot of blood at the crime scene. She asked about what type of weapon was used or recovered at scene, but Flores told her he was unable to discuss that information with her.
Asked by Flores in the recording if Alexander owned any firearms, Arias said he had none that she was aware of. She did, however, offer that Alexander was into mixed martial arts and had a punching bag that he liked to "beat the crap out of." His weapons, Arias said on the recording, were his two fists.
Asked about her relationship with Alexander, Arias said that they had not dated long.
"We dated for like five months and we broke up and actually did not see each other for quite a bit," Arias said. "[We] tried to remain friends, more like buddies. We were intimate but I would not say romantic as far as a relationship goes."
Arias added, "I'm telling you this to help in any way I can."
In regard to the couple's breakup, Arias said she had a suspicion Alexander was cheating on her. She said she could not trust him and claimed he would get "upset real easily."
During the interview, Flores told Arias that Alexander's friends had alleged that she had hacked into Alexander's email. Arias denied the allegation.
"People felt you were taking advantage of him or hanging out when you weren't wanted," Flores said.
Arias dismissed the opinion of Alexander's friends and said she feels they talk about her because she is an ex-girlfriend.
"We need to know who had some type of beef with him or why they would want to do this to him. It was an angry situation. Somebody went in there to hurt him and they did –- hurt him really bad," Flores said at one point in the recording.
Arias said Alexander was really strong and she could not understand how anyone could overpower him. She also said she was concerned because, "He never locked his doors."
When the recording ended in the courtroom, Martinez turned the witness over to defense attorney Kirk Nurmi for cross-examination.
Nurmi asked Flores if he had ever seen a picture of a French maid outfit that Alexander allegedly wanted Arias to wear when she would clean his home. Flores testified that Arias told him that she had cleaned Alexander's house, but said he had never seen a picture of the French maid outfit.
The defense attorney then questioned Flores about a tassel or a piece of rope – an item the defense suggests may have been used during bondage play -- that was found at the crime scene. Flores confirmed that pieces of rope were found on the staircase, bedroom and bathroom.
Nurmi moved on from the rope to emails Alexander allegedly sent to Arias. Nurmi asked Flores if Alexander had called her names in the emails, like "slut" and "whore." Martinez objected, citing hearsay and speculation, but judge Sherry Stephens allowed the question. Flores then confirmed that Alexander had sent messages to Arias calling her those names.
Court was recessed until 3:30 p.m. ET.
Arias maintains that she killed Alexander in self-defense when he flew into a violent rage. Prosecutors contend that she was a jealous woman who killed Alexander because he wanted to end their relationship.
After the recess, Flores read from a Facebook message that he said Alexander sent to Arias:
"I was nothing more than a dildo with a heartbeat for you," the message read.
Later, a fingerprint examiner with Mesa police, Heather Connor, took the stand and unveiled evidence found at the crime scene.
Forensic teams took a total of three days to complete processing the crime scene at Alexander's house, and found evidence in his washing machine, Connor said. The contents included clothing and a broken digital camera, which contained a SIM card, though more information about the card wasn't yet released. The clothing items, as well as a towel, appeared to have bleach stains, she said.
Court proceedings will resume on Tuesday.
Related
Before You Go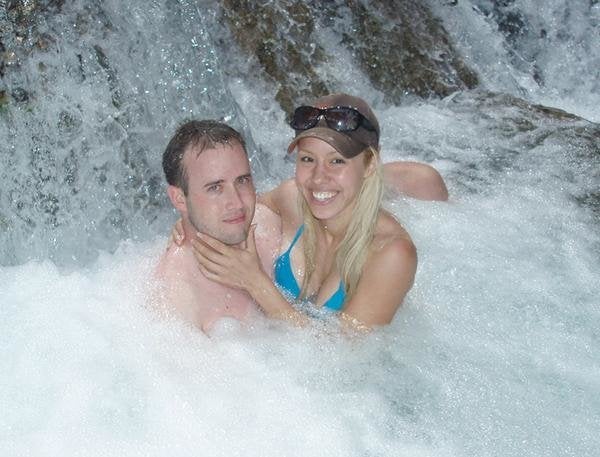 Jodi Arias
Popular in the Community