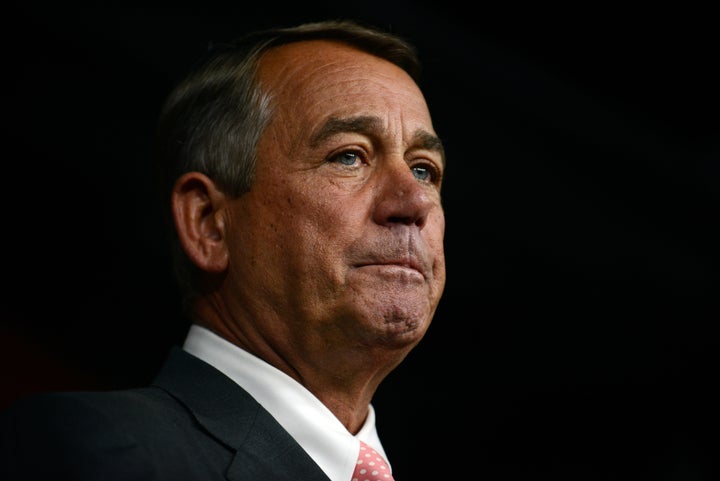 When Speaker of the House John Boehner (R-Ohio) steps down later this year, he'll leave much of his party seething, not only at his tenure, but also at congressional Republicans in general, whom many see as being weak, and having reneged on campaign promises.
In a new HuffPost/YouGov poll, 49 percent of Republicans say they disapprove of Boehner's tenure as House speaker, while just 28 percent approve.
Forty-four percent say that Boehner hasn't been conservative enough, while just 28 percent think he was about right or too conservative. Fifty-two percent said Boehner compromised too much with Democrats, while just 8 percent said he didn't compromise enough.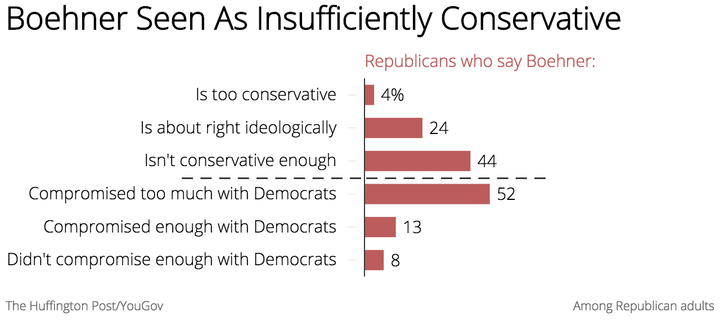 Republicans' frustration isn't only aimed at Boehner: A 54 percent majority of the GOP rank-and-file also said they disapprove of their party's congressional representatives. While 32 percent said Boehner was worse than other Republicans, 12 percent said he was better, and 34 percent that he's about the same.

When Republicans and Republican-leaning independents who are unhappy with GOP legislators were asked about the main reason for their disapproval, some criticized the institutional gridlock, others the GOP's partisan infighting. "They are not working together to get things very important to our country done," one respondent to the poll wrote. "[T]hey are fighting with each other and are not listening to their supporters."
Others felt that the party's legislators weren't sufficiently conservative, or were failing to make headway on specific issues like cutting spending, combatting the Affordable Care Act or defunding Planned Parenthood. A handful wanted Republicans to compromise a little bit more.
Most prevalent, though, was a sense of betrayal. The bulk of responses either bemoaned Republicans' weakness in taking on President Barack Obama and other Democrats, or accused them of failing to listen to voters and deliver on their newfound majority.
"They don't follow through on the promises they made when trying to get elected," one disgruntled Republican wrote. "And they don't fight the conservative fight."
The HuffPost/YouGov poll consisted of 1,000 completed interviews conducted Sept.  26-28 among U.S. adults, using a sample selected from YouGov's opt-in online panel to match the demographics and other characteristics of the adult U.S. population.
The Huffington Post has teamed up with YouGov to conduct daily opinion polls. You can learn more about this project and take part in YouGov's nationally representative opinion polling. Data from all HuffPost/YouGov polls can be found here. More details on the polls' methodology are available here.
Most surveys report a margin of error that represents some, but not all, potential survey errors. YouGov's reports include a model-based margin of error, which rests on a specific set of statistical assumptions about the selected sample, rather than the standard methodology for random probability sampling. If these assumptions are wrong, the model-based margin of error may also be inaccurate. Click here for a more detailed explanation of the model-based margin of error.
Calling all HuffPost superfans!
Sign up for membership to become a founding member and help shape HuffPost's next chapter