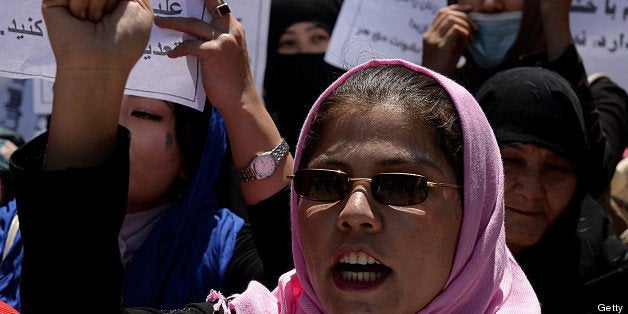 As I was sitting at my gate waiting for my plane in the Kabul airport, I was a bit conflicted about returning home. Personally, I had found Afghanistan to be challenging. I was constantly covering up, restricting my movements, keeping my eyes averted, being deferential. I was self-censoring in every way so as not to offend anyone. I found it a bit suffocating.
On the other hand, my trip had allowed me to meet with dozens of women and see many programs all working to ensure human rights, women's empowerment and safety from some of the most brutal domestic violence I'd ever encountered. I was humbled by the ongoing struggle of these advocates to create change in the face of seemingly insurmountable odds. Yet most everyone I met appeared to have a deep sense of optimism and commitment to seeing it through, even those who have been doing this work for decades in a country that has been at war, in one way or another, for 30-plus years.
It inspired me in a way I hadn't been inspired by the movement to eliminate violence against women in the U.S. for years. I was ambivalent about coming home, where it seems that, even though we are steeped in laws, funding and research which all support work providing safe housing and services for victims of violence, we still can't manage to end the violence. So I couldn't help but ask myself: In a country where we have it so good, why haven't we been able to do this?
And why, when the women in Kabul are so hopeful, was I -- and so many others like me -- so burnt out from the work?
It occurred to me that there's a fundamental difference between our two countries: Survivors in the U.S. have, and expect, options when they leave violent homes to restart their lives. Women in Afghanistan are dismally uninformed of even the precious few options available to them after they are forced from violent homes.
It's those expectations that make the true difference. In Afghanistan, there is no expectation that women will have a safe place to return home to, nor is there a presumption that shelters will even exist much beyond 2014. There is no expectation that the laws that protect women from abuse will continue to be enforced or will even be enforceable after a new president takes office. The advocates in Afghanistan are doing their work in the absence of any expectation of stable resources and support.
In the U.S., we have the expectation that we are all entitled to protection from abuse and that our justice system will, for the most part, help provide safety from violence. We assume that shelters and other housing programs for survivors will remain in force for many years to come. We expect that survivors can establish new, independent homes after leaving abusive situations.
However, even in the United States, we still don't have sufficient resources, programs or policies in place to meet what we've come to expect -- not enough to meet the need, at least. Funding is becoming more difficult to sustain programs; safe, affordable housing is increasingly less available; and violence still persists, despite the many laws to eradicate it. Indeed, our own Federal Violence Against Women Act, which had enjoyed near-universal support since 1994, came under attack by lawmakers for the first time ever last year during its re-authorization.
So, in a country where we have reason to believe there are resources and alternatives to ensure safety for victims, those resources are becoming scarcer and more uncertain, demand for services has increased as the public becomes better informed and programs struggle to meet an ever-growing, under-resourced need. Women and other victims in our country have been led to expect services to help them find safety and establish new homes -- a need which can't be fully met.
Even when women in Afghanistan do manage to escape domestic violence and make it to a shelter, that doesn't mean there's a happy ending. Because the options for them are so limited from that point on, women are often in an indefinite state of limbo, stuck in shelters with literally no place to go.
Ironically, that's becoming the case for many of the women in DASH's housing and in other shelter programs, where women come expecting help to find permanent, affordable housing where they can re-establish their lives and families safe from abuse. However, that's often not the case either due to a huge shortage of affordable housing, as well as living-wage employment options.
But we still hang on to our expectations. We still want that happy ending.
I realized, upon returning from Kabul, that to do anything less than demand that our expectations be fulfilled is woefully inadequate. We need to work hard now, both to give survivors full access to the multitude of options currently available to them as well as to make sure that those options remain and, yes, expand to meet the need. And we have to ensure that those options remain just that -- choices to be selected from, not mandates to fulfill. Until everyone can safely get what they need to determine the course of their own lives, we have not ensured full human rights in this country.
I believe we have something to learn from the women in Afghanistan. Their tenacity and optimism in the face of entrenched opposition is remarkable. Working within their cultural context, they are making incredible strides to create safety and options for women and girls. Their genuine commitment to building a better country is like a breath of fresh air.
Because the climate in Kabul is so dry and dusty, I ended up developing a common lung irritation known as "Kabul cough." As I waited for my plane to be called at the airport, struggling a bit to breathe, it occurred to me that Kabul had been suffocating in more ways than one. But the advocates in Afghanistan seem to have a greater lung capacity than I do.
I think we owe it to them, to survivors of violence -- really, to ourselves and our country -- to make it easier to breathe knowing that we can justifiably expect safety, resources and the right to live freely and independently. Everyone deserves that much.
Support HuffPost
The Stakes Have Never Been Higher
Related
Popular in the Community