WASHINGTON -- When she logged onto Kentucky's health insurance exchange website, Kimberly Cates did not have the problems that have plagued so many Americans trying to sign up for insurance under Obamacare. She browsed plans and compared them, and checked whether she was eligible for subsidies. Yet when it came time to actually enroll, she hesitated.
Cates has seen firsthand the consequences of not having coverage. For more than a decade, she has worked as a certified medical assistant in a family clinic in Paint Lick, Ky., that treats the uninsured and indigent. The irony is lost on no one that the clinic cannot afford to offer Cates health care benefits.
For years, insurance companies have eyed Cates' 5-foot, 245-pound stature and used it to either deny coverage or to offer her plans costing well beyond her means. As a result, the 40-year-old mother of three has been putting critical doctor visits and tests on her Visa. In February, she borrowed from an aunt to pay for her hysterectomy. A few years' health care bills added up to at least $15,000 -- more than half her yearly salary at the clinic.
Four days before Kentucky's health exchange, known as Kynect, launched on Oct. 1, Cates and her husband, Rodney, who collects disability due to a factory work injury, filed for bankruptcy. Now Cates was browsing the exchange website from the living room of a small apartment they found after losing their home. Cates and her husband had lived in an old farmhouse that had been in the family for generations, surrounded with flower gardens she tended. She needed Kynect to work and believed that it would.
After plugging in her information, the website produced two companies that offered plans. She'd heard of one. The other -- the nonprofit Kentucky Health Cooperative -- was foreign to her. The costs of the plans varied from $17 per month to $190 per month. They had high deductibles, and Cates wasn't confident that any offered prescription drug coverage (they did). It was all very unfamiliar. Once she got to the point where she had to pick a plan, she started to cry.
"I've not had insurance for so long," Cates says. "I didn't get my hopes up." After logging out of Kynect, she says she decided that Obamacare was "just too good to be true." It was not a statement of relief, but an expression of profound skepticism.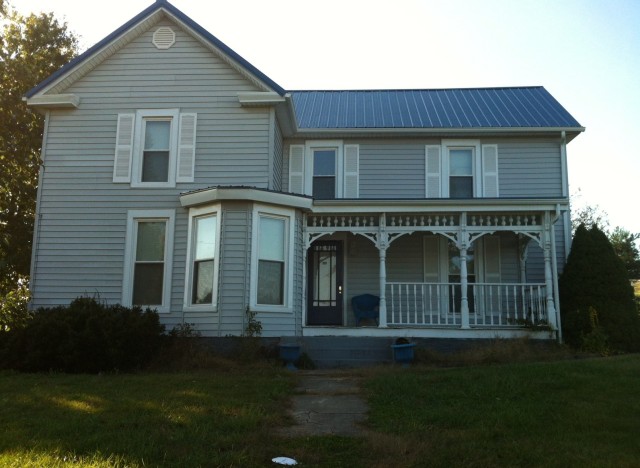 Cates' farmhouse that she lost in part due to medical bills.
Kentucky has some 640,000 uninsured residents. Many have put aside whatever reservations they may have harbored toward President Barack Obama or Steve Beshear, the state's Democratic governor, and have enrolled in the state's health exchange or joined the state's Medicaid expansion. More than 1,000 residents have signed up each day since Kynect opened.
The Bluegrass State's successful Obamacare rollout has become a favorite retort to the embarrassment of a hobbled federal website. "Look at Kentucky. Gov. Steve Beshear, who's a Democrat -- he is like a man possessed with helping more people get coverage," Obama said in a recent speech. "He thinks it's the right thing to do. Keep in mind I did not win in Kentucky. But there are a lot of uninsured people in Kentucky, and they're signing up."
Beshear is using all the powers of his administration to sell Obamacare, marshaling millions of dollars for branding and market research, heartwarming television spots and eye-catching bus ads. A hired army of true believers have held meetings across the state, spreading the word and rebutting misconceptions.
The effort may be paying off, especially when compared to the problem-plagued HealthCare.gov national website. But for every Kentucky resident who has enrolled, there are tens of thousands like Cates who are logging on, but not signing up. As of Nov. 1, 32,485 people have successfully enrolled, according to state figures. That number is dwarfed by the more than 318,000 who have accessed the Kynect website, browsed without making an account and left without committing. Even more troublesome, nearly 14,000 in the first month did enough with the website to know they qualify for a subsidized plan, but have not signed up. Trust is still buffering.
For more than three months, Cara Stewart, 32, has been driving her very dirty Toyota Prius all over Kentucky, holding seminars at libraries, bars, churches and meeting spaces to explain to anyone willing to listen why Kynect will benefit them. But after Kynect went online, the health law fellow and attorney with the Kentucky Equal Justice Center says she didn't expect to be finding residents who think Obamacare was repealed.
"It's maybe Groundhog Dayish," Stewart says, sounding a bit road weary. "[I'm] still hearing the same myths. I thought I would shift to doing a lot less community education and outreach by now."
Instead, during Kynect's fourth week in operation, Stewart keeps up her exhausting tour, traveling to Floyd County and then on to Leslie, Madison and Jackson counties, with a quick stop through Louisville on her way up to Northern Kentucky and the Cincinnati suburbs. She drove roughly 1,000 miles that week and ate too many Zaxby's chicken strips. It's not unusual for Stewart to give lectures about Medicaid eligibility at fast-food drive-through windows.
Stewart expects more road work. Her November schedule looks just like her October schedule, which looked just like her September schedule. She says she is still getting the same volume of requests for presentations. At a recent session before a group of 30 students at a community college in Northern Kentucky, only one had enrolled. All the others, Stewart remembers, thought they weren't eligible.
At every one of her meetings, there are tiny epiphanies -- like the farmer who showed up in his work overalls convinced his rates were going to double, but walked away relieved that he actually qualified for Medicaid. It's enough, Stewart says, to keep her going.
"It seems worth it as soon as you have that moment," she explains. "It seems worth it to come home at 11. It seems worth it to have to find random places to stay. It seems worth it when you have that moment where someone's life is going to change."
The Beshear administration views the Affordable Care Act as potentially transformative for Kentucky, making the state healthier and more economically viable. A Beshear-commissioned study estimated the reforms would generate jobs and revenue. The governor is counting on progress to be steady. His administration has ballparked a goal of enrolling a third of the state's uninsured population within the first year.
To meet that goal, however, Stewart has found that the holdouts need face time with outreach workers like her. They need follow-up phone calls and visits. They need time to feel comfortable with the companies and the plans being offered, and they need reassurance from people they trust. They need Kynect to come to them.
To help the hundreds of thousands of uninsured Kentuckians enroll in health care, the state has hired 622 "Kynectors," advocates trained to work with residents directly. Many work part time. While $60 million has been spent on website construction and operations, according to state figures, $8.9 million has been budgeted for these workers. Many advocates, like Stewart, are not being paid by the state, but through nonprofits.
Christie Hartlage, a Louisville-based Kynector, reports that her staff of five has been receiving 40 to 50 calls a day from residents wanting help enrolling. She has appointments booked every day into the second week of November. "People are hungry for this program and they are looking for us," Hartlage says.
In the early days of Kynect's launch, the Beshear administration caught on to the need, and sought to find creative ways to augment outreach. Lt. Gov. Jerry Abramson told HuffPost that a plan was adopted to have restaurant health inspectors pass out Kynect literature when they go on site visits. Hospitality workers in hotels and convention centers were also targeted for the Kynect push. "Most of those folks would want it," Abramson says.
In the meantime, amateur Kynectors are filling the void, planning discussion events on their own, and utilizing very low-tech but effective word-of-mouth campaigns. A dentist's wife in Jackson County has started her own outreach. A special-needs teacher from Leslie County is passing out brochures to parents. These small efforts may turn out to be as consequential to Obamacare's credibility as a working website.
Kim Jenkins organized an event at her church in Georgetown for its congregation of 15. She put an ad in the local newspaper and found Stewart by calling a local legal aid nonprofit. After finally reaching Stewart, she convinced her to attend the event and lead the discussion.
"I do home health myself in Lexington," Jenkins says. "I'm always seeing the needs in my hometown. I always look out for people. That's my life God gave me, that's my ministry."
The Rev. Reginald Pullums says he thought Jenkins' event was helpful. He has insurance, but his wife does not. "My wife has actually been on her job longer than I have," he says. "She just doesn't have health care. The health care that her job offers just isn't affordable."
Pullums wants at least one more Kynect session at his church, and plans to advertise the next one on his church bulletin board and through the "bread ministry," where community members hand out free bread.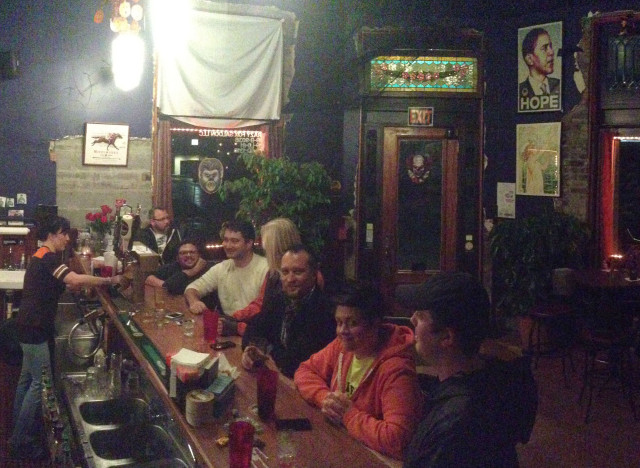 Inside the Crazy Fox Saloon
Carl Fox, 55, didn't hesitate to open his Crazy Fox Saloon in Newport to Stewart. He's had HIV for 28 years, is a 10-year cancer survivor, and was cured of hepatitis C by an experimental treatment. A degenerative disc disease sidelined Fox from steady work. Nine years ago, he could no longer afford health insurance and had to sell everything to qualify for Medicaid.
At the bar, he was given the title of honorary proprietor ("That's what my business card says") after selling the Crazy Fox to his husband. Whatever his title, Fox learned from his fight for health coverage. He made sure any bar employee who worked 20 hours or more a week got health insurance.
"All the sudden it hit me like a stone to the head, you lived in this fear, and yet your employees have no health insurance, nothing to fall back on," Fox recalls. "I saw the light."
With the new health care law, the light has brightened. So far, Fox has hosted three Kynect seminars at the Crazy Fox. He posted fliers near the box of free condoms. He listed the events on the bar's Facebook page. Stewart found out about the bar sessions when a mutual friend tagged her in a comment under the listing. She started answering questions in the comments, and then offered to help moderate the events.
The first session was for employees. The next two were for the bar's regulars. Patrons could bring their laptops or use Fox's to sign up. In the bar's dark "Godfather room," a few feet from the pool table and dartboards, Stewart and an outreach worker from nearby Ohio talked deductibles and dependents.
Fox says he feels he knows enough now to help people sign up. He has five more seminars set for November and December. He's had to play mythbuster and counselor. And, now, unpaid Kynector. It's a role he transitions to, he says, every time he steps behind the bar.
"It's daunting to some people," Fox says. "To me, unfortunately, I'm an old hack at it. You have people that have never had the option because it wasn't affordable. … Others have been in the system but have been kicked out. … Some can't believe this."
If the website intimidated, and the new law agitated, the bar sessions eased fears and quieted tensions. Fox's credibility on the subject didn't hurt. He says he will start signing up patrons at the next session. "Anybody that wants insurance, I promised I would get them signed up," he says.
A few miles away in Covington, the Pike Street Lounge was hosting its own health care seminars. That's where Chuck Garwitz, 63, found out he might be able to get a good deal on decent health insurance -- something he has had to go without since 1999. He lives on Social Security and a part-time job as an organist and choir director at a church. He had spent the year saving up for a set of dentures.
The next time he goes back to the lounge, Garwitz says he'll be looking to enroll in Kynect.
"I'm on limited income, and every bit that comes in goes right back out," Garwitz explains. "I'm going to have to see what fits my budget."
It was the night before Kynect's big launch, and Chris Clark, the exchange technology program manager -- the man in charge of making the website function -- worried not that it would crash, but that no one would log on.
"If no one comes to use it, what's the point?" Clark, 50, explains. "For me, that would have been the nightmare scenario if you will -- that we went to all this effort and all this work … and no one cared."
While the Centers for Medicare and Medicaid Services apparently failed to adequately test the federal HealthCare.gov website, the agency did put Kynect through several rigorous checks. Clark says there were three preliminary design sessions with the agency, including a two-day site visit in March. Agency inspectors also visited for three days in August for an "operational readiness review," ordering up complex scenarios to see if the site could handle them.
"It was truly cool and exciting when we processed it in real time, determined eligibility and showed the results and got the right answers," Clark recalls. "That gave us a very good confidence level that we were ready for operations."
Kynect's executive director, Carrie Banahan, joined Clark and about 60 tech staffers at Kynect's command center, where she turned on the website the evening before Oct. 1. The staff projected the website onto a wall so everyone could watch. When it finally went live, the room broke into applause. A few hours later, at midnight, Kentuckians could start enrolling for health insurance.

As the sun came up, Banahan headed to Louisville to join Lt. Gov. Abramson at a college event kicking off Kynect. When Banahan checked her Blackberry at 8:30 a.m., she saw that 1,000 people had started applying. "I was like, 'Oh my gosh,'" she told HuffPost.
Clark's fears proved unfounded. In fact, the crush of Kentuckians trying to log on slowed the site to barely a crawl the day it launched. Clark and his crew needed six hours to get the application process back up to speed. Since then, the site has held up. Any minor glitches have been quickly remedied.
"We didn't anticipate what we saw on Tuesday," Clark admits of the problems on launch day. "The good news is we were able to react quickly and take care of it."
Even Clark has discovered that the true challenge facing Kynect isn't technical. It's personal.
A week after the website launched, Clark went for a haircut at a barbershop in Lexington. "How's that Obamacare thing going?" the barber asked him. She told him about her middle-aged son, unable to work, unable to get insurance, because of a pre-existing condition.
Clark pulled out his phone and plugged in the details about the barber's son on the Kynect website -- the county he lives in, his income, whether he has children. Clark determined that his barber's son qualified for Medicaid.
The barber was overjoyed. She insisted his haircut was on the house (Clark paid anyway). "She gave me a big hug and said I was an angel," Clark says. "I think they lost all hope honestly. ... And I just very quickly was able to show them that in fact they do have options."
During the first week after Kynect's launch, Cates had gone far enough on the website that she was asked to call a phone number to verify her ID as part of the enrollment process. After being put on hold for 20 minutes, she gave up. About two weeks later, she attended one of Stewart's sessions in a community meeting space one county over from her apartment in Berea. Stewart encouraged her to try again. She gave Cates her cellphone number.
"If you run into anything, let me know," Stewart told her. "Keep me updated on how it's going." This was motivation enough for Cates to try enrolling again.
After logging onto the website and being bewildered by her options, Cates and her husband thought she should ask somebody for help. Rodney Cates says he felt his wife's frustration. "Every time she gets on there, she tries to find a plan," he says. "They keep saying they have so many different choices, and when you get on there, they're not there."
Rodney Cates would just shake his head when his wife would start talking about Kynect. He believed his wife could not go without coverage. "There's a history with her mom and stuff with breast cancer," he says. "That really bothers me. It really weighs on my mind."
Cates decided to track down a Kynector. It took a few days and three phone calls, but she arranged a meeting in her hometown.
The morning before Halloween, Cates met with a Kynector and settled on a plan. She signed up for the one operated by the Kentucky Health Cooperative, the nonprofit HMO she had not heard of before Kynect. The plan will cost her $17 a month, but comes with a $2,000 deductible. The Kynector hadn't heard of the cooperative either. So they Googled it. They discovered that all the hospitals in Cates' area would take the new insurance. There were several doctors in Berea who would accept the insurance as well. That was a deciding factor.
"I'm glad that I've done it and it's over with and I have it," Cates says a few hours after signing up. "At the same time, it feels like, wow, $17 a month is nothing hardly. I've got insurance now."
Her experience has also given her insight into what it really takes to enroll in health care -- not just to navigate a website, but to overcome fears and doubts and distrust.
Cates sent a text the following evening. "I applied to become a Kynector," she wrote.
HuffPost Readers: Did you receive a cancelation notice on your insurance? Email us here and send us a copy of the letter you received, or describe the details of your situation. Include a phone number if you're willing to be interviewed. Let us know if you want to remain anonymous.
Before You Go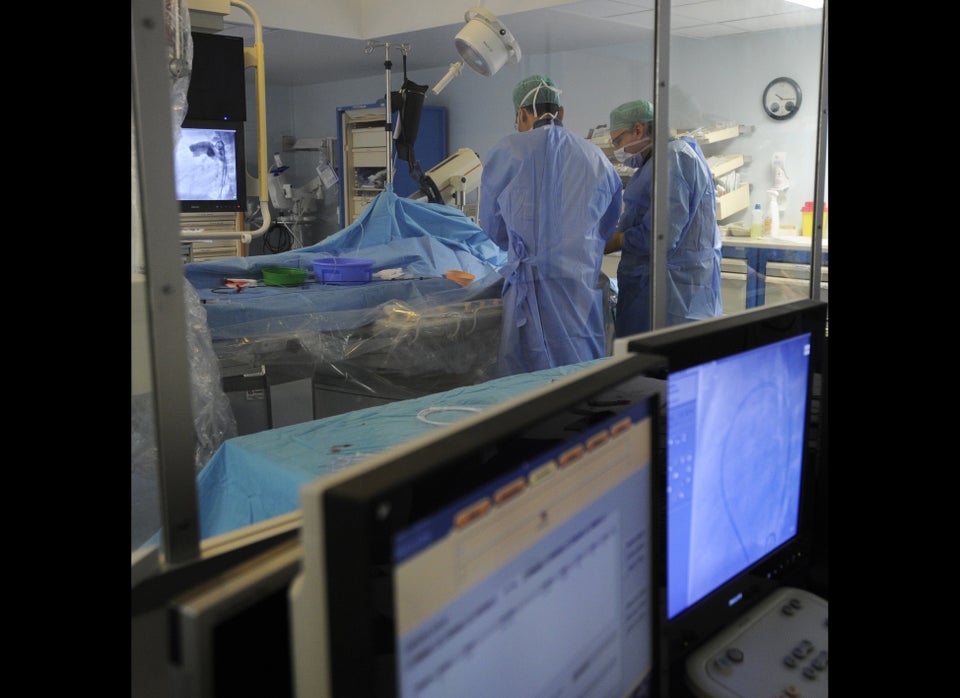 Lies And Distortions Of The Health Care Debate
Popular in the Community