 Nowhere is Los Angeles' homeless dog population a more chronic problem than in South Central where thousands of canines run wild. And nowhere is a blind eye turned more than in this section of the city.
Lucy and Ricky, saved from the streets and ready for adoption (contact L.A. Mike Rescue on Facebook):
Bill Marin, director of Animal Planet's documentary film, Street Dogs of South Central (narrated by Queen Latifah) spent years in South Central researching and filming, and witnessed the suffering firsthand:
Far too many times we'd see a dog surviving okay on the streets, but the next day he could barely get around after being struck by a car. We can't turn a blind eye to what is happening in South Central. L.A. Animal Services is under pressure to move statistics closer to a "No-Kill" city, and a s a result, they keep the euthanasia statistics down by impounding less dogs. Dogs are still dying, they're just dying on the streets where they don't become a statistic. We all want L.A. to be a No Kill city, but let's make sure there's no suffering first. This is the whole city's problem, and it's out of control.
Much of the community that lives in South Central have simply grown used to the stray dogs -- many of them starving or ailing. Imagine if this same scenario was happening in West Hollywood or Beverly Hills, the problem would be swiftly handled and made a top priority.
San Francisco Animal Care and Control in partnership with WOOF (Wonderful Opportunities for Occupants and Fidos) has approached their city's homeless dog situation with a creative solution, and the first of its kind in the country, assigning a dog to be fostered by a homeless individual in exchange the individual will give up panhandling. The homeless individual must live in supportive housing, not on the streets, and prove they are not severely mentally ill, aren't hoarders, and don't have a history of violence and aren't seeking treatment for addictions. The individual receives a small stipend to foster homeless dogs and puppies until they're ready for adoption.
Of course adoption is an idyllic goal for all of these dogs, but a spokesperson for Downtown Dog Rescue comments: "We're not going to adopt our way out of this problem. Adoption is very important, but it's going to take much more."
Street Dogs of South Central trailer:
Jennifer, a public school teacher in South Central, who prefers to keep her last name anonymous, talks about the "deplorable" situation in this section of Los Angeles.
My colleagues and I all have multiple dogs that we've found near our school on Western Avenue. The shelter that feeds into this area is understaffed and does not have enough resources. It makes me literally sick to see all these homeless dogs on my way to and from work. I carry a kennel in my truck and I've picked up many and bring them to the nicer shelter in my town of Long Beach, and they are adopted eventually. I want my job to be transferred to teach in a better area because it is too depressing, and only getting worse. The community has almost no sense about being responsible lifetime pet owners and spaying/ neutering. The ignorance is overwhelming in these times of Internet knowledge at our fingertips. I see the dogs either in peril or already hit by a vehicle so I have to call the Bureau of Sanitation for South L.A. I can only hope the children here do not model the adults who do nothing to solve it in their own damn community!
The Amanda Foundation in association with Downtown Dog Rescue and L.A. Animal Services provides South Central with mobile spay/neuter clinics. They give low income pet owners the resources they wouldn't otherwise have to help their dogs including vaccinations and microchipping. Spaying and neutering isn't just practical for population reasons, but also pet health reasons. Veterinarians nationwide have written extensively about lower cancer and disease rates in animals who have been spayed/neutered.
Gus was rescued from the South L.A. streets and urgently needs a home. He's at San Pedro's Harbor Animal Care Center (phone 310.548.2632):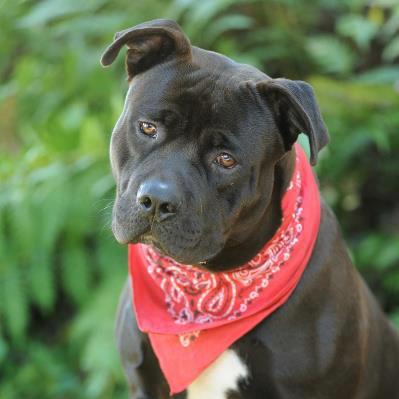 Jennifer, the South Central teacher, adds:
The mobile clinics are exactly what the area needs. In the eleven years I've been teaching in South L.A., I've not seen one billboard or community outreach regarding responsible pet ownership or that spay neuter "is the right thing to do" or educational endeavors on the part of the city. There are a lot of people, mostly outsiders to South L.A. who do what they can, but the problem is on such a wide scale there that you, I, and others like us can't or don't get to all the dogs living in abuse, cruelty, neglect and other peril of street life.

F.Y.I., my students are 8-year-olds living in South L.A. and often they share stories about their dog just having had puppies -- and also stories of how their parents don't want the dog anymore and they just open the door and let the dog go. The ignorance and ill-compassion of this mindset is the root of the homeless animal and stray population. That is only remedied with grassroots animal welfare education. The city could do their part and flood the area with spay neuter billboards, but they have fallen far short in waging any educational campaigns for animal welfare in the areas that need it the most! We need to continue to spread the word and rally the public to pressure our city officials to respond with adequate resources to the animal shelters and no-kill might be the norm someday. There's a lot of us out there doing what we can to make a difference in the lives of these street dogs. I know, I have five of my own, who are now living in safety.
Related
Popular in the Community