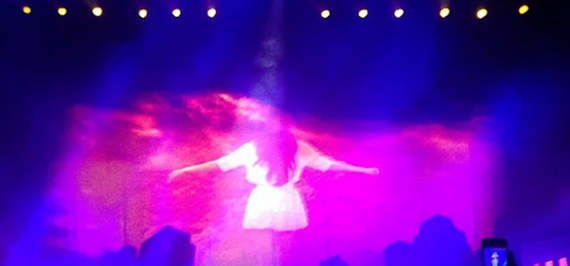 The Borgata's Event Center in Atlantic City was of course the perfect venue for Lana Del Rey, whose dreamy casino queen aesthetic painted the place with a kitschy, vice-riddled glow. Dozens of young girls with floral crowns poured down the hallways, myself one of them, sort of half Coachella, half 1970s occult experience. The Borgata's endless slot machines and poker rooms sat just a tick from the Center, the blinking lights and energy manically pulsating as something ritual-like and mythical blossomed behind our closed doors.
As a Jersey native, I picked up on a certain kismet alliance between Atlantic City's Pine Barren mythicism (see the Jersey Devil) and Lana Del Rey's appreciation for Jersey. While she was born in New York, she had lived for sometime in the Garden State. As an oft-misunderstood state, it seemed apropos to LDR's oft-misunderstood art.This show didn't have an opener like the other Endless Summer Tour dates -- no Courtney Love, no Grimes -- but no one seemed to know that. A contact at the Borgata told me so, and I kept the secret to myself. At 8pm, Lana Del Rey would simply walk out from backstage as a girl draped in smoke to wave kindly at a sea of screaming tri-state fans. Unlike so many other performers, she came out exactly on-time. Refreshing, and not at all surprising.
Lana Del Rey's reputation has always been defined by the perception of decadent sadness and the interior (even if she wraps it up into a perfect package); she's never been known as a diva - and her kind, open and vulnerable interactions with her fans reveals that. Throughout the night, she'd wander down to the pit to interact with her fans. It didn't seem masturbatory, just open and loving.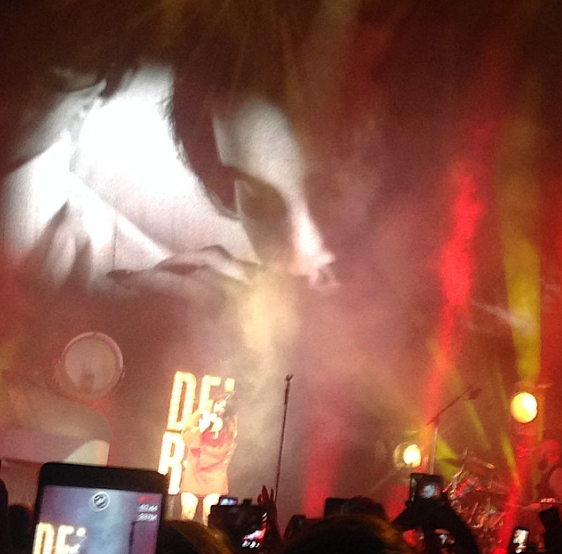 The stage show was simple. I had heard of days when she decorated the stage in palm trees and flowers, but for the Endless Summer Tour, her stage was centered between two art deco building facades, alight under a modest but beautiful light show. On either side of the stage were two massive 8MM-filtered displays, usually trained on Lana's face. Behind the band, a huge screen played bits from her videos. This screen merged the flesh and blood of LDR with the art she creates, with glimpses of Lana moving through the air on a tire screen hung from heaven in the Ride video or riding in the backseat of a convertible, cigarette between her lined lips, in West Coast.
While the stage -- and LDR herself -- intimated the very personal world LDR lets us into with her music, the authenticity was as clear as day. As a big LDR fan, I have never bought into the supposition of her facade. Some reviewers, critics and other fans have tried to reduce her to an idea; it's a waste of time. If you like her music, you know its timelessness and its beauty, and that should be enough. In reality, we're all made up of many characters (for lack of a better word). Sometimes we're happy. Sometimes we're said. Sometimes we're drawn to pain. I am sure LDR is the same way, which is the way of being human.
LDR and her band opened with Cruel World, the first track on Ultraviolence. She walked out in a short red dress and waved calmly. That she was happy to be there was not in question, but to not note her sadness would also be a lie. There was a hint of constant sorrow there, a sort of languid, oppressive heaviness that followed her around, even amidst the thousands of screaming fans (some only screamed along with the singles, others who stood gratefully lapping up the LDR experience). Sadness isn't cured by popularity or praise, and while we can't know for sure what LDR feels, when you're singing about regret and want and mortality, you're bound to project something dark. It's hard to be alive, and that's what comes across when LDR performs.
It was this earnest performance that was most memorable. She had her first record deal in 2007, so she's been playing to audiences for a while, but there's nothing showy about it. No excessively dramatic stage moves, no inane chatter. There's just a woman who is telling you her secrets. Sometimes she stands quite still, and other times she does a little dance, but there is something refreshing and beautiful about a person just being. Lucky for her, she is naturally enchanting.
LDR and her band played 14 songs, some from Ultraviolence, some from Born to Die, and a few other gems (like You Can Be The Boss). They also played Ride per audience request and Serial Killer, a song that isn't found on any of her albums. They performed the slower, more morose Chelsea Hotel #2 (my favorite cover) and the ever-sensual Do Right. Both songs, like tonal puzzle pieces, fit her set with ease. Thinking back to the SNL fiasco of yore, it seems ridiculous to think of LDR as a "bad singer." She is anything but. Her voice was robust, capable and heavenly, and the way she styled her own songs were unpredictable and of-the-moment. In a way, LDR is our generation's Jessica Rabbit. She may not dress like her contemporaries, but she oozes glamour and nudity in other ways: her stare, her vulnerability, her letting-go.
As Lana looked out to her fans' cult-like yet gentle love, I suspected that everyone at the Borgata would agree with me that being loved by millions isn't enough for her. It's not that she's ungrateful, but she seems deeply defined by something much bigger than her fame - despite her lyrics ("I want money, fame, glory"). It seems she is trying to channel something more otherworldly in order to find answers or peace; it happens that her fame allows us to watch her unravel that divine spool.
I left the show, which had no encore (that would not seem LDR's style; her bravado is in her art, not in gauche acts), with the feeling that I had seen a poetry reading. I wondered if LDR was sad, if she was happy. I wondered if I was sad or happy. There was a transcendent and sharp intimacy to it. There was the feeling that LDR and her fans were trying to understand their place in the world, if it even existed.
I'm not entirely sure LDR aimed for us to be part of that ritual with her (unlike Gaga's little monsters tribe or Swift's swifties), but she accepts our openness and reflects it back out to us. The show left you feeling not exceptionally charged or pushed around or tired, but reflective and curious and cracked open. In this age of pop culture idolatry, we are hungry for honesty, and LDR is just that.

Set list:
"Cruel World"
"Cola"
"Blue Jeans"
"West Coast"
"Born to Die"
"Ultraviolence"
"Summertime Sadness"
"Chelsea Hotel"
"Ride,' by audience request.
"Brooklyn Baby"
"You Can Be The Boss"
"Serial Killer"
"Video Games"
"Do Right"
"Off to the Races"
Popular in the Community