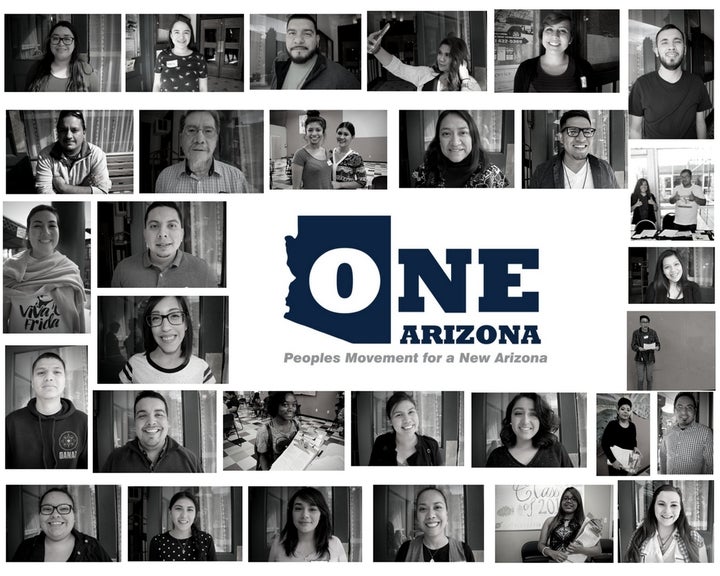 Of the millions of voters who cast their ballots in Arizona last year, some were undoubtedly registered by a precocious 11-year old, Kitti, who canvassed most Saturdays last summer under the watch of her sister, a leader in their local church, Neighborhood Ministries. Eventually, empowered and with the permission of her mother, Kitti even knocked on some doors on her own.
Kitti is the future of Arizona. Over the past few years, a vibrant youth-led movement has injected new life into Arizona's politics, sweeping out longtime lawmakers whose complacence was holding Arizona back and winning national praise as a model of leadership development and civic engagement. This work is creating lasting change in our state.
Yet after the election, many in our state have sought to downplay the power of this movement, claiming that voter turnout, and Latino turnout in particular, underwhelmed expectations and that Latino voters supported candidates who blatantly attacked them, even giving away precious victories like the defeat of Sheriff Joe Arpaio away to Republican voters. It's time to set the record straight.
Nearly 2.7 million voters cast ballots in Arizona, a record high. That is almost 350,000 more votes than were cast in 2012, our last Presidential election, and more than 1 million more votes than were cast in 2000. This profound and substantive growth in the size of the Arizona electorate should be included in any discussion around voting, civic engagement and voter turnout in our state.
Similarly, more registered voters are on state rolls than ever before. Over 75% of eligible Arizonans are registered to vote now or 3.6 million Arizonans – both all time highs. This equates to 400,000 more registered voters than in 2014. One Arizona contributed to this increase through our Viva the Vote Campaign submitting more than 154,000 voter registration applications statewide as we coordinated the aligned efforts of a dozen partners including Mi Familia Vota, the Arizona Center for Empowerment, CASE and the Voter Participation Center.
More than 450,000 Latinos in Arizona cast ballots in 2016, up nearly 35 percent from 2012. More than 700,000 Latinos are registered to vote now in Arizona, another record high. This is an increase of more than 150,000 new Latino voters from 2012 – a 27 percent rise. Arizona Latinos drive the growth in one of the fastest growing electorates in the country.
These numbers are not just figures on a page. They made a very real difference last year, as exit polling conducted by Latino Decisions after the election made clear. Unlike other national exit polls that had small and unrepresentative sample sizes from folks who live in largely non-Latino areas of the country, Latino Decisions did not treat Latino voters as a monolith, but incorporated the geographic, racial, generational and gender dynamics inside this complicated and diverse voter bloc into their analysis. Their exit polling showed that support for Trump was around 18 percent, an historic low for a Presidential candidate, and very close to what pre-election polling consistently showed all year.
Our own evidence shows that in Arizona Latino-heavy precincts where 50% or more of the registered voters are Latino, Clinton kept pace and even outperformed 2012 Obama levels, while Trump underperformed Romney, who himself set the historic floor for Latino support in these precincts. In the end, Trump won Arizona by just four points – less than half of the 2012 margin. It would be impossible to see rapid Latino electoral growth, statewide margins halved, historically low support for Trump in Latino-heavy precincts and to also see sizeable Latino votes for Trump. The obvious truth: Trump lost Arizona Latinos badly.
Where we saw the strength of Latino organizing and electoral power was on the race for Sheriff, where Latino voters turned out in droves to defeat Sheriff Joe Arpaio, who had inflicted terror on Latino communities in Maricopa County for decades. In these majority Latino precincts, Arpaio earned just 18.6 percent – compared to 45.1% percent in areas that were dominated by non-Latino voters. Arpaio did even worse than Donald Trump in majority Latino precincts, who earned an average of 19.1 percent.
In the face of such numbers and after more Latinos registered and turned out to vote than ever before, to say that Republicans removed Arpaio from the Sheriff's office, is frankly offensive. What is more, the very reason Republican voters also finally abandoned Arpaio was due to a Latino-led, decades-long campaign that exposed the "toughest Sheriff in America" as an incompetent and fiscally irresponsible bigot.
But it wasn't just about removing candidates – it was about voting in new ones who would truly represent this changing electorate. Arizona has 24 Latinos now in the state legislature, the most ever. We have elected the first Latina mayor of Tolleson, the first Latino to Maricopa county-wide office, three Latinos to the Phoenix City Council, not to mention a growing bench of leaders at the local and school board level. It is just a matter of time - very likely around 20 months - before we elect the first statewide Latino candidate in more than 40 years.
Finally, it is clear what kinds of policies Latino voters support. Yes, immigration is a gateway issue for the vast majority of Latino voters and if you get that one wrong, it will be hard to earn Latino trust on other issues. But, Latino voters - like the majority of Arizonans - see the problems of increasing inequality in our state with workers taking less home even as their productivity increases. Our partners, namely the Arizona Center for Empowerment and their sister organization LUCHA, proposed a ballot initiative that raised the minimum wage and provided paid sick days to Arizona workers.
Prop. 206 was the top vote getter in 2016 outperforming any other candidate or initiative on the statewide ballot. It won in 28 of 30 Legislative Districts and in every Congressional District. In the most competitive state legislative races in LD6, LD8, LD18 and LD28, Proposition 206 received more votes than either the Democratic or Republican State Senate candidates. Prop. 206 also received 76% of the vote in majority Latino precincts.
If candidates want to earn Latino support, they must support things like Prop.206 that Latinos so obviously care about. While many Republican candidates and politicians have been especially bad actors towards Latino voters, Democrats must do more than simply state their superiority to their Republican alternatives; they must take bold and brave stances. In fact, both parties must do more to earn these voters support than they are currently doing.
Rather than disparaging this movement, we invite all Arizonans to join us and help make Arizona a more civically active and representative place. Kitti would love to show you how it's done.
REAL LIFE. REAL NEWS. REAL VOICES.
Help us tell more of the stories that matter from voices that too often remain unheard.