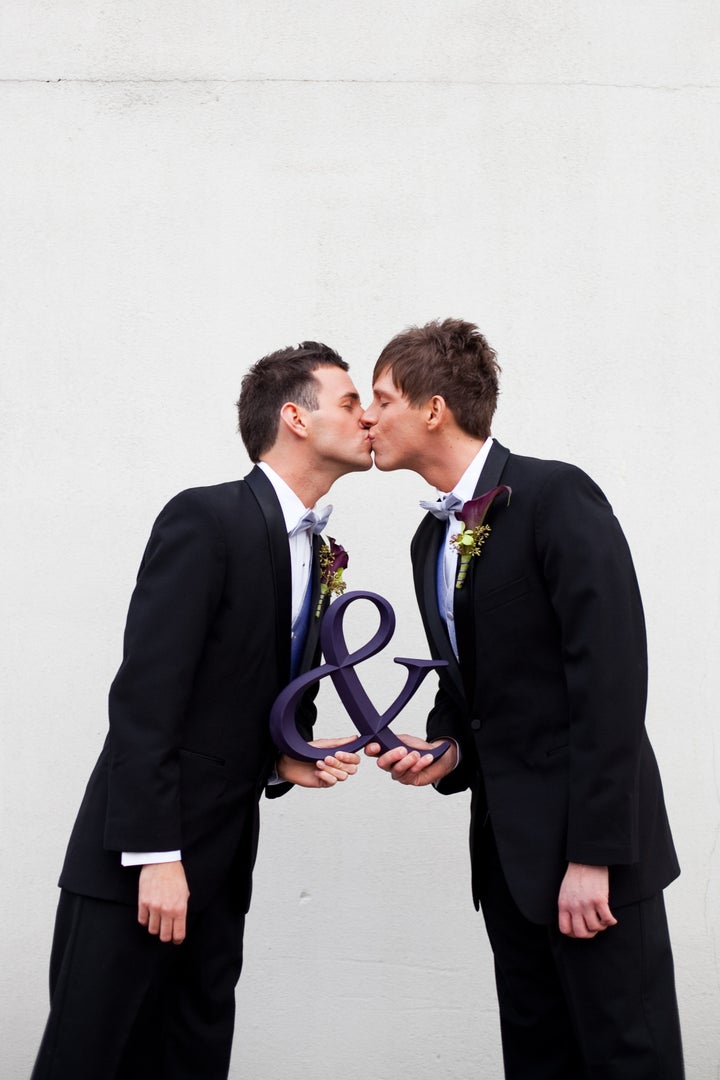 As part of our Family Friday series, every week we spotlight one family, share the story of their love and send lots of love and support to them from our own huge family all over the world.
Since we've launched our Family Friday series, we've gotten so many beautiful submissions from you and we've been genuinely touched by your stories. Your families are beautiful. Thank you.
We're back with a very special family this week. Kenneth and Ashley are a super sweet couple who are about to celebrate their first wedding anniversary this weekend! What better way to ring a new year of Family Fridays with this amazing new family and share in their celebration? Feel free to share your congrats in the comments below! Meet Kenneth and Ashley's family.
How did you and your partner meet?
Although we shared mutual friends, we first met at a local espresso café on a rainy Sunday night. There was instant chemistry and mutual attraction. Our conversation flowed seamlessly for hours. It went so well that we both shared our desire to start a family one day. We both expressed that we were at a crossroad in our personal lives and were exhausted with the dating scene and the endless games that seem to go with it. Neither of us wanted to leave the café but we did get to share an umbrella on the way to our vehicles. We made plans to see each other again and went on our first official date that Friday. Two days later, I asked Ashley to be my boyfriend.
Tell us about your wedding. What state did you get married in? Did you have to leave the your residential state to do so?
While on spring vacation in Washington, D.C., Ashley asked me to marry him the evening of March 6, 2011 on the steps of the Jefferson Memorial. I gladly responded, "Of course!" We had been dating nearly a year and a half. Once we returned to Mississippi and shared our engagement news with friends and family, we began our initial wedding planning.
Due to current state legislation banning same sex marriage and domestic partnership, we began researching those states that legally recognized same sex marriage at that time. We decided on Hartford, Connecticut. We were married on 11/11/11 at 11 a.m. by a justice of the peace in her condo overlooking Bushnell Park and the Connecticut State Capital. The exchanging of our vows was intimate and quite emotional. It was perfect.
Naturally we wished to share this celebration with friends and family. It would have been impossible for everyone to travel to Connecticut; therefore we decided to have a wedding in our home state of Mississippi. Our wedding ceremony and reception were held on February 12, 2012 in Jackson, MS. We were overwhelmed by the love and support that surrounded us on this perfect day. It was the wedding of our dreams! We left the following morning for our weeklong, and much needed, honeymoon in Tulum, Mexico.
Has your extended family embraced your new partner?
Both our mothers as well as our siblings proudly support our marriage. We also have three beautiful nieces that love us very much. Many of our cousins are our best friends and also our greatest family allies. We have faced many struggles with select family members of both sides however we remain positive that they will eventually come around and accept our marriage. We are constantly encouraged by the support from those who mean the most to us.
What are your plans for the future?
Currently our house is on the market and we are applying for jobs in Boston. We've always had a desire to move out of the South especially now that we are married and ready to start a family. My career goal is in Healthcare Administration while Ashley is eager for an opportunity to develop his passion for event planning.
In addition to our marriage not being recognized in Mississippi, adoption is also illegal for gay couples. We will begin the adoption process as soon as we are settled in Boston. In a few years we would love to be featured in the Family Friday's section once again with the addition of our daughter to the pictures. We are often asked, "Why not remain in Mississippi and continue to fight for LGBT equality?" We strongly believe we will continue to be a positive influence and valuable addition to our community wherever we reside. If our marriage can inspire just one person, we feel that is an achievement.
How do you plan to celebrate your upcoming anniversary?
We are often asked, "Do you celebrate your anniversary on November 11th or February 10th?" Our answer is both since both dates are special to us. Last November we chose to celebrate our one-year anniversary by visiting our future home of Boston for a week. We also used this time to explore the city and determine which area we'd most like to live. We will celebrate February 10th with a romantic dinner where we shared our first date. We also have a trip planned to Nashville at the beginning of March where we will see Lady Gaga perform in concert.
What advice do you have for gay kids who may feel like the love you are enjoying is totally out of reach
Never change the core of who you are to gain someone's acceptance. Surround yourself with people that love and support you unconditionally even though this support system may not look like you originally assumed. We've learned through the years that family isn't always necessarily blood. It's the people in your life who want you in theirs.
Once you become comfortable in your own skin and can love yourself this will open up the opportunity for you to love someone else.
You can see a few photos of Kenneth and Ashley's family below. To keep up with their future journeys, follow Kenneth on Twitter @livingston33. Wedding Photography shown is by Rachel Kabukala. To see more families and learn how to share your own, scroll to the bottom.
PHOTO GALLERY
Family Friday: Kenneth and Ashley
REMINDER: If you'd like your own family featured on a Family Friday, please email us at gayvoices@huffingtonpost.com. Remember that family is what we make it, so if your family is you and the pack of LGBT folks who you'd go to the mats for, send them over. We want to see them, too.
REAL LIFE. REAL NEWS. REAL VOICES.
Help us tell more of the stories that matter from voices that too often remain unheard.
BEFORE YOU GO
PHOTO GALLERY
Gay Voices First #FamilyFriday!