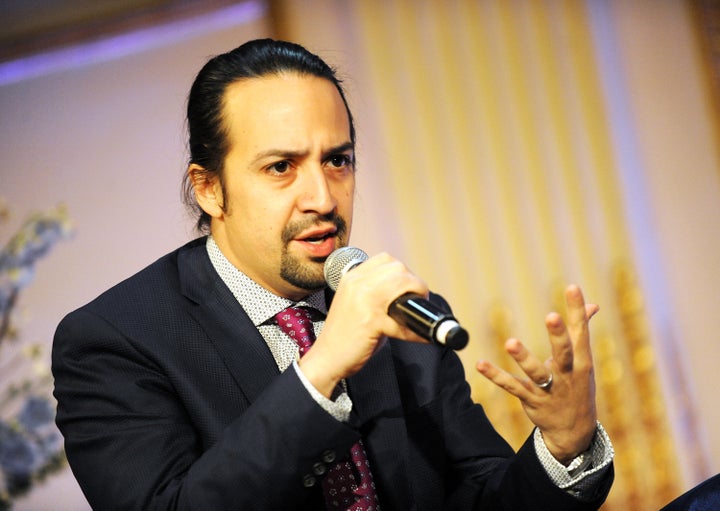 Lin-Manuel Miranda is not throwing away his shot to make a difference, and says he's trying to be smart about using his platform to talk about issues he truly cares about.
"I am aware that every tweet is a press conference now, not so much when I was live tweeting Buffy when I had 5,000 followers," Miranda said a with chuckle in a recent interview with Judith Rodin, president of The Rockefeller Foundation. "It's a little crazier now, but I also am aware that I have a megaphone at my disposal and it's also more effective if I use it sparingly… so I really double down on the things that are really pressing to me, my core issues."
"I have a lot of family who are struggling in Puerto Rico, that's not an abstract issue to me, that is a life or death issue occurring with my family," he said, before taking a minute to concretize the issue for Rodin and the audience:
There's a million reasons Puerto Rico is in the state it's in. A lot of it comes out of this uncertain [question], "What are we to the United States?" It's become a tax haven. There's been a lot of problems.

What we're trying to do now is allow them to restructure their debt because that was a thing they use to be able to do and then for some reason in 1984, when someone threw it into a bill, they couldn't anymore. They couldn't do what any American city can do, which is declare bankruptcy and restructure debt. And this July 1 deadline is very real. [The bill is currently] in the Senate, I would hate to see people play politics with it to the point where this thing can't pass.
"I have a lot of family who are struggling in Puerto Rico, that's not an abstract issue to me, that is a life or death issue occurring with my family.""
"The [bill] on the [Senate] floor is not perfect," Miranda said. "It calls for austerity from an island that can afford no more austerity. It calls for the lowering of the minimum wage to 4.25 dollars an hour, which is what I made at McDonald's in 1993. It is not a livable wage in 2016. So it's not perfect, but it does allow for debt restructuring and it does protect pensions on the island, which is a huge problem. So it's in the Senate's hands."
Another key issue for Miranda this year will be the Latino vote, in a recent interview with the The New York Times the star said he'd dedicate some time to encouraging Latinos cast their ballot in this election after his final "Hamilton" curtain call on July 9. And he explained to Rodin why it's so important for people to take the Latino vote seriously.
"I remember, in 2008, pundits literally saying 'Well, there's a lot of Latinos right now, but maybe they'll stay home,' and they didn't stay home. [Then] 2012 came around, 'Maybe they'll stay home this time' and they didn't stay home," he said. "The reality is the demographics are such that Latinos are going to be one of the largest groups in this country...so it is just vital that our voting reflects who we are and our populous, we have to make sure our voices are heard on every issue."
But Miranda's efforts to get Latinos to vote aren't necessarily aligned with a particular political party, he said he simply wants Latinos to flex their political muscle.
"We're not a monolith, there are Hispanic democrats and there are Hispanic republicans, but we're not going to know what that power is unless people show up," he said. "So that's why it's a priority for me… the power of us as a voting bloc is still there and waiting to be tapped. I want to see us come out in record numbers, and I want to see what that does for our country."
Before You Go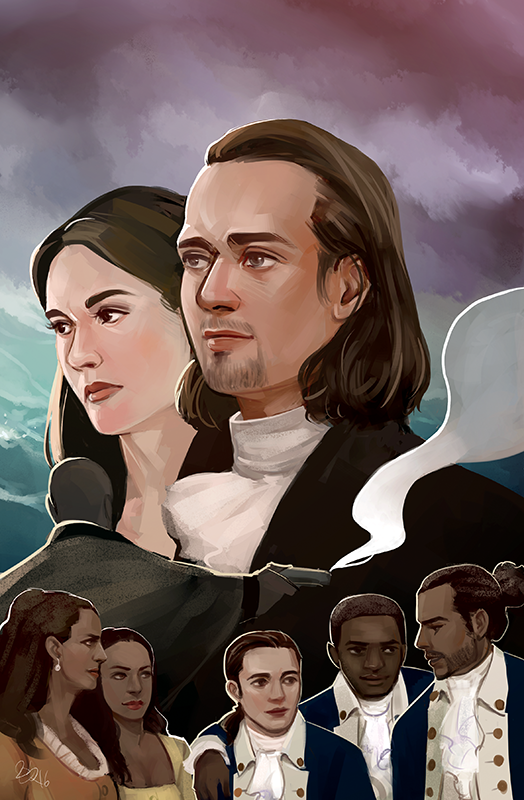 45 Illustrators Draw the 46 Tracks of "Hamilton"
Popular in the Community