There is a retail store in Austin called Sue Patrick that has been around since the 70's. They have survived the age of big box stores and Amazon.com and they're still growing. I believe their success and longevity can be linked directly to their ability to connect with people, with their customers. They know who they are and what their customers want. They've adapted to a changing world. And maybe most importantly for Sue Patrick, they really get it when it comes to being local, authentic and engaged.
It's important to point out that some of the inventory at Sue Patrick is hard to find elsewhere. Their collection of UT Longhorns merchandise is hard to beat. But along with the great products and service, I do believe that the secret to their consistent success is in their local marketing effort - and more specifically, it's in the delivery. The team at Sue Patrick always seems to follow the Golden Rule of small business marketing. They engage, authentically, with their customers online. You can do this too. It doesn't cost much and doesn't have to take a lot of time. Keep reading.
Here are three things they do that you can try today, right now, with your social media posts and email marketing campaigns. If you're new to social media, I do suggest you choose one to try first and then, if it works for you, try the other two. These are easy and don't cost a thing.
1. Write Using Conversational Copy
This just means that you write the way that you would speak if you were talking to a customer in in a one on one meeting. It's less formal than brochure or ad copy. The tone should match your image - if you're a high dollar financial consultant, you may be a little more formal than say, a pet sitter (though I could make a case for high dollar pet sitters). This is less about what you write and more but more about how you say it. Ever picked up a brochure or visited a company's website and still weren't sure what they do? Try to avoid that.
How to do it: In plain, simple terms, explain or share the way you would to an old friend or relative. Use a familiar but still on-your-best-behavior tone. Write In first person. If you can, send it or share it as a person, not as a company with a logo. This doesn't mean you don't include your logo. You can post on your company's Facebook page or send an email out from your company, but make sure there is a person's name with it - not just the company name. We stop more often to read messages from people, not companies. This is part of the power of being local and being small - read that as efficient. Think about the last time you opened your email inbox. Did you stop on emails form company names or on those from people first? People. There. Now you know.
2. Use pictures of people - yourself, your team, even customers
Sue Patrick does a great job with pictures, you can too! Please do not avoid using photos of yourself out of fear that you're not good looking enough. 99% of the people you send to also do not think they are good looking enough. The fact is that people respond to other people. It's in our DNA. Babies stare at faces. We are drawn to each other on a base level and we relate to one another as humans.
How To Do It: Share your humanness. Put your photo in your emails. Be the actual face of the company. Big box stores cannot do that. You can. Is your staff decorating for the holidays? Snap a photo with your phone and share it! Been talking for half an hour in your store with a happy customer? Snap a photo! (Ask permission of course) and share your excitement and gratitude.
As an example, Sue Patrick hosts book signings and other events in their store. And they post photos of people enjoying the event. This is not about selling their stuff, it's about relationships. The stuff is part of the relationship but the relationship always comes first.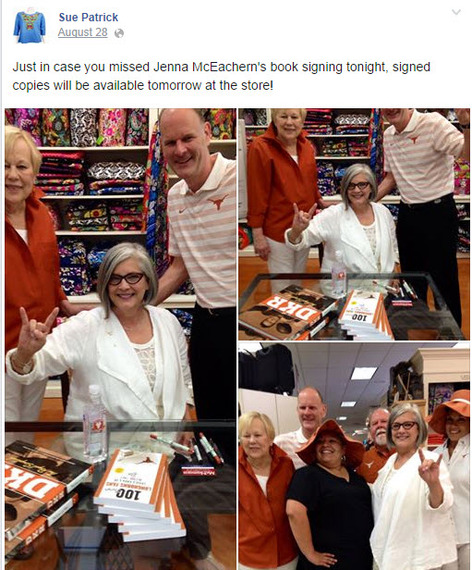 Now, before you say that you don't have funds for a professional photographer, know this. My head shot for press and promotion was taken by me (all by myself) with my cell phone in my kitchen --thank you Instagram for the wonderful wrinkle-hiding filters on your free app! I've since told a few friends and they've also done this. Why not? I have professional photos, but the one I like and that feels most like me came from an impromptu moment in golden morning light over a cup of coffee and a bagel. You can do this.
3. Tell them who you really are
Every once in in a while, share something that is more about you or someone on your staff. It's not to sell something. It's not to promote something unless there is a charity you support.
My point is that people will relate to your stories and your ideals more than you realize. Sue Patrick shares photos of staff on charity bike rides and pets they've adopted from local rescue shelters. They tell you who they really are. And locals respond with loyalty. And repeat business. And referrals.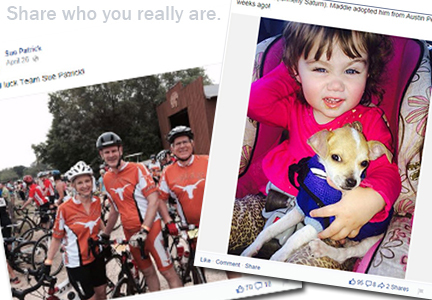 How To Do It: Pull back the curtain just enough - are you in in a band? Tell people where you're playing! Are you volunteering somewhere? Talk about why. Be honest, open and authentic. You will he surprised by the response. (Note - my next article will be on how to separate your personal social media activities as much as possible from your business use of these helpful tools).
And to be crystal clear, this is not for every day. It's special and overdoing it will lose the impact. Also, you also want to avoid over sharing - steer clear of highly personal topics like the fight you had with your ex or pics from your grandmother's post-op procedures. Well, unless you have a blog that follows Nana's progress. That's different.
I asked the team at Sue Patrick to tell me a little more about their marketing. Here's what they said.
Q: How much time do you spend on social media?
A: We do spend about an hour a day on social media, someone is assigned to do it every day. Recently, we used the "boost" function on Facebook to share a new UT t-shirt design that said "The Coolest Grandmas Wear Burnt Orange" to see if we could get a response. We spent $8 and got a lot of response. The shirt is one of our more popular items now.
Note - Ease into this. If you haven't been doing social media, I recommend 20 minutes 3 times a week for those just starting out. There are also great tools to help you schedule what you want to post online ahead of time. Hootsuite is a great scheduling tool that has a free option. Maybe take a look.
Q: What percentage of your marketing budget goes toward Search Engine Optimization so that people can find you when they do a search online?
A: 25%. We spend a lot of money on this even though organic is the best bet. It's just hard to score high on the organic level with so much competition online. By doing this, we've seen our online sales grow by about 35% over the last year. Getting found is important to any business.
Q: Which of your marketing efforts do you think provide the most return, and why?
A: Email has the most return because it is so inexpensive. We use Constant Contact. It lets us categorize people by what they want to buy - when they join our list they can self-select what types of items they are interested in - and we only send them what they ask for. Email marketing is definitely where we get our highest return. We also get a great return from local newspaper advertising. We have advertised in the paper so long,people look for our ads. It still has a huge bang - it is just expensive.
In Conclusion
The best small businesses, those that don't just survive but really thrive in these changing times, have figured it out. Being local is important, being found online is crucial. Being yourself and engaging with customers is key. Using these basic communication strategies, you can leverage your own authentic, local flavor and still make your products and services available around the world. Sue Patrick does it and you can too.
Using the Golden Rule of small business marketing, getting to know your customers, building relationships and finding your own voice along the way is so important. This is your advantage over big box stores and your competition. It's the thing that makes you special. You and your staff - your real, authentic selves. You can do this. Start where you are today.
Support HuffPost
The Stakes Have Never Been Higher
Related
Popular in the Community