NFL player and dog lover Logan Ryan used his wedding as an opportunity to say "I do" to a cause he and his wife are passionate about ― animal rescue.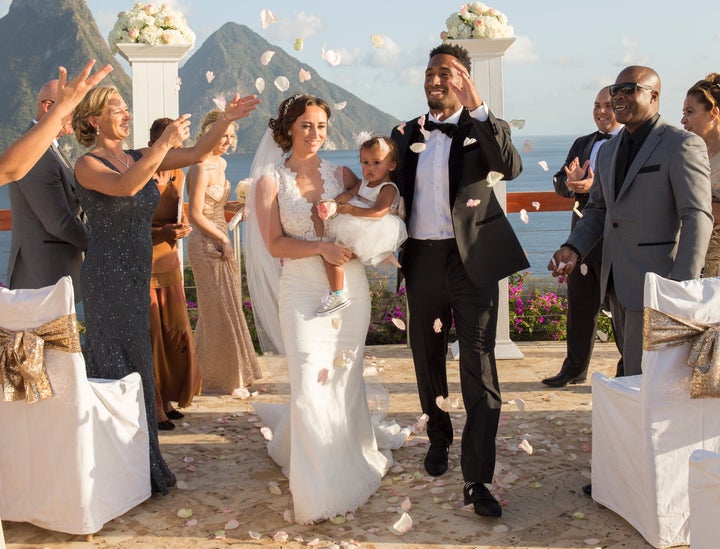 When the Tennessee Titans cornerback tied the knot with Ashley Bragg on the Caribbean island of St. Lucia in April, they asked their guests to donate to Help Animal Welfare in St. Lucia (HelpAWS) ― a foster-based organization dedicated to rescuing, spaying and neutering stray dogs and cats and finding them forever homes ― in lieu of giving wedding gifts.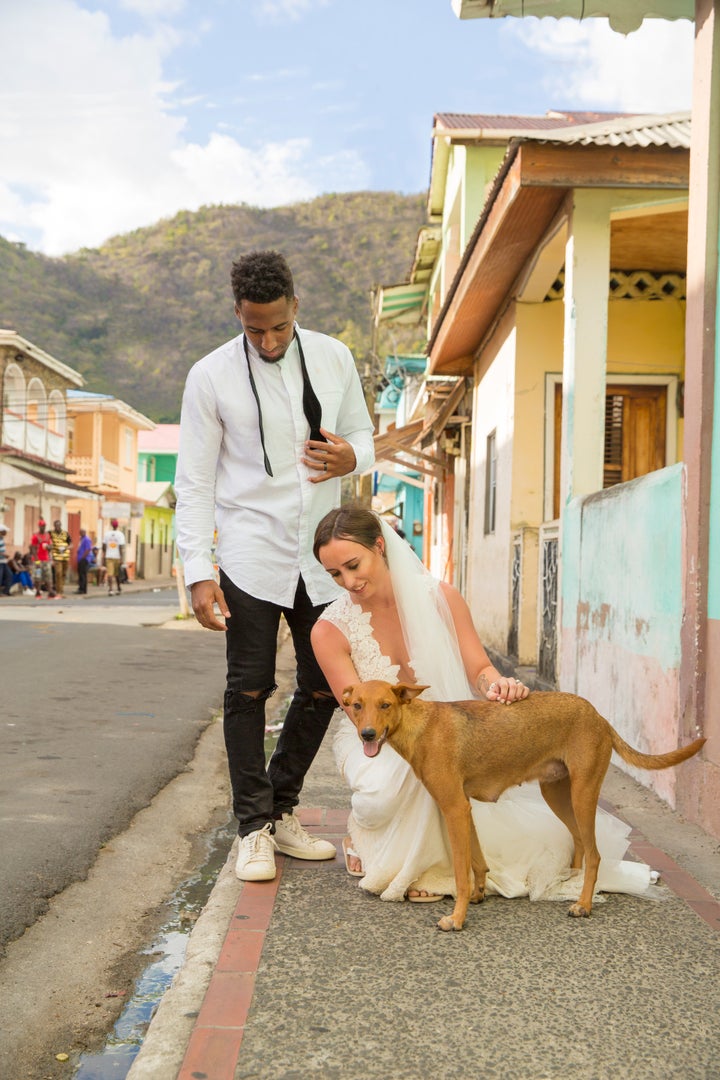 Leading up to the big day, guests had been asking the couple what they wanted for a wedding present. At first, Ryan and Bragg just told them to donate to their local animal shelters. But once they heard about HelpAWS, they directed their family and friends to donate there instead.
The idea came to them the day after their intimate nuptials when the bride and groom put on their wedding clothes once again to take some photos around the town of Soufrière. That's where they ran into a friendly stray pup, who instantly took a liking to the couple.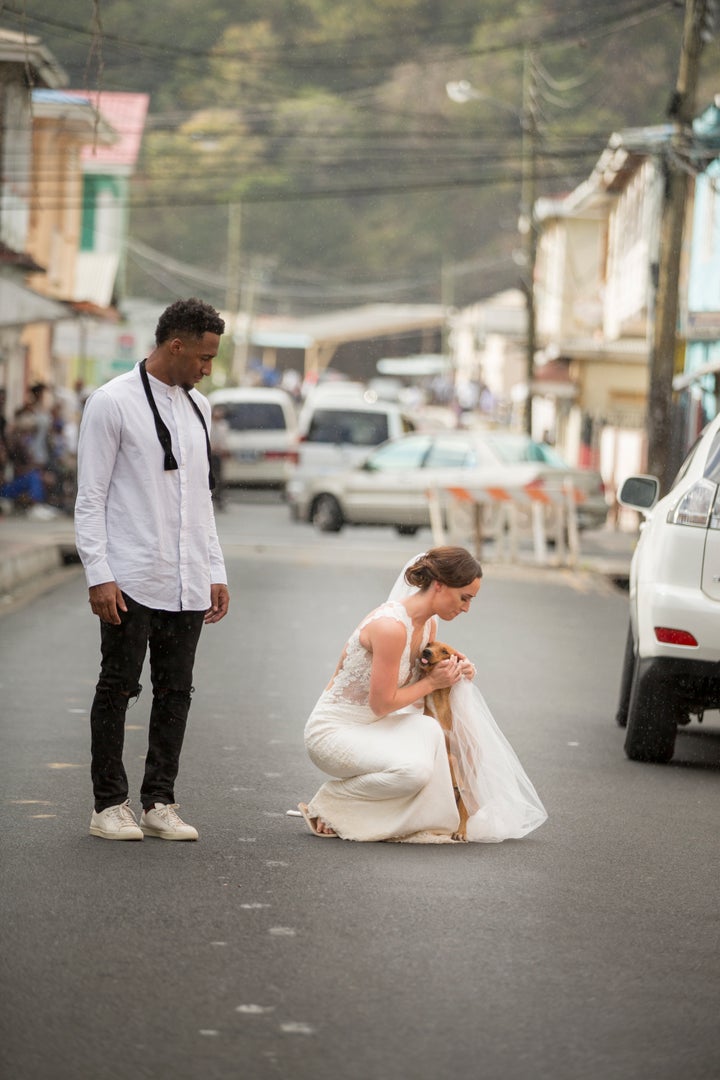 Charlene Penney, founder of HelpAWS, told HuffPost that the chance encounter with the pup (pictured above) is what connected the newlywed couple with her organization.
"While visiting the town, they saw how many stray dogs were wandering the streets," she said. "After their photo shoot, they left wondering what is being done on the island to help stray animals and what they could do to help. So they asked their photographer about local rescue groups and that's how they found us."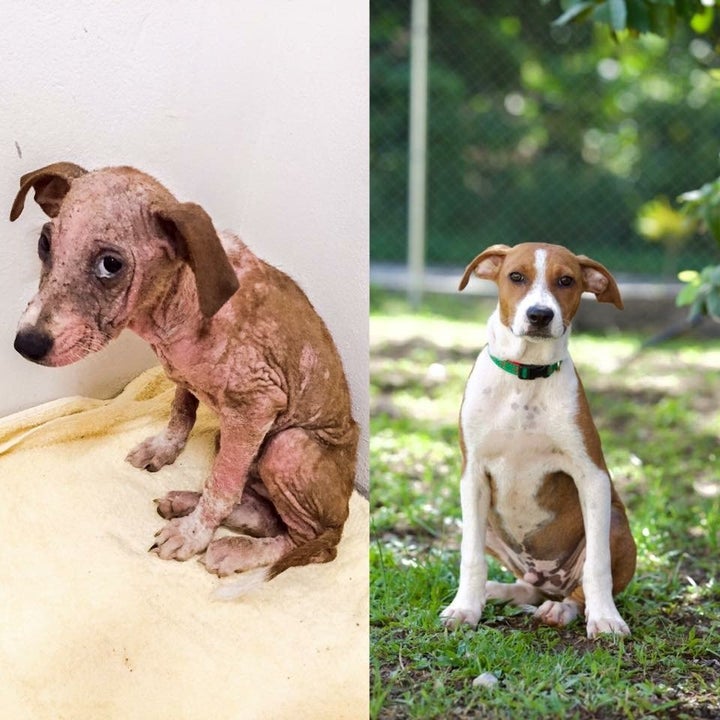 Penney said they were able to find the dog from the photo shoot and rescued her shortly after the newlyweds had left the island. They named the dog "Logan" in the groom's honor. Though Logan has some health issues, including tick-borne disease ehrlichiosis, Penney told HuffPost she is confident the dog will be ready for adoption soon.
"With the money [the Ryans] raised we were able to cover most of her medical expenses and we were also able to spay and neuter 11 cats we have in our care," Penney added.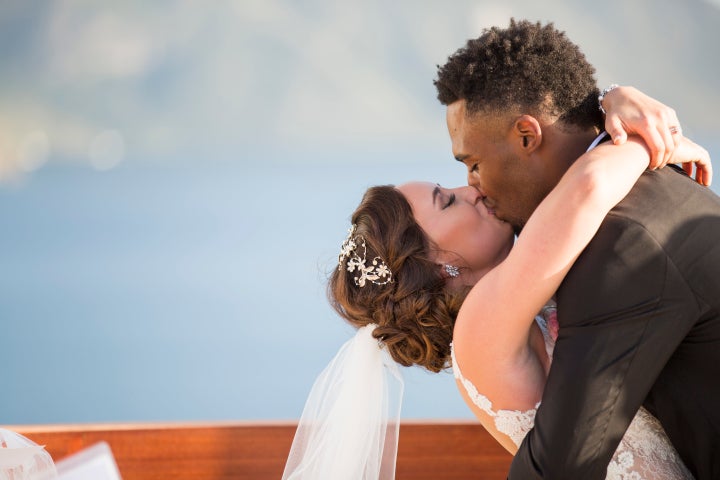 In 2015, Ryan and Bragg launched a social media initiative called Ryan's Monthly Rescue with the goal of helping dogs, especially pit bulls, get adopted. The pair are parents to a baby girl named Avery, who attended the wedding, and two dogs, Nala and Leo, who were unable to be there.
"Our love of dogs may have been the only thing missing from our big day," the bride told The Dodo. "The fact that we connected with HelpAWS and helped this one particular dog made the entire experience even more unforgettable."
Penney said she is grateful to the couple for bringing both money and awareness to her organization.
"We have developed a close relationship with the Ryans. Ashley is even coming back to St. Lucia in the fall to help volunteer at our next spay and neuter clinic," she told HuffPost. "We can't wait!"
For more on this story, head over to The Dodo.