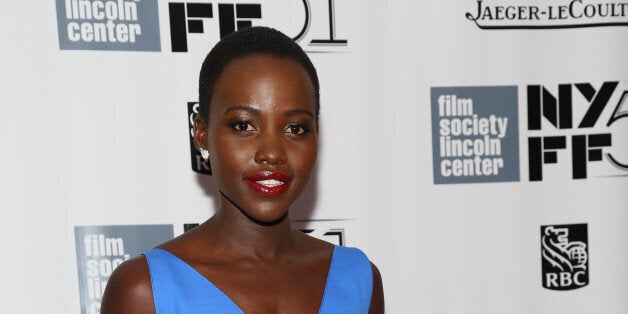 The next time someone makes a list highlighting the greatest acting debuts of all time, expect Lupita Nyong'o to place near the top, alongside the likes of Edward Norton, Natalie Portman, Marlee Matlin and Orson Welles. Nyong'o plays a key supporting role in Steve McQueen's slavery drama, "12 Years A Slave," and her performance has been so widely praised already that many awards prognosticators have the 30-year-old actress pegged as the only woman who can prevent Oprah Winfrey from winning her first acting Oscar.
"This is Lupita's first movie. Think about where she goes from here," Sarah Paulson, who co-stars with Nyong'o in "12 Years A Slave," told HuffPost Entertainment in a recent interview. "It's like, 'Come on, lady. You've got 10 movies in your future that are not going to be as good as this, no matter how good they are. Just so you know. Then you'll have another great one.'"
Born in Mexico and raised in Kenya (and now a resident of Brooklyn), Nyong'o studied at the Yale School of Drama before scoring what has become her breakout role. She stars as Patsey in McQueen's searing drama, a slave who endures unspeakable acts of physical and emotional abuse at the hands of her psychotic owner, played by fellow Oscar hopeful Michael Fassbender. (Chiwetel Ejiofor, Paul Giamatti, Benedict Cumberbatch and Brad Pitt are among the film's other co-stars.)
Before the Oct. 18 release of "12 Years A Slave," HuffPost Entertainment spoke with Nyong'o about her long path to scoring the role of a lifetime, her emotional reaction to seeing the film, and the growing Oscar buzz around her performance.
Steve McQueen compared the search for Patsey to "finding Scarlett O'Hara," in that 1,000 actresses auditioned. Were you aware of how difficult it was for him to cast? I'm glad I didn't know about the search for Patsey. I was not aware of that at all! I only became aware of it during this press tour. I was about to graduate from the Yale School of Drama, and my manager received the script for her client, Garret Dillahunt, who plays Armsby in the film, and she thought I would be good in the role of Patsey. I put myself on tape in New York with her help, and then a week later I was in Los Angeles and I went in to audition with Francine Maisler, the casting director. She put me through the ringer. Then, finally, I was invited to Louisiana to audition for Steve. I auditioned in three different states.
What did Francine have you do? She prefaced it with saying, "I'm going to do things with you that are not conventional for an audition, but I just want you to go with it." I went to school for three years to train as an actor, and what they always said was say yes before you say no. I went in there and I surrendered to her process. She was like a drill sergeant. I had to do some of the most harrowing scenes in the film, and to do them from nowhere -- like, from traffic in Los Angeles. She would take me through the scene and, of course, at the end of the scene, Patsey is left more broken than she began. So then she would ask me to start from that point and do the scene again. And again. And again. It was emotionally exhausting.
What kind of emotions did you feel after being hired? After I auditioned for Steve, I flew back to New Haven, Conn. and I was just about to go and sit in the sun and take in the last 24 hours when I received his call saying, "I'd like to offer you the part." My heart leaped, and then it sunk. I was so happy to get it, but then I realized, "Oh, no. This is where it begins." That was bad! My grief and turmoil would continue for the next two or three months. I think the hardest thing for me was getting beyond the feeling of intimidation and pressure of being thrown into this process with such established artists. Recognizing that I did have it within me to do it -- that I had the confidence and trust in myself. It was also about allowing that kind of grief in. As human beings, we are all about building walls. You experience a trauma, and then you build a wall against that trauma. As an actor, you have to avail yourself to trauma over and over again. Despite knowing what it might do to you. That was the challenge.
This role is obviously physically demanding because of the beatings Patsey takes, but then there are those moments of real tragedy, where you can see the person Patsey could be if not for her horrible situation. For me, it's when she's playing with corn-husk dolls. Was one part of the process harder for you than the other? For me, in my work as an actor, I am trying to create a character that exists beyond what's in the script and, in this case, the book. So I really tried to create a full human being. Living as Patsey was difficult in itself. For me, it wasn't like, "Oh, today is going to be bad!" Living in her was hard, but it was also really rewarding. The thing about Patsey is that she experiences a deep grief, but there's an extremely bright light in her. That's why she left such a mark on Solomon Northup [the author of the memoir on which the film is based]. He described her as having "an air of loftiness, that neither labor nor lash could rid of her." That's what he wrote in the book. She's genial and agile and hard-working. Where she's making the corn-husk dolls -- that was something that came to me one night when I was just day-dreaming about Patsey and what she might do in her free time. Steve loved the idea and put it in the film. Those were moments of comfort and I think that's all Patsey was looking for. The reason why she picks 500 pounds of cotton a day is that she's just looking for peace and comfort. She's just trying to get through her pain, she's not wallowing in it. I couldn't wallow in it as an actor.
What kind of collaboration did you have with Steve? One of the first things he said to me -- and the thing he kept repeating along the way -- was that Patsey is simple. He wasn't interested in her being noble. He wanted a simplicity. She lived a life based in survival with the kind of master that she had. I watched Steve's movies and I knew that this man had a vision and that it was a clear. The wonderful thing about Steve is that he has an instinct for the actor's instinct. When he hires people, it's because he believes that they have what it takes to do the thing he hired them to do. He gives you the room to explore everything. It's an environment where failure is welcome and encouraged, because that's where discoveries are made. That's where miracles happen, when you allow it all in. Then he's there to finesse. It was a beautiful creative thing with him.
Many reviewers have said this film casts a new light on slavery. What were you surprised to learn during the process? For one thing, I didn't know that I didn't know about slavery. I was like, "Whoa! There's so much going on in this world that I didn't realize I didn't know." In its entirety, "12 Years A Slave," and the experience of being in it, has been an education, and I hope its the same for people who watch it. What struck me watching the film is how much it is about a call to love. The only that gets Solomon through those 12 years is love for his family and the faith that he would see them again. Slavery, as it is depicted in Solomon Northup's autobiography and in Steve's film, is very human. That institution was created by human beings in a way that we don't necessarily want to acknowledge or accept. Recognizing the humanity all around. Even a person like Epps, who does such despicable things, you cannot deny in the way that Michael Fassbender plays him that he is human. He is acting out of circumstance and fear and ignorance.
Both Michael and Sarah Paulson add such depth to Epps and his wife, when another film might have portrayed them as one-note villains. Exactly. It reminds us that we are capable of those things. It is not foreign. It's like today: There are atrocities happening today that are quite like those things that happened back then, so it's not so far away from us. I think that's what the film makes us confront. We are capable of being Epps. We are certainly capable of being Solomon.
What was your reaction after seeing the film for the first time? I was a wreck. I cried from the moment that Solomon was in shackles to the very end, through the credits and then probably for an hour after. It was a cathartic experience. I was happy to be in that kind of condition, where I'm confronted by so much humanity. I felt a deep sense that something had been satiated. I needed to go through that, and I didn't even know I needed to go through that. I watched that with my best friend and my manager and my agent and it just formed a closeness. That's the wonderful thing about this film. When people leave there is a need to connect with each other. People want to be nicer [laughs].
There is a lot of Oscar buzz for this film and for your performance. Has it sunk in yet that you might earn an Academy Award nomination? I'm still trying to get over the fact that my name is being mentioned with freakin' Brad Pitt! It's a lot. My name is coming up alongside people that I have grown up watching and who I respect so deeply. That is incredible and unbelievable. At the end of the day, at this point -- before the film has opened -- I'm just so excited that it is resonating. I'm so excited that the thing Steve set off to do is being received and received positively. I just wish for that to continue. If awards buzz is the way in which we get people to see it, then so be it! For me personally, my reward has been being a part of this process. It's a reward that just keeps giving. I wouldn't trade it for the world.
Where do you go after this? I spoke to Sarah Paulson and she joked that you probably won't star in a movie this good for a long time. For me, I was like, "Maybe I should take up crocheting or something else." [Laughs] Really, I don't know. That's the thing about this experience. I think all of us are feeling that way. We all feel like this has been a once-in-a-lifetime experience, and I'm so happy to have had it. There is no way I'm going to be able to duplicate it, and I will not seek that. I just hope to have a career that extends beyond this project and one that is varied and continues to offer me things that make me feel afraid to do them.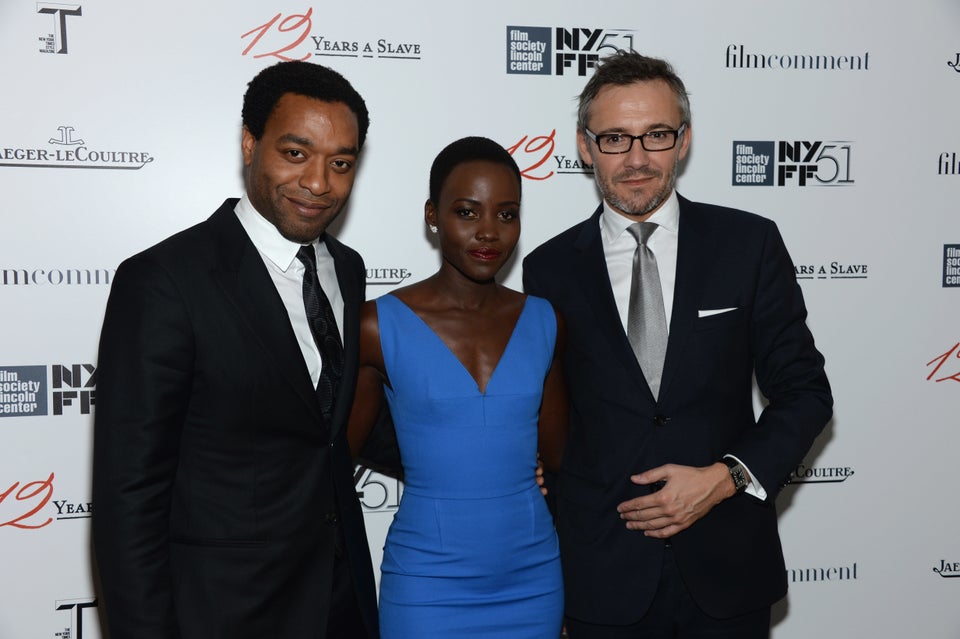 '12 Years A Slave' Photos