WASHINGTON ― Sen. Luther Strange's (R-Ala.) bid to keep his seat is backed by much of the GOP establishment, which has blanketed the airwaves in Alabama for weeks with television ads in support of his campaign.
Both President Donald Trump and Vice President Mike Pence, who carried the Cotton State overwhelmingly in last year's presidential election, say he deserves the job, and plan to campaign for him just days before the election on Sept. 26.
And his opponent, former Alabama Supreme Court Chief Justice Roy Moore, has a long history of making controversial comments, including one just over the weekend about minorities. He was also twice removed from his position for flouting the law.
Despite those advantages, the incumbent Alabama senator has struggled to compete against Moore, a staunch evangelical who has led in most polls and who is seen as the prohibitive front-runner in the race. Why, then, is a Trump-backed candidate with serious financial support coming up short in a state that Trump carried by nearly 30 points in November?
"Strange has been pretty universally disliked in Alabama since his appointment by [former Alabama Gov. Robert] Bentley. That hump is really hard to get over," Montgomery-based radio talk show host Dale Jackson told HuffPost.
When he was state attorney general, Strange faced accusations of stalling his investigation into Bentley, who resigned amid a sex scandal earlier this year. The conduct of Strange's deputy during a public corruption case against former Alabama House Speaker Mike Hubbard, who was sentenced to four years in jail, also raised questions in some corners of the state about Strange's fitness for office.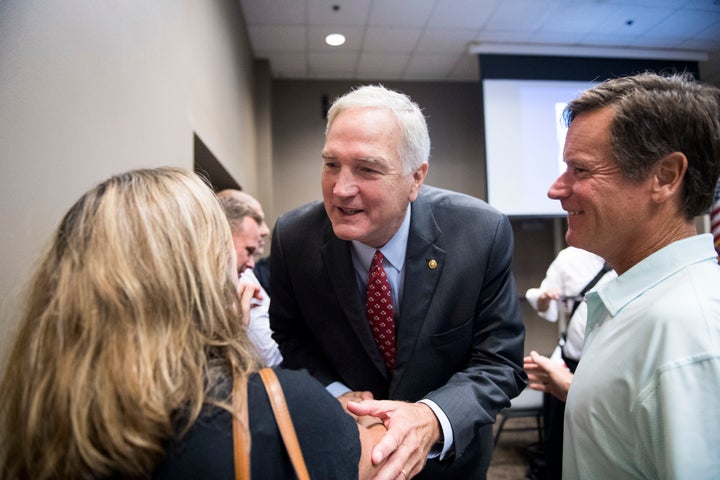 Strange also hasn't had much success defining an opponent who appears to be ― at least so far ― made out of the same material as "Teflon Don" Trump. Attacks lobbed by the Strange campaign and the Senate Leadership Fund, a super PAC aligned with Senate Majority Leader Mitch McConnell (R-Ky.), against Moore have had marginal success. (One recent poll, however, did show Strange narrowing the gap.)
"What most people outside of Alabama don't realize is that Moore is probably the most Trump-esque candidate in the country right now," Alabama-based GOP pollster and strategist Brent Buchanan said. "Say anything and it doesn't affect his numbers, no matter how much you attack him."
In their latest salvo, the SLF aired an ad highlighting comments from Moore that suggest he opposes building Trump's proposed wall along the Mexican border. Politifact, the website that fact-checks candidate statements, said the ad was selectively edited. A statement on Moore's campaign website reads, "If a wall is our only option, then we should build it immediately," which his opponents are attempting to portray as showing daylight between him and Trump.
Moore has further benefitted by consolidating anti-establishment support, railing on Strange for his ties to McConnell. Over the weekend, he secured the endorsement of Rep. Mo Brooks (R-Ala.), who finished third in the first-round primary with 20 percent of the vote. The two men aren't exactly friends, given the bruising primary battle this summer, but they are ideologically aligned and share a common enemy: McConnell and the "swamp" in Washington.
The former judge has also enjoyed an uptick of positive coverage from Breitbart News, the website espousing white nationalist views, ever since Steve Bannon left the Trump administration and rejoined the outlet this month. The controversial former White House chief strategist is targeting a number of incumbent GOP senators during the 2018 midterm elections, including Strange, setting up a showdown with his former boss.
Sebastian Gorka, another ousted Trump aide and Bannon ally, is also expected to rally for Moore this week alongside onetime anti-establishment heartthrob and former Alaska Gov. Sarah Palin.
Moore's supporters say their opposition to Trump's favored candidate does not reflect on their attitude toward the president, but rather toward Strange himself.
"Luther is a rubber stamp," said state Rep. Mike Ball, who endorsed Moore. "He's kissed the president's butt so much, obviously the president likes that."
"In order to expect loyalty, you have to give loyalty. To him it looks like a one-way street," Ball said, referring to Trump.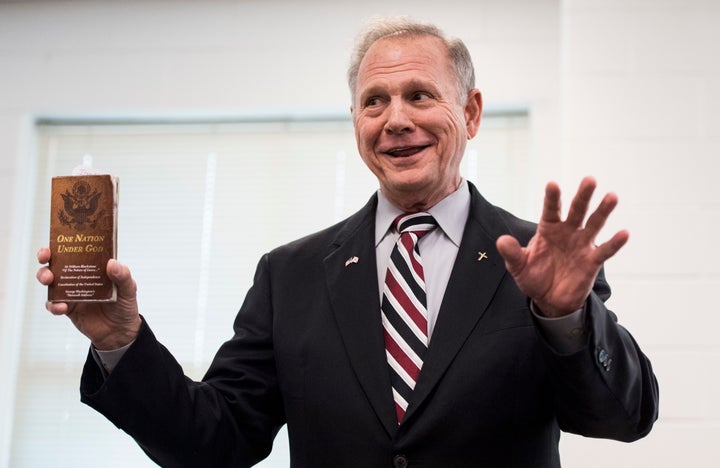 Given the strong unlikelihood of a Democratic pickup in a deeply conservative state like Alabama, a win on Tuesday would make Moore the odds-on favorite to be its next U.S. senator. It would also represent an embarrassing defeat for both McConnell and Trump, two men who couldn't be more different temperamentally yet who also share a legislative agenda that is dependent on a reliable Senate vote from Alabama.
"Trump has basically said, 'I've gone down this path, and I can't go back. If I can make a difference, I'm going to do it, because if he loses, [the media] will say Trump has no stroke in a red state.′ I think Trump knows that," Jackson said.
Still, there may be time to turn it around.
Trump's rally with Strange on Friday, just days before the runoff, is likely to give the incumbent senator a significant boost ― perhaps even one large enough to catapult him to election. After all, he has helped other Republican congressional candidates cross the finish line to victory.
Moreover, the fact that the event is being held in Huntsville, Alabama, is likely no accident. The conservative enclave on the northern edge of the state falls within the boundaries of Alabama's 5th Congressional District, which is represented by Brooks.
"He's really making a play for the Brooks voters," Madison County GOP Chair Sam Givhan said, referring to some of the county's residents who are still undecided.
Trump is also likely to generate higher interest in the competitive race. Voter turnout in last month's first-round primary was particularly dismal, and a president known for his flair could drive more residents to the polls on Tuesday.
"Will Trump out-Trump Moore?" pondered Givhan. "I don't know the answer to that."
CLARIFICATION: A reference to Strange's "re-election" campaign has been amended, as this is his first effort to be elected to a post to which he was initially appointed.
Support HuffPost
The Stakes Have Never Been Higher
Popular in the Community