NEW YORK ― When Margot Robbie read the script for "I, Tonya," she assumed it was a work of fiction.
"I never heard of the incident. I never heard any of their names," she told HuffPost during an interview at the Crosby Street Hotel in New York earlier this month. "[It was] just written like it was meant to be a mockumentary style. Then I found out it was a true story — completely true ― and I was shocked and enthralled by that."
How Robbie missed the international coverage of U.S. figure skater Tonya Harding ― who was accused of being involved in a vicious attack against fellow skater Nancy Kerrigan ahead of the 1994 Winter Olympics ― is anyone's guess. But then, she was 3 years old at the time, growing up in a small town in Southern Queensland, Australia. That could explain why she was taken aback by the real-life plot of her buzzed-about new movie.
The producer and actress is earning praise for her raw portrayal of Harding, who was branded a ruthless rival following the horrible incident in Detroit. "I, Tonya" chronicles the Kerrigan scandal, albeit with the goal of showing viewers who Harding actually is and what kind of life she led during the height of her career.
Robbie was cozy in a chair when I walked into her hotel room at the Crosby last week to discuss the Craig Gillespie film. Her big blue eyes stared up at me to say hello before she calmly alerted her publicist to an incoming threat.
"There's a paparazzi guy taking pictures from down there," she said, pointing out the room's floor-to-ceiling windows. I peeked outside along with the group, and, indeed, a paparazzo was lurking on a staircase across the street. We shut the curtains and moved the chairs to the other side of the room, where Robbie couldn't be captured by a long lens.
"My friends won't walk with me through airports," she said as we settled in for our conversation. "You can spot them a mile away. I can be walking somewhere and say there's paparazzi behind the tree, and everyone's like, 'No, there's not.' And I'm like, 'Trust me.'"
Robbie has endured this kind of limelight ever since she moved to New York from Australia after nabbing a role on ABC's short-lived series "Pan Am" in 2011. She was already a TV celebrity in her home country, starring as Donna on "Neighbours" for three years, so she assumed she knew what was awaiting her in the Big Apple. She was wrong.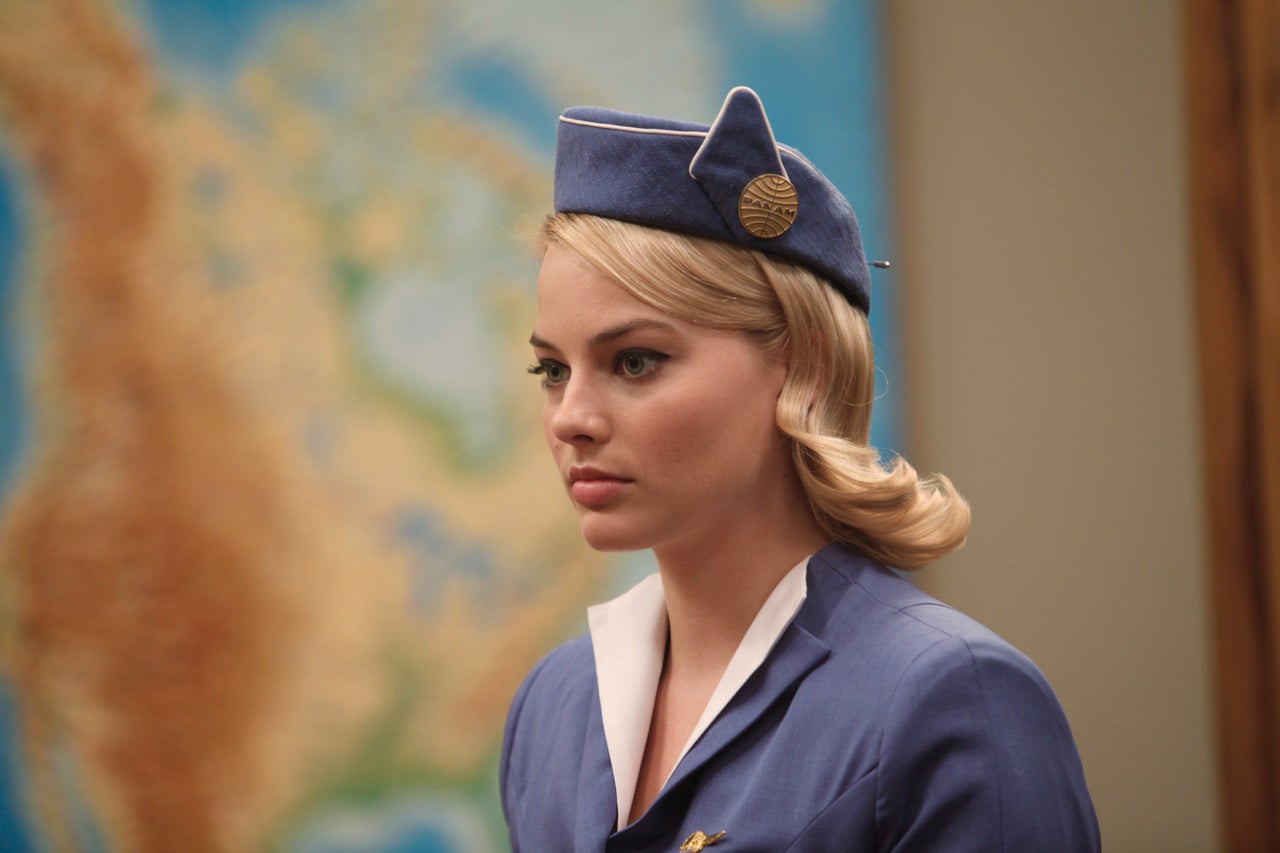 "['Pan Am'] was my first job in America, and it was wildly different to how TV operates in Australia." She recalled being particularly shocked by the show's "segregation between cast and crew" and the fact that actors had their own trailers.
On "Neighbours," "we all had one big green room with the 30 cast members. We were in it together, 17 hours a day, day in and day out, all year round. We'd make our tea where the crew made their tea. I'd make tea for crew. It was never someone coming to you being like, 'What can I get you?' And there was suddenly an omelet chef in America and a chair with your name on it. I was like, 'I don't want to sit on my own. I want to sit with everyone else!'"
Following the cancellation of "Pan Am," Robbie went on audition after audition, eventually landing a meeting with Martin Scorsese for his 2013 film "The Wolf of Wall Street." She nailed it "by hauling off and giving Leonardo DiCaprio a thunderclap of a slap on the face," Scorsese told Time of Robbie, who went on to play DiCaprio's fiery on-screen wife. "[It was] an improvisation that stunned us all."
"I was obviously trying to transition into the features world, and I never went for that audition presuming I would get the role," Robbie told me. "I didn't even like [Naomi Lapaglia] as a person when I auditioned for her — I didn't understand her. She was a little more two-dimensional on the page. She was written to be a kind of a ruthless gold digger. Cut to when I actually got the role and was actually looking at this character as someone to play and someone I needed to relate to ― there was a lot of work to be done."
Portraying dynamic, difficult women like Naomi is Robbie's forte. Take Harley Quinn, for example. Her turn as the "Suicide Squad" supervillain was a slight glimmer in a hyped-up film that, well, flopped. "Though there were still big chunks that I had to fill in myself, there was so much material to go off, and she was pretty multifaceted and multidimensional already," she said of the character.

Before playing Harding in "I, Tonya," Robbie chose to immerse herself in old skating footage, books and documentaries about the Portland, Oregon, athlete in order to find a new angle on a story that the general public assumed it had figured out.
"I had an amazing amount of information to go off, but it was all seen through a pretty specific gaze. The challenge of this story was trying to flip it and see the other side. I was on one side of the mirror seeing it all that I had no idea what was on the other side. No one seemed to be asking those questions."
In January 1994, Harding's ex-husband Jeff Gillooly (played by Sebastian Stan) conspired with his friend Shawn Eckardt (Paul Walter Hauser), who hired Derrick Smith and Shane Stant to "eliminate" Kerrigan from skating competition. Two days before the Olympic trials, Stant used a baton to club an off-ice Kerrigan in the knee before fleeing. In the following months, Gillooly was charged with racketeering and Eckardt, Smith and Stant were charged with conspiracy to commit second-degree assault, and were sentenced to jail time. Meanwhile, Oregon Judge Donald H. Londer charged Harding $160,000 in fines, donations and special costs for hindering the investigation. She also received 500 hours of community service, was sentenced to three years' probation and was forced to resign from the U.S. Figure Skating Association at 23 years old.
With this in mind, "I, Tonya" delves deep into Harding's pre-scandal days; the story spans ages 15 to 44.
Robbie met Harding a week before filming began, and the actress made sure to reiterate that the persona she created was not meant to mimic or undermine her. "She was incredibly understanding about it," Robbie said. Oddly enough, Harding was much more concerned about the actress's well-being, asking about her ice-skating training and how she was dealing with fame at such a young age.
"To suddenly see that person in real life in front of me was really bizarre. It was so surreal. I spent six months prepping this character. I did nothing but think about Tonya. I watched every single interview, every single documentary a thousand times over. I had her playing in my iPod constantly. I had her voice in my head 24 hours a day."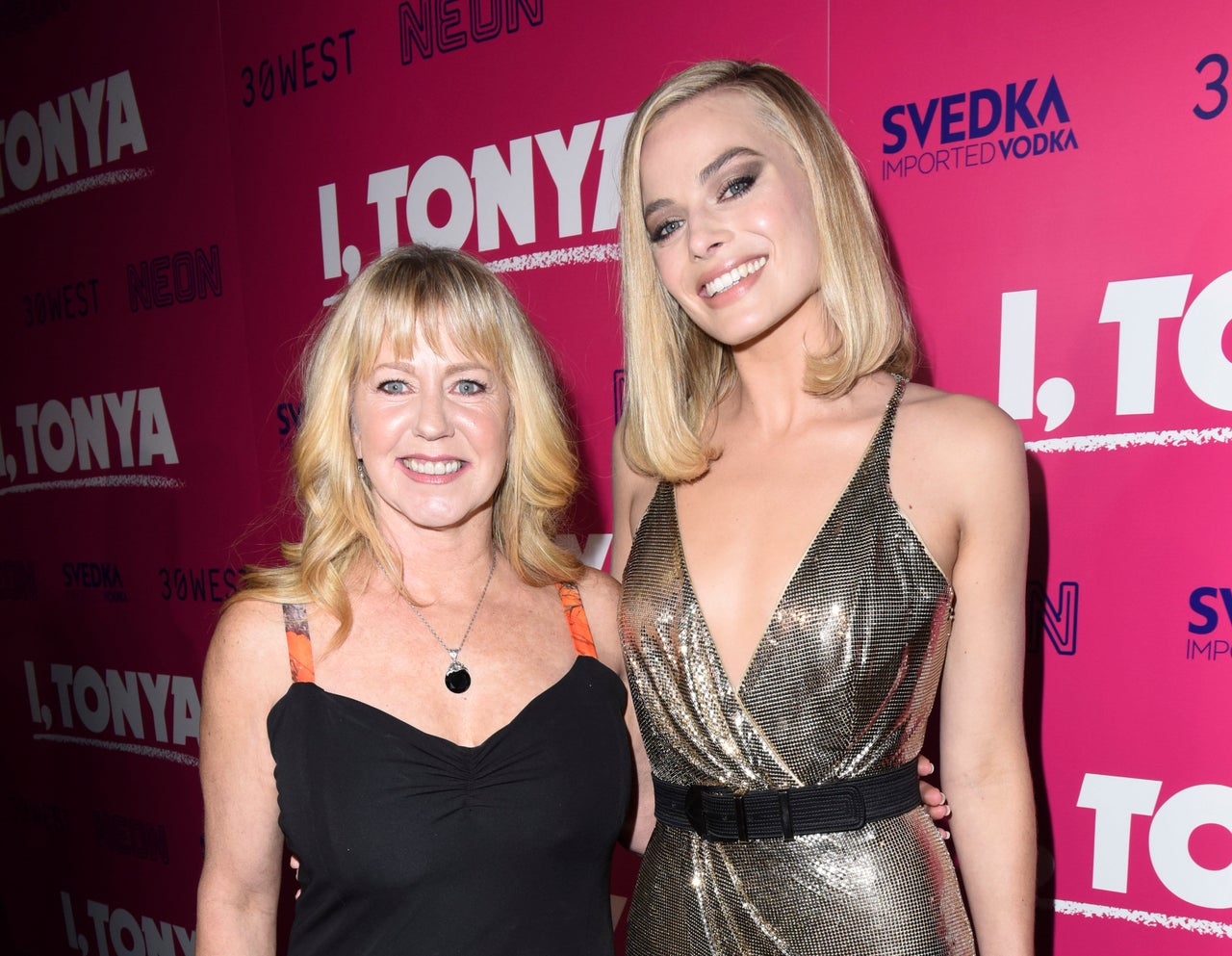 The mother-daughter relationship presented in the film shines a light on the abuse Harding faced throughout her life and skating career at the hands of LaVona. When I asked Robbie if LaVona had seen or shared her thoughts on "I, Tonya," Robbie revealed that producers didn't even know whether Harding's mother was alive until recently.
"We couldn't find her, and Tonya didn't know if she was still alive," the actress said, adding that Janney's "genius" portrayal of LaVona was based on Harding's own memories and experiences. "Since then, Tonya's mother popped up on TV recently and is doing interviews, and suddenly we realized she is very much alive. But, no, I've yet to meet her or have any contact with her."
The film isn't kind to LaVona or the way she treated her daughter. It isn't necessarily kind to any of the characters.
"We went through a hundred directors," Robbie said. "We had our eye on Craig because of 'Lars and the Real Girl,' and he had really accomplished a specific tone in that film — that dark comedy but you care."
For reference, "Lars and the Real Girl" follows a delusional young man (Ryan Gosling) who strikes up an unconventional relationship with a doll he finds on the Internet.
"He never approached the characters in that film like they were silly or tried to make a joke out of them, even though they may have been doing something that, to us, seemed kind of crazy. That was important," Robbie added, "that someone approach these characters like real people and without judgment."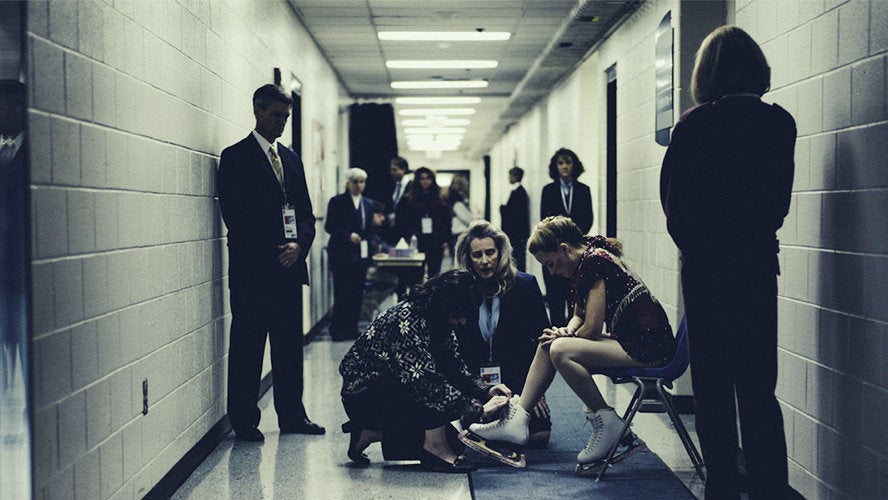 "I, Tonya" has already earned critical kudos, and Robbie's performance will surely continue to be celebrated this awards season. When asked what she makes of all the buzz, the actress was as collected as they come.
"I just want people to see our film and to hear what they think of it. Even if they don't like it. If they understand what we're making, then I'm happy and I'm happy that we did it. If it makes them think, if it makes them question themselves, then that's all that matters. But, really, the rest I just try to take with a grain of salt."
Robbie's main goal these days is to find, produce and distribute films about women, for women, starring women and created by women. Her production company, LuckyChap Entertainment, also aims to promote first- and second-time directors — with men in the equation, too.
Following "I, Tonya," Robbie is producing and starring in "Terminal" and "Dreamland," both set for 2018 releases. She's also appearing alongside fellow award-show darling (and her "major actress crush") Saoirse Ronan in 2018′s "Mary Queen of Scots," in which Robbie plays Queen Elizabeth I.
"I was worried about playing Queen Elizabeth recently, too, because, again, a real-life person, someone everyone knows and has been portrayed by so many actresses already. I was terrified," she said.
Thankfully, someone gave her the advice she needed: "Get over yourself," they said. "It's not about you. You're a vehicle for this character."
"That's just what you got to do," she told me.
Robbie wants to share that kind of lesson with up-and-comers trying to find their niches in the industry. Through LuckyChap, she's been meeting with younger actresses, probing them on what stories they want to tell.
"You don't have to wait until you've been doing this for 20 years before you can make a film yourself. Like, I'm 27. Do it. No one's going to stop you."
"I, Tonya" is in theaters starting Friday.
Support HuffPost
The Stakes Have Never Been Higher
Before You Go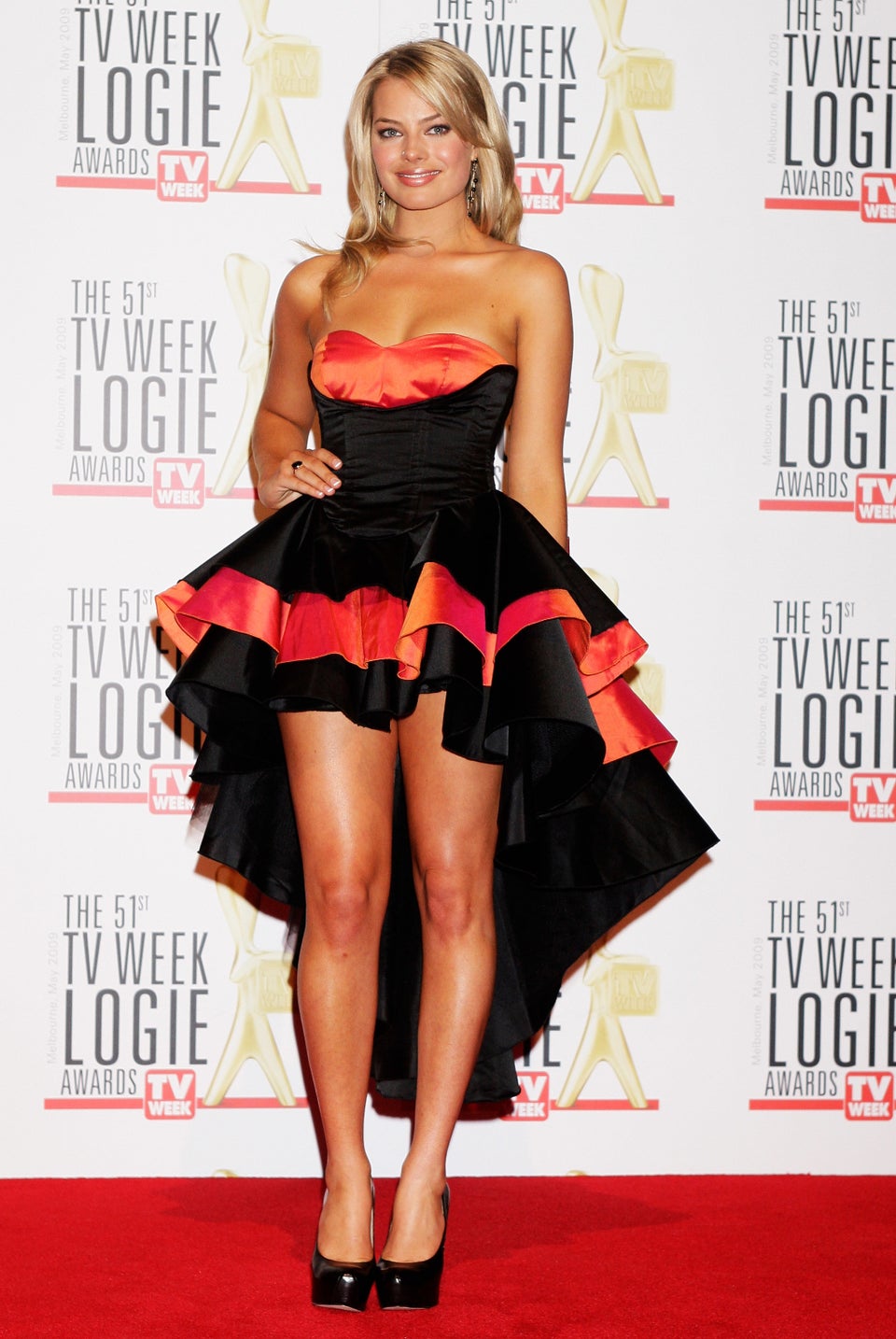 Margot Robbie's Style Evolution
Popular in the Community