Every time Maria Snyder walks into the room, I see green. Not envy green -- eco-green, though it's true she's easy to admire. Maria is a bombshell combination of beauty and brains, with a serious talent for creating exuberantly beautiful art. She's one rare example of a quintuple threat entrepreneur -- a Model-Muse-Painter-Sculptor-Fashion Designer whose inspirational works have yielded multiple market successes. Now she's focusing her talents on raising environmental awareness in an effort to positively impact how children connect with the earth.
Eco Boys and Girls, Maria's latest project, debuts for Earth Week 2010 and is a wonderfully whimsical cast of cartoon characters who educate children of all ages about taking care of this world we call home. Tasked with the mission of helping to keep our only planet from becoming a lonely planet, the Eco Boys and Girls resonate with the responsibility of their message: we create the world we live in.


Peace wall commissioned by Medical City Children's Hospital, Dallas, Texas; Ernie Earth
Though popular interest in the environment has risen in recent years, this is no new subject for Maria Snyder. Raised in Maine by a family of entrepreneurs, respect for both people and the planet was native to Maria's consciousness since childhood. Her family encouraged her love of nature and her expression of it through art and design. Maria's brother studied environmental sciences and received a Bachelor of Science Degree from Harvard. When they opened Maria's first design business together in the 1990's she was an eco-pioneer, using some of the first recycled fabrics available in both her designer clothing and home goods products. Back then, she says, it was a real challenge finding anyone even weaving recycled materials, much less attractive and pleasingly tactile ones. Finding support for her vision from both fabric mills and retailers took determination.


Maria Synder; Runway photos from Maria's signature womenswear collection
Now fast forward into the new millennium when green products have become the gold standard for intelligent design. And Maria continues to pursue her mission of elevating earth awareness with her constantly evolving creative work.
Eco Boys and Girls is a notable moment within the timeline of Maria's career, as it addresses the underlying question of how, regardless of the tides of support for pro-environmental products, we can encourage humanity's consistent recognition of our integral connection with the planet. Maria has recognized that sustainability must be a twofold action; to sustain our environment we must first find ways to sustain our commitment to it. So how to help bridge the gap between hopeful earth altruism and the reality of consistent awareness? Perhaps part of the answer is fun -- in the form of sweet and groovy educational heroes like Maria's merry characters.


Mandala Love Bubbles 2007; Lulu Love
Ernie Earth, Ray Recycle and Sammy Sun were recently greeted in a public service announcement given by Lisa Jackson, chief of the U.S. Environmental Protection Agency. She welcomes the Eco Boys and Girls to join in celebrating our environment and encourages the importance of taking action to care for our planet. The Eco Boys and Girls have also agreed to lend their inspirational good looks and cheer to support the United Nations Millennium Project. They are the Millennium Kids, set to become the youngest friends and representatives of the United Nations' mission to eradicate poverty and hunger by 2015.
In my experience, knowledge, no matter how important, remains an abstract equation to people until it becomes personal. The Eco Boys and Girls appeal in an emotionally engaging way to big people like me as much little people who are just beginning to explore their surroundings. I still haven't forgotten that some of the best lessons I've learned came courtesy of several lovable Sesame Street Muppets. So it's a pleasure to meet a fresh new crop of characters that promote good feelings and good deeds all at the same time.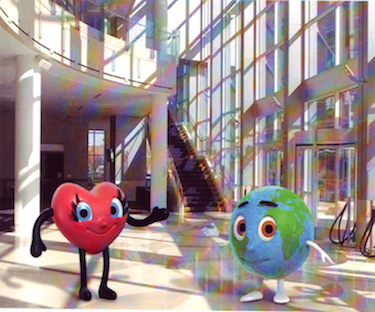 Lulu Love and Ernie Earth at the Liberty Science Center
This Saturday, April 24th at 2pm Maria Snyder and her Eco Boys and Girls will be welcoming visitors to the Liberty Science Center in celebration of Earth Week 2010. Ernie Earth, Lulu Love, Sammy Sun, Patsy Peace and Ray Recycle are rolling out the red carpet and throwing a big fun party for all -- both big and small -- to attend. Come join the festivities! There will be games, exhibits and a warm welcome from Dr. Noel J. Brown, CEO of Friends of the United Nations. EPA Chief Lisa Jackson's PSA will be featured along with a short film starring the Eco Boys and Girls. For more information, check out The Liberty Science Center at: http://www.lsc.org
Related
Popular in the Community