ANNAPOLIS, Maryland — At the first of multiple meetings that the Trump administration is hosting to gather public input on its aggressive offshore drilling proposal, Maryland Attorney General Brian Frosh (D) asked Tuesday how his state could get the same exemption that Interior Secretary Ryan Zinke granted to Florida.
Told to contact Zinke's spokeswoman, Frosh tried to make things easy. He took out a pen, wrote a waiver on a piece of blank paper and asked a Bureau of Ocean Energy Management official to make sure it reaches Zinke's desk. Frosh said he was concerned that the secretary wouldn't take the time to speak or meet with him.
"Apart from Mar-a-Lago, I think we got everything Florida's got," Frosh told BOEM's chief environmental officer, William Brown. "We got beautiful beaches. We got the Chesapeake Bay. We've got an economy that's based on the bay's health."
Frosh was of course referring to Zinke's sudden decision last week to remove Florida's coastal waters from consideration for future offshore oil drilling.
A few days into the new year, the Trump administration released a sweeping plan to boost America's fossil fuel production that would make available for drilling leases roughly 90 percent of the U.S. Outer Continental Shelf, including huge swaths of the Atlantic, Arctic and Pacific oceans. The move drew instant outrage from both Democrats and Republicans.
Less a week later, just two days into a 60-day public comment period, Zinke announced that at the recommendation of Florida Gov. Rick Scott (R) — whom he called a "straightforward leader that can be trusted" — he would remove that state's coastal waters from the areas that could be leased for drilling. Zinke broke the news from Tallahassee after a brief face-to-face meeting with Scott, an otherwise staunch Trump ally who had pushed back against the offshore proposal even before an official announcement.
In a Twitter post that same day, Zinke referenced Scott in declaring that "local voices matter." In a statement announcing the Florida decision, he said, "President Trump has directed me to rebuild our offshore oil and gas program in a manner that supports our national energy policy and also takes into consideration the local and state voice. I support the governor's position that Florida is unique and its coasts are heavily reliant on tourism as an economic driver."
A firestorm followed the seemingly arbitrary decision. Some wondered if Zinke would give equal weight to voices from blue states; others suggested the move was a political stunt to help get Scott elected to the Senate this year. Democratic governors, lawmakers and other officials demanded that their states also be granted waivers. And Republicans from Atlantic coastal states, including some who support offshore drilling, said the decision to allow it in coastal waters ultimately should be made by local officials.
Frosh told HuffPost he can't make sense of Zinke's handling of the situation. But the secretary needs to understand the importance of Maryland's offshore waters, listen to local voices and grant the state an exemption, Frosh said.
"All he's got to do is sign it and send it back," the Maryland attorney general said of his draft waiver. "That's good with me."
In the days since his trip to Florida, Zinke has spoken with other coastal governors, as Axios noted, but has not withdrawn any other offshore areas from drilling consideration. The Associated Press reported last week that Zinke told Oregon Gov. Kate Brown (D) that he would give thought to exempting her state's coastal waters.
Tuesday's event in Annapolis was the first of more than 20 public meetings that the Bureau of Ocean Energy Management is hosting over the next several weeks. At a press conference ahead of the event, several Maryland officials and environmentalists blasted the Trump administration for what they view as a shortsighted action that threatens the economy, environment and climate.
"Any potential offshore oil and gas development to the mid-Atlantic could harm our economic and environmental interests and adversely affect our state's robust marine-related communities and industries, especially travel and tourism and boating and fishing, which support hundreds of thousands of jobs and generate tens of billions of dollars in revenue," said Mark Belton, secretary of the Maryland Department of Natural Resources.
Tony Friederick, a local recreational fisherman, said "a lot of magical things happen in the Chesapeake Bay" — a critical habitat for numerous species — and that "the risk vs. reward [of offshore drilling] makes no sense." He offered this message to the oil companies eyeing waters off the Maryland coast: "Your best bet is to probably pick up sticks."
Among those who submitted written comments to BOEM were Paula Deschamp, who worked at the Environmental Protection Agency for 20 years, and her husband, Jeff Evans. The Maryland couple lives in Bethesda, frequents the Delaware shore and enjoys windsurfing. They told HuffPost they felt it was important not only to voice their opposition but to hear from the public servants who are handling the process.
"I see so much of the politics driving attitudes about the environment in a certain direction, and I just wanted to come out and really do something more than just complaining about how it is," Deschamp said. "And show my support for responsible exploration for additional fossil fuels, if that's possible. My feeling is that for energy dominance, this is kind of the wrong direction to go. ... I think our country should be investing its time and resources into alternative fuel."
"We spend our lives along the coast and it just seems like to have these resources put in jeopardy for what appears to be minimal gain, in terms of petroleum products, just seems harmful and shameful," Evans said.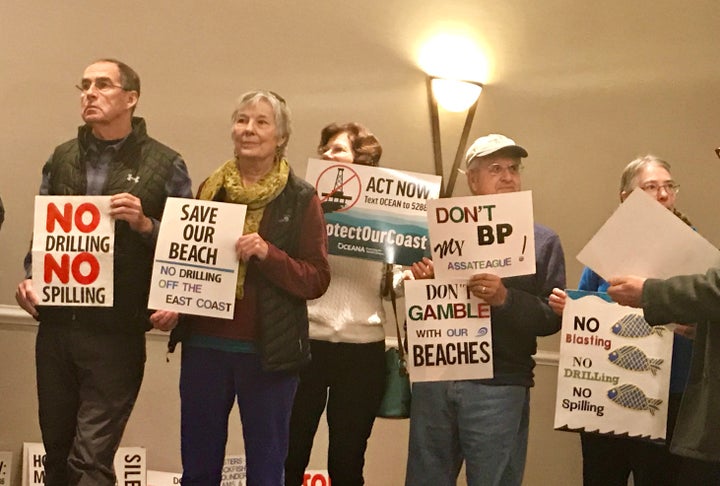 Popular in the Community