The parents of a University of Alabama student who killed herself after saying she had been raped by an influential Alabama man have sued their daughter's alleged attacker, as well as local law enforcement officers and officials at the university.
Michael and Cynthia Rondini said they filed the federal wrongful death lawsuit in the hope that the tragedy suffered by their family would not be repeated. "The Rondini family is not in this for the money, they are only interested in shining a bright light on a tragic yet preventable situation," Leroy Maxwell Jr., the couple's attorney, told AL.com in a statement.
Filed over the weekend in a U.S. district court in Alabama, the suit alleges that University of Alabama officials and Tuscaloosa law enforcement failed to protect Megan Rondini, who was 20 when she killed herself in 2016. Their "intentional, wanton and wrongful conduct" caused Rondini extreme depression and anxiety, which ultimately led to her suicide, according to the suit obtained by AL.com.
Rondini told police in July 2015 that she was raped after possibly being drugged by a man at a local bar. The lawsuit identifies Terry Bunn Jr. as the man she accused of rape, and BuzzFeed and other outlets have reported that he is a member of a wealthy and influential Tuscaloosa family. He has not been charged with a crime. The district attorney concluded Rondini's case didn't meet the legal definition of sexual assault ― which in Alabama requires victims to prove they "earnestly" fought their attacker ― and was subsequently closed, according to BuzzFeed.
Rondini said the man drove her to his house where he expressed a desire to have sex with her. She "repeatedly asked [him] to take her home or back to her friend's residence and he refused," according to the lawsuit. Instead, the man "demanded her to get on his bed ... [and] forcefully removed her clothing."
Speaking to police later on the night of the alleged attack, Rondini said she'd "repeatedly" told the man she did not want to have sex with him. He "sexually attacked, abused and assaulted Megan for over 30 minutes against her will and without her consent," the suit said.
When the man eventually fell asleep, Rondini tried to leave the room but discovered she was locked inside. In a panic, she crawled through a second-story window and jumped to the ground.
As she was leaving the property, Rondini realized she'd lost her keys. She told police that she searched the man's car for them, and found a wallet and a pistol inside. Thinking she might have to take a taxi home, she took $3 out of the wallet, she told authorities, and picked up the gun "for safety."
Being unfamiliar with guns, however, Rondini said she accidentally fired it before dropping it on the ground. She did not pick it up again.
"I was never going to hurt anybody with it," Rondini told investigators, according to BuzzFeed. "I got it just to protect myself but I don't eat meat, I could never kill anything, even if it came to that point I wouldn't have been able to use it on a person."
Investigators were fixated on this detail, according to the suit. "Inexplicably, the police shifted the focus to potentially prosecuting Megan for an accidental firearm discharge rather than investigating her assault. Megan ultimately was treated as a crime suspect and her status as a victim of a sex crime was completely disregarded," it said.
Investigators also did not follow proper protocol in handling Rondini's case, the suit alleges. This includes failing to send Rondini's rape kit for testing and not interviewing anyone who'd been at the bar the night of the alleged assault.
Staff at the University of Alabama also failed to offer adequate support to Rondini after the incident, according to the suit. The school said in a statement last month that it was "deeply saddened" by Rondini's death and insisted the student had "received information from university representatives regarding services available to her on campus."
Feeling increasingly isolated and facing potential felony charges for taking the gun, Rondini ― who was diagnosed with post-traumatic stress disorder after the ordeal ― ultimately dropped the case against her alleged rapist and transferred to Southern Methodist University in her native Texas.
"When all is said and done, I wonder what I could've accomplished if one man didn't completely rip everything away from me," Rondini texted a friend last February, just days before killing herself, according to BuzzFeed.
"A rape victim can never move on," Poe said on the House floor. "It's something they carry with them for the rest of their lives. The scars left by the rape do not fade away for victims."
People on social media have been tweeting Rondini's name and story in recent days in remembrance of the young woman.
Before You Go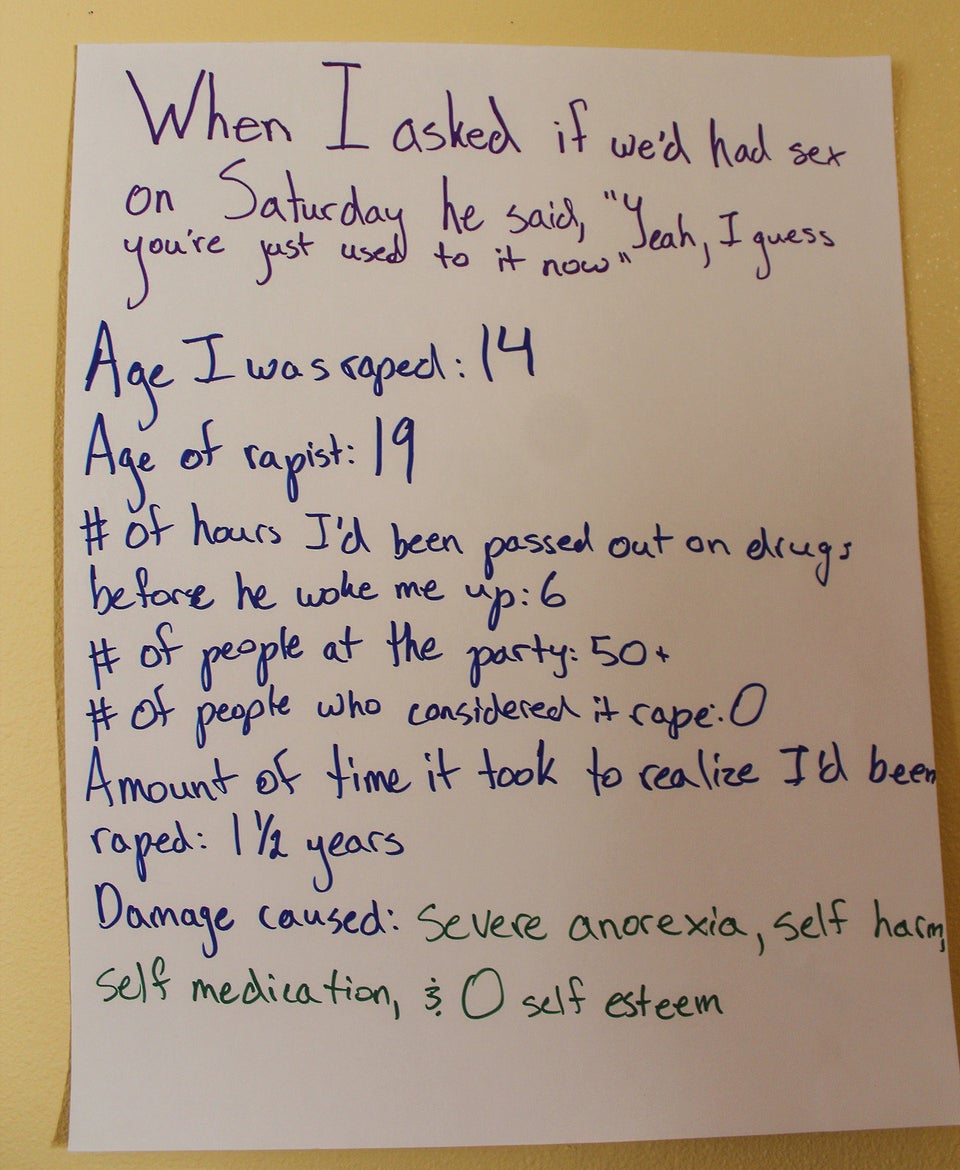 Images From 'Surviving In Numbers' -- A Project Highlighting Sexual Assault Survivors' Experiences
Popular in the Community