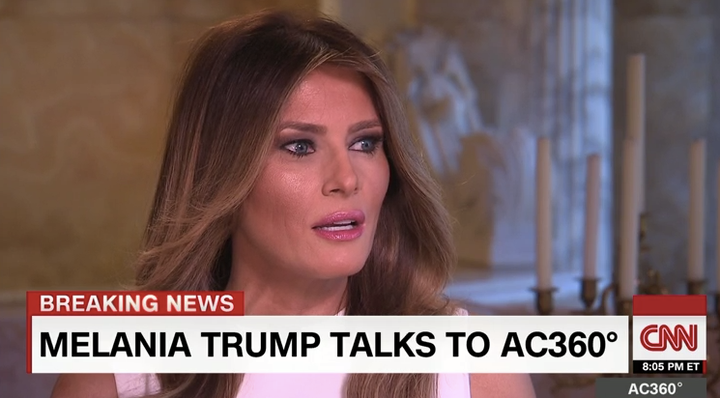 Almost 20 years ago, I was sexually assaulted. I was 14 years old, and the perpetrators were a group of teenage boys, shades of Steubenville back before teenage boys plastered images and bragged about their actions on social media.
Today I am the mother of a 5-year-old son. He is so sweet and full of love ― it's amazing how openly loving little boys can be.
One of my top priorities as a parent of a son is teaching him about sexual assault. I make it a point to speak regularly with him in an age-appropriate way about consent.
"I KNOW BECAUSE THAT'S ALL YOU EVER SAY," he eye-rolled recently when I reinforced that we always have the right to say "No" when someone is touching our bodies, and that we always, always stop touching another person's body when they say "No."
Good, I thought. Because my voice will have to be stronger than the chorus of others he will hear throughout his life, coming at him from every angle and blaring their versions of toxic masculinity into his ears.
Melania, who is the mother of a 10-year-old boy, repeatedly referred to Trump's statements about assaulting women as "boy talk."
"I heard many different stuff ― boys talk," she said. "The boys, the way they talk when they grow up and they want to sometimes show each other, 'Oh, this and that' and talking about the girls."
She also backed up Trump's characterization of his 2005 statements as "locker room talk," and compared him to her 10-year-old son, saying,"Sometimes I say I have two boys at home ― I have my young son and I have my husband. But I know how some men talk, and that's how I saw it."
I agree with Melania that some men talk this way. The seemingly blanket insistence we've seen from men insisting that they don't seems a little too pat, an indicator that many men are still unwilling to turn a critical eye on rape culture and the role they may play in perpetuating it. After all, women hear this kind of talk pretty often, sometimes when we're just trying to walk down the street. We know it exists, in locker rooms and elsewhere.
(As a side note, if life with your husband is like having a second child, may I suggest the number of a good divorce lawyer?)
I don't hold Melania responsible for her husband's actions. The villain here is Trump and his gleeful perpetuation of rape culture. But I am sorely disappointed to see the fellow mother of a son uphold the notion that it's acceptable for anyone, especially boys, to talk the way Trump does.
Melania's interview with Cooper also reinforced some extremely dangerous misconceptions of how sexual assault works. At one point she dismissed the claims of sexual assault against her husband by mentioning that women often give him their phone numbers. It doesn't matter how many women might want to be in a consensual sexual relationship with Donald Trump; what matters is the consent of the women he allegedly assaulted.
When Anderson asked Melania specifically what conversations she has had with her young son regarding Trump's comments, she focused on the "bad language" aspect of her husband's remarks.
"We talk a lot about the campaign. We talk about the language. Because I don't allow that he uses that language. He's at that age and all the boys at that age, yeah they say some bad words. It's very normal ― they growing up. But I tell him there are consequences as well and he needs to be careful of the language he uses."
Dirty words are not the problem here.
I'd be fine with my son dropping 15 f-bombs a day as long as he respects the bodily autonomy of others. And you can damn well bet that if I ever catch him saying anything that suggests otherwise, he won't be getting off on "boy talk."
The best bet we have of changing a system that objectifies women, that causes them to be subject to abuse and violence from a young age, that causes them to live in lifelong fear of rape, is to educate our boys. We must recognize "boy talk" not only as misogyny, but as part of a larger culture that devalues women's bodies and makes them susceptible to assault.
Anything less is not doing our duty as parent or as humans.