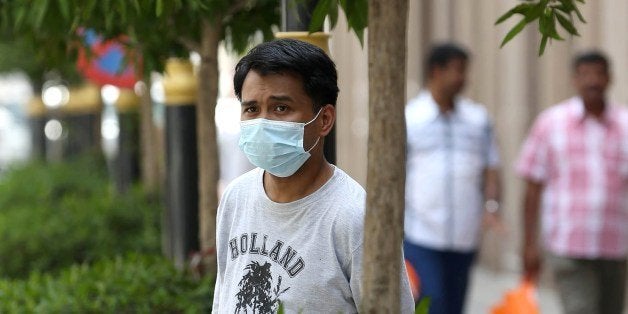 ISTANBUL -- With cases of a virulent and highly fatal pathogen on the rise, including the first-known occurrence in the United States, epidemiologists and public health officials say some of their biggest concerns about the disease lie in the basic information that they still don't have about it.
The virus, called Middle East Respiratory Syndrome, or MERS, is closely related to SARS, which spread rapidly across Asia a decade ago, leaving some 800 people dead. So far, MERS, which has a higher fatality rate than SARS and no known vaccine or cure, has proven to be much less of a public health risk because its transmission rate, or how easy it is to spread between humans, has remained low.
Official health groups like the European Center for Disease Prevention and Control still describe the risk of worldwide pandemic as low, but epidemiologists and public health experts say critical blank spots in the scientific understanding of the virus need to be filled in order to be sure.
"We don't know exactly what's happening," said Dr. David Swerdlow, the head of the MERS monitoring team at the U.S. CDC. "I think there are still some questions that are unanswered about how it's transmitted, how commonly it's occurring, what the prevalence is in the population, what is the spectrum of illness."
Until recently, infections from the disease largely seemed to occur in patients who had direct contact with an infected camel, which is believed to be the source of the disease, or with health care workers who spend extensive time with the most ill patients.
But a recent report by the World Health Organization said that 75% of new infections were transmitted between humans alone, and most of the latest Saudi patients had no known exposure either to camels or health care facilities.
"With this disease, if your epidemiologic data are a month old, it's outdated," said Dr. Michael Osterholm, the director of the Center for Infectious Disease Research and Policy at the University of Minnesota. "Just what role does a lack of adequate respiratory protection in the healthcare setting play? I believe that we must entertain the possibility that there may be mildly ill or asymptomatically infected people who might transmit this."
One of the biggest challenges, some experts say, has been the fact that the current outbreak is centered in a series of countries -- including Saudi Arabia and the United Arab Emirates -- that are not accustomed to opening their facilities and bureaucracies to outside eyes.
It also means that if the virus does mutate, something that could have potentially catastrophic implications, it might not be immediately known.
"Without detailed information on the recent Saudi cases, it's really hard to do anything but guess," one infectious disease expert, Connie Savor Price of Denver Health and Hospital, recently told a leading online medical journal. "We could guess endlessly."
A team from the World Health Organization is currently in Jeddah, Saudi Arabia, where they hope to learn important details about the disease's life cycle and whether it might have changed to become more easily transmitted.
Osterholm said he doesn't think that change has happened -- at least not yet.
"It doesn't appear to have done that," he said. "If it had we might expect to see more efficient human-to-human transmission, including in areas outside of Saudi Arabia. But with a virus like this, you have to view this as a journey, not a yes or no event."
Along the way, Osterholm said, even something as basic as understanding the way the virus leaps from camels to humans is crucial to preventing a worsening of the outbreak. Some experts have noted that Saudi traditions related to camels can make it difficult to limit contact with potentially ill animals.
"With every transmission from an animal to a human you have to worry -- it's like another play at the genetic roulette table, and eventually one might hit the jackpot," Osterholm said. "And when you have more human-to-human virus transmissions, that's even more evolutionary pressure to change. So I look at this like a process -- not where are we at today, but we have to look at where we could be tomorrow."
He added, "Every day we're seeing more cases. We are hardly out of the woods yet."
Support HuffPost
A No-B.S. Guide To Life
Related
Popular in the Community