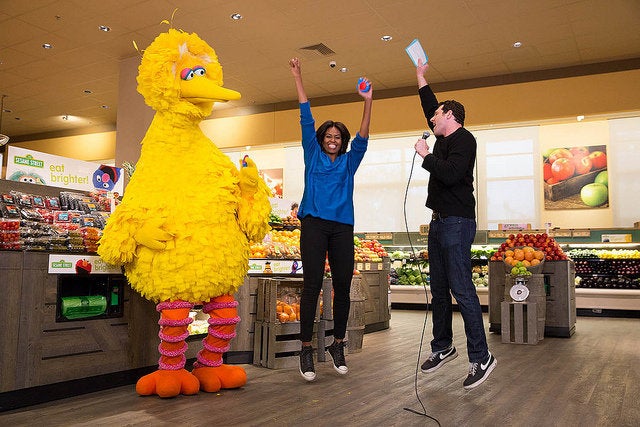 Those familiar with comedian Billy Eichner's game show spoof "Billy on the Street" know Elena, the archetypal New Yorker who occasionally appears on the show as a guest.
"Elena has a weird gift," Eichner said during a talk at the Paley Center Monday night. "She has a lack of self-awareness that works perfectly for this show."
"The things we had to cut out of that ..." Eichner said.
The segment, which was filmed at a Washington, D.C., supermarket, was meant to promote a healthy eating initiative between the First Lady and "Sesame Street" called "eat brighter!" Obama's team had asked to see Eichner's questions in advance, so they sent her some examples of what she could expect from the comedian.
But nothing could have prepared FLOTUS for Elena.
"We were walking out the door. The First Lady is there, her press secretary, her whole team -- we are all gathered around Elena because Elena is giving a monologue about Social Security. And I was so mortified. The First Lady had already given us an hour of her time, which is a lot," Eichner recalled. "And I'm looking at Michelle Obama and looking at Elena, and no one wanted to tell Elena to stop."
"Eventually, she did," he added.
Despite that, Elena has since reappeared on "Billy on the Street," bringing her own unfiltered commentary about Republicans (she does not like them) and One Direction (she very much likes them) with her. 
"I'm going to publish a book of letters and emails Elena has sent me," Eichner joked, miming the book's would-be massive thickness. "You have no idea. She complained that when I went on 'Colbert,' the clip we showed wasn't of her."
And while Elena remains a fan-favorite -- look out for Elena in the season finale, where she goes up against her sister in a trivia game -- Eichner said he doesn't see much of her outside of the show.
"I really adore her," he said. "But I have so much of Elena when we're filming, and that's more than enough Elena for me." 
"Billy on the Street" airs Thursdays at 10:30 p.m. EST on TruTV.
PHOTO GALLERY
Celebrity Homes
Calling all HuffPost superfans!
Sign up for membership to become a founding member and help shape HuffPost's next chapter