Diana Ross may be the Queen of Motown, a VH1 Diva and a musical -- and style -- icon. But when it comes to the White House, Michelle Obama is the biggest star onstage. How can Diana compete?
By getting her glitter on in not one but two different outfits, of course. On Sunday evening, Ross joined Michelle, Sasha, Malia and President Obama onstage at the annual "Christmas in Washington" concert, held in order to "spread some joy and sing along with artists who have much better voices than we do" (according to President Obama). Diana performed first in a royal blue sequined dress followed by a flouncy black and white gown with gold embellishments on the bodice. There was also red lipstick involved, obviously.
But Michelle Obama kept pace in the glam department, sporting a slinky beige cap-sleeved dress with a colorful jeweled belt and metallic kitten heels. The First Daughters Malia and Sasha went for high shine in silver and aquamarine dresses, respectively, with their signature cardigans and flats.
Oddly enough, Diana and the Obama women were almost shown up by a very sparkly Psy, who took the stage in red sequins to perform "Gangnam Style."
Diana Ross, Michelle Obama and Psy: that's a whole lotta diva on one stage.
Check out the Obama family hanging with the stars -- including Demi Lovato and Conan O'Brien -- at the 2012 "Christmas in Washington" concert. Whose outfits do you like better: FLOTUS or Diana Ross?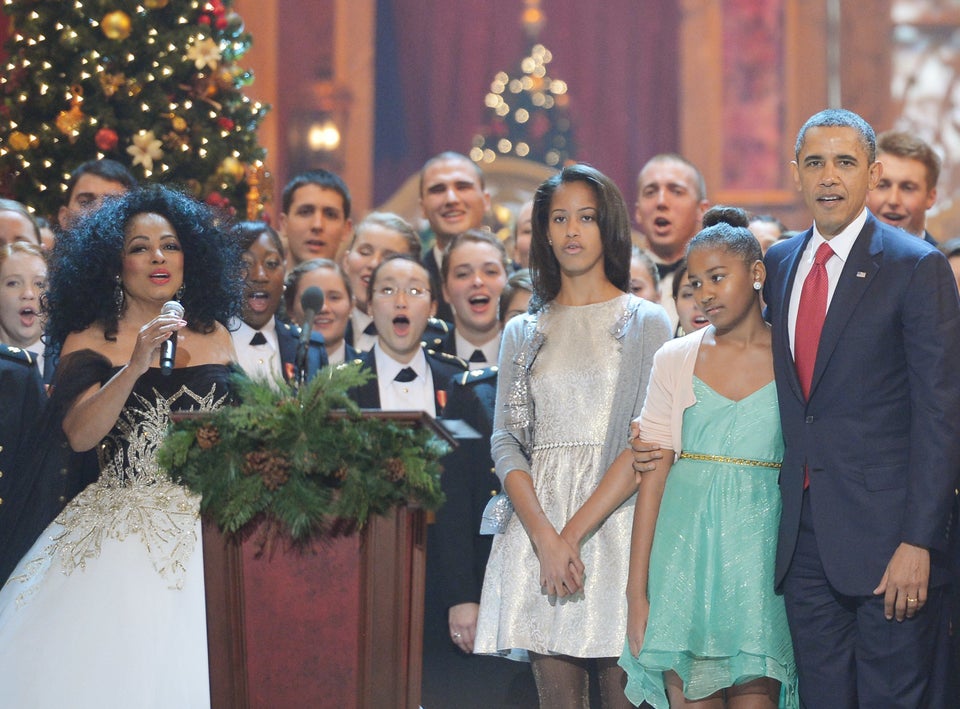 The Obamas Celebrate "Christmas In Washington"
Popular in the Community