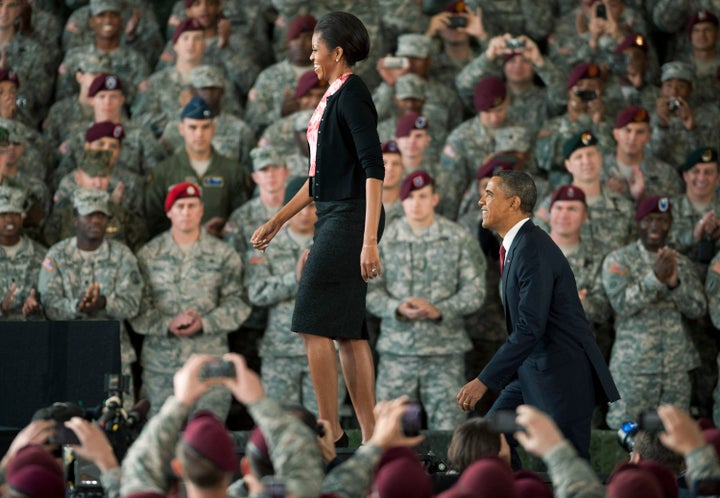 Alongside vice president Joe Biden's wife, Jill Biden, Michelle Obama has organized and attended more events for and with military veterans and their families than any previous first lady, according to veterans groups.
"Certainly other first ladies and presidents have taken an interest, but to make supporting military families [a priority], and not just to make it one of the things you do, this is a game-changer," Joyce Raezer, executive director of the National Military Family Association, told U.S. News & World Report.
"There is this sense that this is genuine," Raezer said. "We haven't had this kind of visibility from the White House -- ever."
According to the Associated Press:
Mrs. Obama said she first got to know about the special challenges facing military families during the 2008 presidential campaign, as she met with military spouses while participating in roundtable discussions with women.

"I was so shocked by the fact that I didn't recognize those voices, that those stories were so new to me," she said. "I thought, I can't be alone, and these voices need to be lifted up."

Mrs. Obama said she decided then that it was appropriate to use the White House "megaphone" to lift the "cloak of invisibility" that too often leaves families struggling on their own.
And while much of the First Lady's military support has made headlines, it's the work she's done outside of the public eye that has in turn bolstered military families' support for her.
"Obama has raised the visibility of the challenges confronted by the families of military service members' frequent relocation, psychological impact of children often raised by single parents due to long deployments, higher incidents of alcohol and drug abuse, and the often difficult access to healthcare," says Sean O'Keefe, the former Navy secretary and NASA administrator, according to U.S. News & World Report.