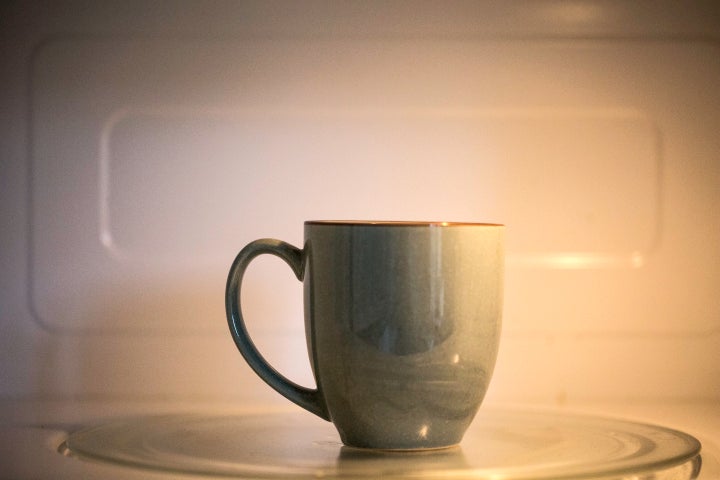 For Vuong, it's all about finding the best way to activate the bioactive compounds: caffeine, the amino acid theanine, and polyphenols. Apparently the traditional ways people make tea don't extract enough of those sought-after compounds.
Lots of people will dip a tea bag in hot water for 30 seconds and be happy with that. Vuong found that method will only extract 10 percent of the benefits of tea. Following manufacturers' instructions, Vuong found he only extracted 60 percent of the good compounds. In order to extract all the good compounds, he discovered you had to brew tea for 20 minutes at 80 degrees. Unfortunately, that's just not practical.
So, Vuong set out for a way to make a good-tasting cup, in a practical method while extracting as many of the good compounds as possible ― and he found it. That's when the microwave came into play.
This is how you brew the best cup of tea, according to Vuong:
Put hot water in the cup with your teabag.
Heat in the microwave for 30 seconds on half power.
Let it sit for a minute.
This method resulted in a tasty cup that extracted about 80 percent of the good compounds. The microwave doesn't just heat the water, it helps extract the compounds, too.
Vuong claims this method results in a strong cup of tea ― and that it works equally well for black tea as it does green.
Would you give up your kettle and give this method a try?
Support HuffPost
A No-B.S. Guide To Life
Popular in the Community