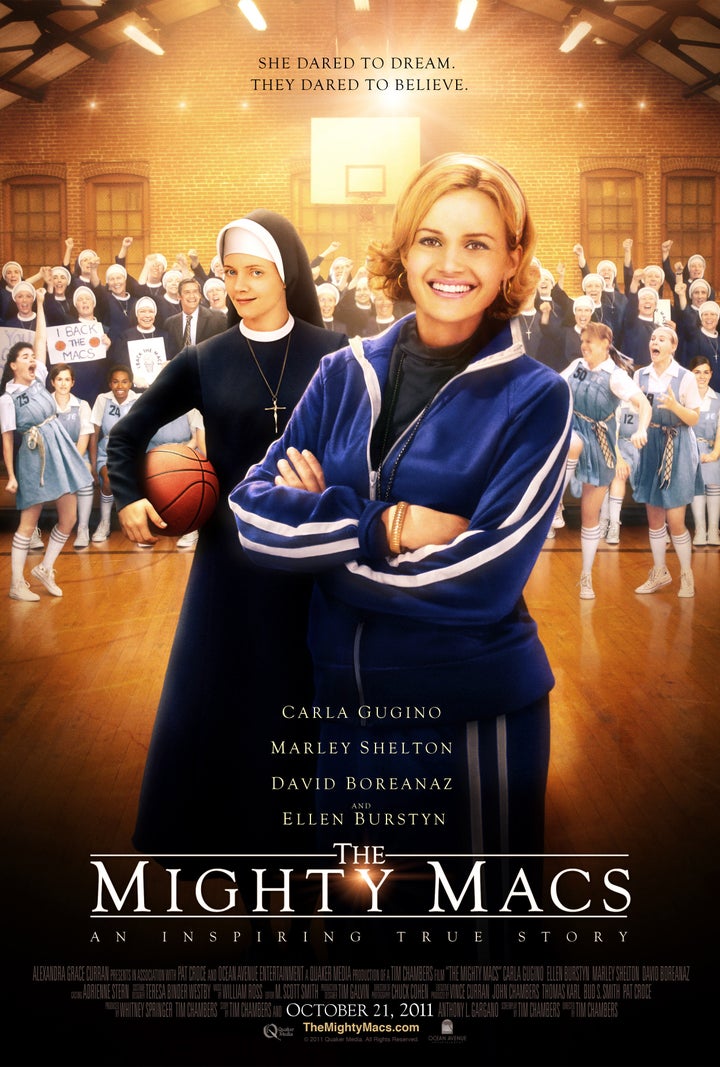 Rarely do I leave a cinema and feel the urge to tell everyone I know to run out and see the film I've just watched.
But that is precisely how I felt after a recent screening of "The Mighty Macs," an outstanding new independent film with a subtle yet powerful spiritual message that opened in theaters nationwide last week.
"The Mighty Macs" is based on the true story of the Immaculata College women's basketball team that rose from obscurity to clinch three national titles in the early 1970s in a game-changing winning streak that paved the way for women's collegiate sports as we know them today.
Now, if you're anything like me and sports-themed movies make you reach for the snooze button, hold on a tick. This film surprised the heck out of me. While it is set in a collegiate basketball milieu, the film is about much more universal themes than athletics and sportsmanship. It's about the power of faith and the virtues of long-suffering, hard work and sacred friendship.
While some critics have described the movie as a hybrid of sorts between "Hoosiers" and "Sister Act," "The Mighty Macs" has a soulfulness and depth not seen in its forerunners.
Written and directed by Philadelphia native Tim Chambers, "The Mighty Macs" succeeds where other films with an inherent spiritual message often fail: It's never preachy. That was intentional, according to Chambers, who says he had no intention of making a "faith-based film," but rather one that is "family friendly."
Chambers wanted to take audiences "back to an era of the kinds of films we grew up with as kids," with a story that could be enjoyed by 8-year-olds and 88-year-olds alike, he said in an interview before the film's gala premiere in Philadelphia last week. In fact, the film is rated G -- for all audiences -- a distinction that often spells box office trouble. Far from saccharine or twee, "The Mighty Macs" is a tour de force of virtuoso storytelling and heaping doses of authentic heart that will engage audiences of all ages without adding unnecessary double entendres or coarse language to make it seem more "realistic."
The undisputed heroine of the film is Immaculata basketball coach Cathy Rush (played with understated elegance by Carla Gugino), who took the coaching position at the small, all-girls college outside Philadelphia in the early 1970s when she was only a few years older than the girls she would guide to unprecedented victory. Rush is a force of nature, stylish and gutsy -- a throw away line in the film delivered by one of her players about her impressive collection of high-heeled shoes got a big laugh at the screening I attended -- she refused to believe that her team, despite being true underdogs, would be anything short of spectacular. Her unshakable belief in their abilities, raw talent and sheer strength of will (and faith), propels the team to make dreams come true and the "impossible" possible.
"There was a lot of divine providence from the beginning," Theresa Shank Grentz, one of the original Immaculata players who played on all three championship squads, said in an interview before the film's premiere in Philadelphia a few weeks back. "When we played, we expected to win," she said, noting that during her tenure on the Mighty Macs the team lost only two games in four years. "I'm still ticked about [the two losses]," she added.
Rush earned a whopping $450 for her first season of coaching at Immaculata, a contract she negotiated in a tensely funny scene with the college's mother superior, Mother St. John (Academy Award-winner Ellen Burstyn), who begrudgingly gives the young would-be coach the job. As Rush exits Mother St. John's office, the steel-jawed nun gives her a closing shot, saying Rush was a lousy negotiator because she was willing to pay her $500. "I would have done it for free," Rush says, before striding buoyantly down the hall.
Rush eventually led the "Mighty Macs" to three consecutive Association for Intercollegiate Athletics for Women championships from 1972 to 1974, five eastern AIAW championships and two national AIAW championship runner-ups seasons. With a career winning average at Immaculata of 91 percent (149 wins and 15 losses), Rush later coached the U.S. women's basketball team to a gold medal finish at the 1975 Pan American Games. She was the first female commentator for women's basketball on national television, is the founder of Future Stars Camp (one of the largest basketball camps in the country attended by more than 100,000 children in its nearly 40 years) and in 2008 was inducted into the Naismith Memorial Basketball Hall of Fame.
The Mighty Macs' story is legendary in Philadelphia but was not well known to the rest of the world. Chambers wanted to change that, saying that he sought to make a film that was an homage to Rush and "the immortality of her influence," as well as a vivid testimony to the "equality of dreams."
"There had never been a really inspiring sports film for girls," Chambers said. "All dreams are created equal." While the film is about basketball, the director viewed sports as "a metaphor for learning lessons" about life -- and faith.
Chambers was serious about making his film as authentic as possible, including insisting upon only casting actresses who could actually play basketball -- and well. That authenticity comes through in game footage, so much so that you'll likely find yourself, as I did, cheering for the Mighty Macs aloud and white-knuckling some of the more contentious games.
Much of the soul of "The Mighty Macs" is articulated by the character Sister Sunday (portrayed brilliantly by Marley Shelton). Sunday is a young novice who entered the Sisters of the Immaculate Heart of Mary religious order in her 20s, after living and working in the thoroughly secular world of New York City for several years. When the film begins, Sunday is having misgivings about her calling and questioning whether God's vision for her ministry truly included loads of paperwork as a university clerk bullied by the flinty Mother St. John. When she voices her doubts, the mother superior re-assigns the young nun (who has yet to take her final vows) to be caretaker of the college chapel, where Rush and her team are practicing in the basement (after the college's gymnasium burned to the ground.)
Sunday is fascinated by the transformation -- athletically and personally -- that Rush is bringing about in her fledgling team. She becomes involved with the team initially because she has a car and the team needs a ride to an away game. But over the course of the film, Sister Sunday grows into the position of unofficial assistant coach (and the teams ultimate booster.)
While the film never veers into preaching territory (thank, God), there are a few lines with profound spiritual import that have stayed with me and that I have played over in my mind ever since. One of them is delivered by Sister Sunday at a roadhouse bar where she slips off her habit's head-covering while enjoying a post-victory beer with Rush. Sunday tells the coach a bit of her back story -- including her romantic history before becoming a nun -- and passes along wisdom from one of her mentors. "Jesus liked to dance," she said. What a marvelous image -- Jesus dancing and celebrating with other guests at the wedding in Cana and turning water into (really good) wine so that they party could keep on rolling.
To me that line -- "Jesus liked to dance" -- is evocative of God's love and understanding of humanity. Jesus was God and he also was a man, with all of the human emotions and baggage that comes with this mortal coil. Jesus chose to be a part of the world, fully entering into its sorrows, burdens and joys. What matters to us, matters to him. And that just might include throwing back a beer or two and watching a great game of basketball.
The other line, first uttered by Sister Sunday (quoting Mother St. John during a poker game -- apparently the stern mother superior was quite a shark at one time), and then later repeated by St. John herself: "Be not afraid." That's what the mother superior used to say aloud before going "all in" on a bet in a poker game. She says it once again as she screws off the bottom of the statue of the Virgin Mary, pulls out a wad of cash and hands it to Rush to pay for plane tickets the Might Macs need to get to the championship tournament.
"Be not afraid." Three simple words that, if heeded, can change everything. They can make a dream into a reality. An impossibility into a victory. Scarcity into abundance. Underdogs into champions.
There are few surprises in the plot of "The Mighty Macs." Chambers admitted as much, saying, "We all know the ending: They win. Spoiler alert!"
What is surprising about this little-film-that-could is its artistry, heart and universal appeal. Whether you are a sports fan or not, Catholic or agnostic, a girl or a boy, old or young -- "The Mighty Macs" will grab your heart, inspire your soul and send you away feeling like anything is possible if with faith, hard work and a community of sacred friends.
"The Mighty Macs" is an instant classic, sure to endure for years and generations to come.
Do yourself a favor: Buy a couple of tickets. Take someone you love with you. Be not afraid.
REAL LIFE. REAL NEWS. REAL VOICES.
Help us tell more of the stories that matter from voices that too often remain unheard.