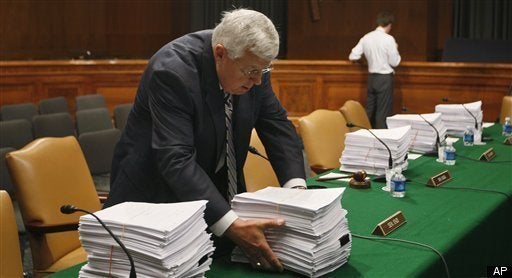 Mike Enzi, one of three Republicans ostensibly negotiating health care reform as part of the Senate's "Gang of Six," told a Wyoming town hall crowd that he had no plans to compromise with Democrats and was merely trying to extract concessions.
"It's not where I get them to compromise, it's what I get them to leave out," Enzi said Monday, according to the Billings Gazette.
Enzi found himself under attack at the town hall simply for sitting in the same room as the three Finance Committee Democrats. Republicans in the crowd called for him to exit the talks. He assured conservatives that his presence was delaying health care reform.
"If I hadn't been involved in this process as long as I have and to the depth as I have, you would already have national health care," he said.
"Someone has to be at the table asking questions," Enzi said. "If you're not at the table, you're on the menu."
Enzi was also hit from the other side, as constituents criticized him for taking significant campaign cash from the health insurance industry while opposing a public insurance option that would compete with private plans and take a bit out of their bottom line.
Enzi's blunt portrayal of his real role in the negotiations makes bipartisan compromise that much less likely to emerge from the Finance Committee. Democrats around the table have already conceded the public option, yet appear to be no closer to winning any Republican support. Sen. Charles Grassley (R-Iowa), another of the three Republicans continuing to negotiate -- or at least to meet -- has said that even if he agrees to a deal, he won't vote for it unless he can persuade a good many of his fellow Republicans to go along as well -- a prospect that would only be possible in the face of a dramatic Democratic capitulation.
The Republican negotiators are under intense pressure from GOP leadership to walk away from the discussions.
Earlier this week, one of the three Democrats in the talks, Sen. Jeff Bingaman of New Mexico, said that he would support passing health care with a simple majority if it became clear the GOP wasn't serious.
Popular in the Community