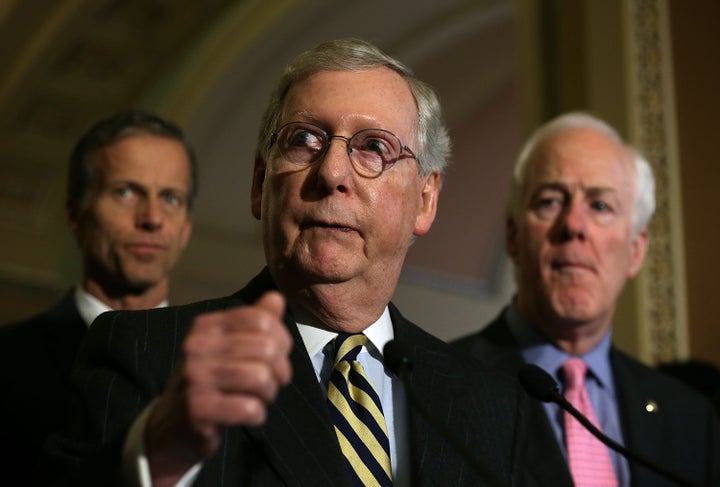 Senate Majority Leader Mitch McConnell (R-Ky.) said Tuesday that he spoke to Republican presidential front-runner Donald Trump about his campaign, and encouraged the candidate to condemn the violence that has come to characterize Trump rallies.
"Donald Trump called this morning, and we had a good conversation," McConnell told reporters on Capitol Hill. "I took the opportunity to recommend to him that no matter who may be triggering these violent, uh, expressions or conflict that we've seen at some of these rallies, it might be a good idea to condemn that and discourage it, no matter what the source of it is."
In recent weeks, Trump has encouraged his supporters to rough up protesters at his rallies, and volunteered to pay the legal fees of those who are arrested for assaulting protesters.
The top Republican in the Senate declined to say how Trump responded to his advice. But a McConnell aide said the senator's use of the word "might" was merely a figure of speech, and that he firmly advised Trump to condemn the violence.
McConnell also opted not to answer a question about what it says about Trump's temperament that the billionaire had to be reminded to reject violence. "One of the things I thought you guys had learned," McConnell told reporters, "is that I'm pretty good at not answering questions I don't want to answer."
McConnell is one of the most powerful Republicans so far to criticize, even if only mildly, Trump's increasingly brazen attempts to rile up his crowds and turn them loose on protesters.
Majority Whip John Cornyn (R-Texas) told reporters after McConnell's press conference that the Republican caucus would be open to having Sen. Ted Cruz (R-Texas) and other candidates speak at the weekly GOP luncheon. He clarified that they would welcome Trump as well.
Asked about McConnell's advice to Trump, Senate Minority Leader Harry Reid (D-Nev.) said, "That's really big, isn't it? Why didn't they start worrying about this when they helped create the problem we have with the man himself?" Reid was referring to the idea that Republican politicians created a fertile environment for a candidate like Trump by ratcheting up their anti-Obama and obstructionist rhetoric in recent years.
"It's nice McConnell said something publicly, but it should have started a long time ago," Reid added.
Laura Barron-Lopez and Jen Bendery contributed reporting.
Popular in the Community