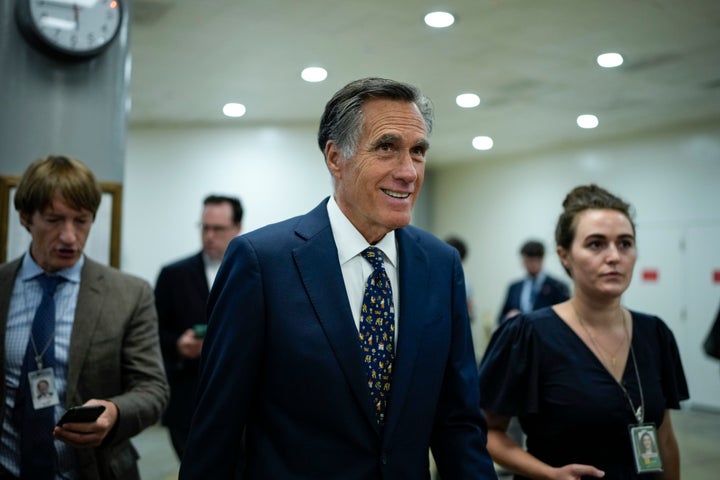 U.S. Sen. Mitt Romney (R-Utah) announced Wednesday that he will not seek reelection in 2024.
The message signals a likely end to his political career, which kicked off in 1994 with a failed challenge to U.S. Sen. Edward Kennedy in Massachusetts, at the conclusion of his Senate term, which ends in 2025.
"Frankly, it's time for a new generation of leaders," the 76-year-old Republican said in a video post on X, formerly known as Twitter. "They're the ones that need to make the decisions that will shape the world they will be living in."
Romney, the 2012 GOP presidential nominee and former governor of Massachusetts, segued his announcement into speaking about the country's future through the lens of the upcoming 2024 presidential election.
The senator from Utah said he doesn't believe either President Joe Biden or former President Donald Trump is capable of handling important issues the country currently faces — including national debt, global warming and the "ambitious authoritarians of Russia and China."
"The next generation of leaders must take America to the next stage of global leadership," he added.
"While I'm not running for reelection, I'm not retiring from the fight. I'll be your United States senator until January 2025. I will keep working on these and other issues and I will advance our state's numerous priorities," Romney continued.
Romney's later career was often defined by his fraught relationship with Trump. During his 2012 presidential campaign, Romney sought out Trump's endorsement, helping to elevate the then-reality television star as a political figure. By the beginning of his Senate term in 2018, however, the mild-mannered Romney had taken to publicly calling out Trump's conduct as president, a conviction deeply rooted in his Mormon faith.
In 2019, Romney broke with his party and became the only Republican who voted to convict Trump for improperly seeking help from Ukraine to boost his chances of reelection against Biden. In 2021, he did it again ― this time over his efforts to overturn the 2020 presidential election, resulting in the Jan. 6, 2021, insurrection that risked the lives of Romney and others in Congress.
Asked Wednesday whether Trump as likely GOP presidential nominee in 2024 played a role in his decision to retire, Romney told HuffPost it did not.
"I think the people of Utah don't always agree with me regarding the posture I took toward Donald Trump, but they respect people who vote their conscience," he said. "I don't have any question in my mind I'd have won if I'd run again."
Romney's approach to Trump stood in stark contrast to others in the Republican Party who privately loathed him but held their tongue either out of fear or for political reasons.
"You're lucky," Senate Minority Leader Mitch McConnell (R-Ky.) reportedly told Romney during Trump's 2019 impeachment trial, according to a forthcoming book by The Atlantic's McCay Coppins. "You can say the things that we all think. You're in a position to say things about him that we all agree with but can't say."
(A spokesperson for McConnell told Coppins the senator did not recall making that statement, nor the fact that he called Trump "an idiot" in a separate conversation.)
In the Senate, Romney has had an influential role in shaping policy, including helping negotiate and pass the bipartisan infrastructure overhaul, gun safety legislation, and gay marriage protections.
"Senator Romney's experience as an executive made him an impactful presence from Day One," McConnell said in a statement on Wednesday. "His experience as a campaigner made him a dogged spokesman for worthy causes. And his deep faith and integrity have earned the admiration of each of his colleagues."
Support HuffPost
The Stakes Have Never Been Higher
Popular in the Community