The latest allegations follow at least 12 other women accusing Rose, who was fired from his "CBS This Morning" gig in November, of harassing or groping them. PBS, which had aired Rose's eponymous talk show, also cut ties last fall.
Over a five-month period, the Post reported that it interviewed 107 current and former CBS News employees, as well as two dozen others who had worked with Rose on different TV programs.
The women accused Rose, now 76, of groping them, exposing himself to them,  appearing naked during work-related visits to his home and otherwise making sexual advances to them.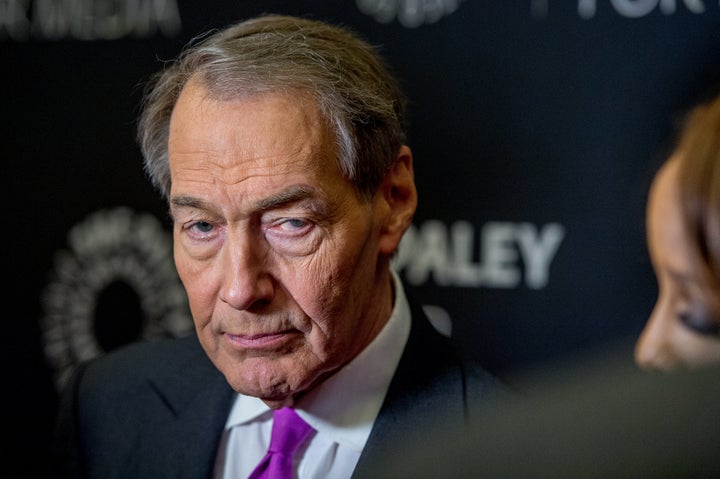 Rose, who did not immediately respond to HuffPost's request for comment on Thursday, denied the latest allegations in an email to The Washington Post, calling the newspaper's reporting "unfair and inaccurate."
Last fall, Rose had apologized for his behavior, although he said that he "always felt that I was pursuing shared feelings, even though I now realize I was mistaken."
In one of the oldest allegations, Joana Matthias, now 63, told the Post that on one occasion, Rose exposed himself to her and touched her breasts inside NBC News' Washington bureau in 1976. In another incident, former intern Corrina Collins said Rose squeezed her breast and invited her "to ride him" inside his hotel room when she was traveling with him for work in 2003.
"It was a sexual land mine everywhere you stepped," said former CBS assistant producer Beth Homan-Ross, who alleged that Rose frequently made sexual remarks about her breasts and buttocks and greeted her naked at his home during work visits.
Homan-Ross, now 61, was one of seven plaintiffs in a lawsuit filed against CBS alleging an "offensive and hostile" work environment for female employees. The suit was settled under confidential terms in 1987, the Post reported.
It was a sexual land mine everywhere you stepped.

Former CBS assistant producer Beth Homan-Ross
Not all of the women agreed to share their names publicly, but details of their allegations were corroborated with witnesses or individuals whom the women had confided in, the Post reported.
At least two women told the paper that they took their concerns about Rose to higher-ups but that they were told he was harmless. CBS said it had no human resources complaints about Rose.
Three of the women whose stories were documented by the Post ― former PBS employee Brooks Harris, CBS executive assistant Chelsea Wei and former PBS assistant Sydney McNeal ― are filing a lawsuit based on their allegations, their attorney Ken Goldberg confirmed to HuffPost.
The lawsuit, which will likely be filed in the coming days, will sue several parties, including CBS, Rose and his company, Goldberg said.
CBS President David Rhodes, responding to the Post's report on Thursday, said the network is taking steps to ensure that its employees feel safe.
"Since we terminated Charlie Rose, we've worked to strengthen existing systems to ensure a safe environment where everyone can do their best work," he said in a statement obtained by HuffPost.
"Some of the actions we have taken have been reported publicly, some have not. We offer employees discretion and fairness, and we take swift action when we learn of unacceptable behavior. That said, we cannot corroborate or confirm many of the situations described," said Rhodes.
In a separate memo sent to employees on Thursday, Rhodes said that the network has sought advice from employment lawyers at the Proskauer law firm and has added mandatory employee training about misconduct.
"We've seen that best practices in the workplace require a focus not just on sexual misconduct but also on pay practices, diversity, and inclusion," he said. "We've made great strides in these areas in recent years, and we want to be in a leadership role in our industry in every one of these categories."
Calling all HuffPost superfans!
Sign up for membership to become a founding member and help shape HuffPost's next chapter