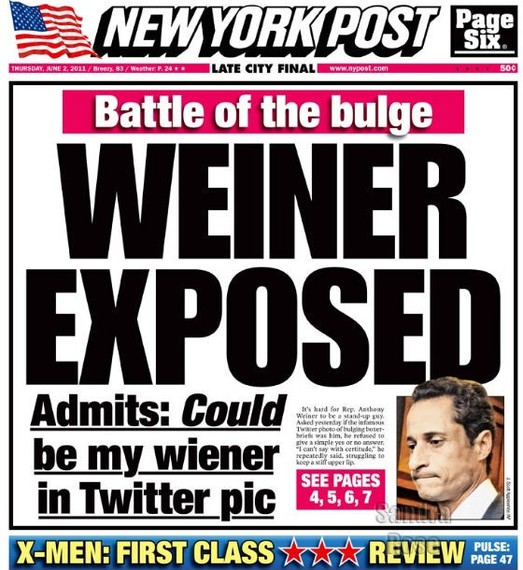 Weiner raises the train-wreck documentary to new heights. Josh Kriegman and Elyse Steinberg's all-access view of the downward spiral of Anthony Weiner's 2013 mayoral campaign couldn't be more relevant or entertaining at this moment as the Donald squares off against the Democrats, nominee TBD. (OK, stop hounding me, Hillary.) A recent Reuters/Ipsos poll revealed that the race has, according to Yahoo, become an unpopularity contest: the number one reason to vote for Trump is to block Hillary; similarly, the primary reason to vote for Hillary is to stop Trump.

In that light, despite his flaws, Weiner appears relatively likeable and benign. In found footage from Congress, Weiner's a progressive firebrand; at home, in shorts, his skinny pale legs bare, he picks up his toddler's blocks from the floor and stows them in their box. He's the dutiful daddy pushing the expensive stroller beside his perfect wife, Huma Abedin, now being investigated as part of the Clinton email scandal.
There is no question that agreeing to be the subject of a documentary was ill-advised, and yet former Congressman Weiner, he of the unfortunate name and sexting habits, emerges as a full-on New Yorker in the best and worst senses. He boogies with a flag on a Labor Day float during the Caribbean Parade on Brooklyn's Eastern Parkway, connecting with the crowd; he gobbles a deli sandwich while talking a mile-a-minute in the back of a car as Canal Street rolls out beyond his right shoulder; in a moment of flagging spirits, he rattles off a series of corny did-you-hear-the-one-about jokes to his teary campaign manager, coaxing her to smile; he flips the relentless local press the bird through the smoked glass of his black SUV; and calls an Orthodox Jewish constituent the profane names you'd call a stranger who just insulted your spouse.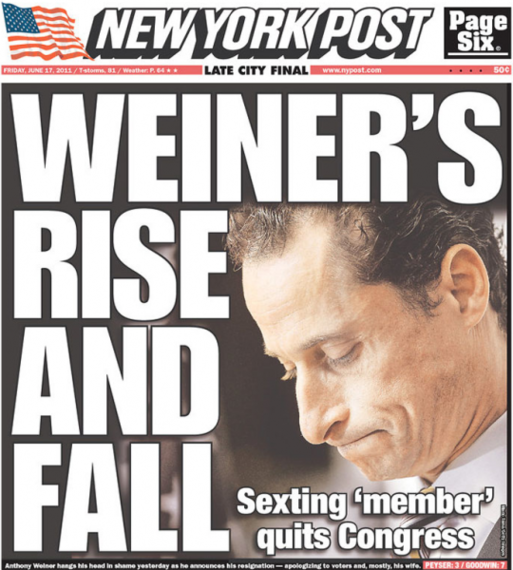 Yes: a more polished candidate would have slunk away without flipping the bird. A more put-together politico, someone with the steely nerves of Weiner's wife Huma, who he married in 2010, would have been discreet. In every seething glare at her husband, the long-time Hillary Clinton campaign staffer makes it clear that, like her boss and mentor, Huma would never have gotten herself in this sex mess in the first place.
For anyone who didn't read a Post headline in that era ("Weiner Rise And Fall," "Weiner's Second Coming," "Weiner: I'll Stick it Out," "Weiner Pulls Out"), Weiner got caught with his pants down while in Congress for sexting inappropriate crotch shots. He resigned. In an unenlightened moment, he decided to run for mayor of New York. During that campaign more dirt emerged: a phone-sex relationship with a Las Vegas dealer who, cajoled by radio provocateur Howard Stern on camera, decides to turn adversity into opportunity and grab her own fifteen minutes.
The awkward, sticky truth at the core of the Kriegman-Steinberg doc is that they have captured a complicated portrait of an abrasive, charismatic and flawed man who is as much a New Yorker as the corner hot dog stand. As Weiner stumbles, a punchline and a political punching bag, the film morphs into the kind of nature documentary where a lion pounces and consumes a gazelle at the communal watering hole. And, surprisingly, sometimes we root for that gazelle, that twitchy Jewish guy with the forlorn pictures of his Johnson captured forever in their cotton-knit boxers. Or, at least, I did.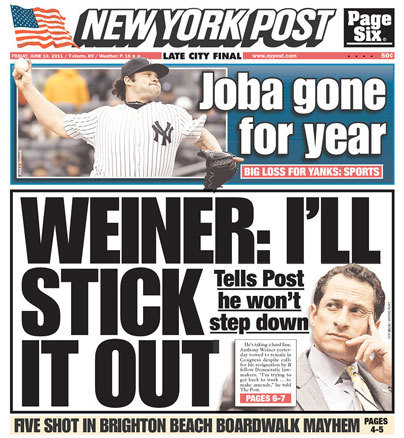 In the light of the current Trump circus, Weiner seems relatively benign. He's never bankrupted a company. He would never call for Mexico to build a wall between our countries. He wouldn't deport Muslims. He's a scrappier fighter than Clinton, relishing conflict as only an unreconstructed New Yorker can. Dems and Republicans criticize Bernie for his age; Brooklyn-born Weiner is a spry 51. Sure, he had a sex scandal but so did Bill Clinton. And Weiner, unlike Clinton, never actually touched his victims - he sexted and texted naughtily, something revealed to general laughter in a scene where Bill Maher and Jane Lynch do a staged reading of one of these sex-talk sessions.
Weiner emerges as the political film for this political season, the tragicomedy we deserve. We can laugh at Weiner because Anthony is such an easy target - and nothing's at stake. The doc arrives as an antidote to the presidential race unfurling in real time on the warped lenses of CNN and Fox News, the comic-horror dick-wagging of the Republican debates, the razor-sharp comedy of President Obama foretelling the end of the republic on C-Span. In a bitter season when just watching the relentless parade of TV talking heads can make us cry - or rise from the couch in righteous anger - Weiner lets us laugh at the follies of the men (and women) who would be kings - or at least mayors.
Popular in the Community