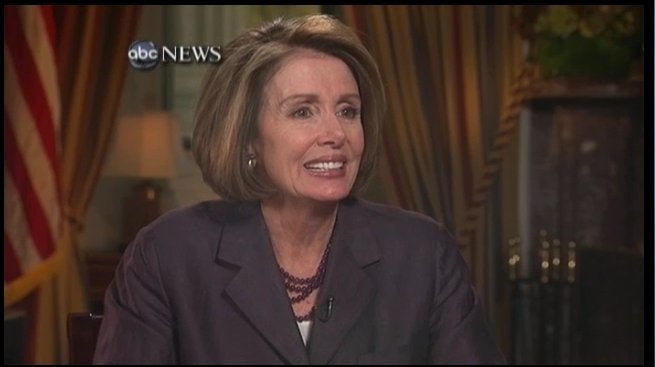 Nancy Pelosi gave her first interview since the 2010 midterm elections on Wednesday, telling ABC's Diane Sawyer that she has "no regrets" about her tenure as Speaker of the House. When asked to evaluate her time on the job, Pelosi said, "Job well done."
Pelosi will lose her gavel in January, when Republicans take over the lower chamber. In her interview on "World News," the Speaker was clear that she is proud of her accomplishments: "I believe we came here to get a job done. And that's what we did."
Pelosi attributes Democrats' disastrous electoral performance to the economy. "Nine and a half percent unemployment is a very eclipsing event. If people don't have a job, they're not too interested in how you intend for them to have a job. They want to see results," she said on "World News."
Pelosi, who became the first female Speaker of the House in 2007, told Sawyer that she does not mind being a constant target of GOP attacks. "They have used me as a personification of health care and the rest," she said. "I take that as a compliment."
Pelosi also discussed a conversation she had with President Obama after Tuesday's elections:
"Well, I don't usually discuss my conversations with the President, but you can just imagine that it was a call in which I had spoken to him twice yesterday, earlier in the day, and then in the evening. And, and we expressed pride in the work that we had done, sadness over the loss of the members who would not be returning. But again, no regrets about the health care for all Americans, consumer protections of an historic nature, Wall Street reform, the list goes on-- as to the agenda that we've put forth."
As for what's next for the Speaker, Pelosi says she has not made up her mind. "I'll have a conversation with my caucus, I'll have a conversation with my family, and pray over it, and decide how to go forward," she said in the interview. "But today isn't that day," Pelosi continued.
On Tuesday, Republicans won more than 60 seats to seize control of the House of Representatives. Pelosi called the result "very disappointing."
Scroll down to see an excerpt from the interview.
Popular in the Community