Has your Friday not been strange enough? Well, if so, here's some good news. Over at AMERICAblog, John Aravosis has flagged an upcoming "world exclusive" from infamous supermarket tabloid National Enquirer, that essentially fingers President Donald Trump's ousted National Security Adviser Lt. Gen. Michael Flynn as "the Russian spy in Trump's midst." Here's how this content is presented on the Enquirer's website, in case this needs to be preserved for posterity.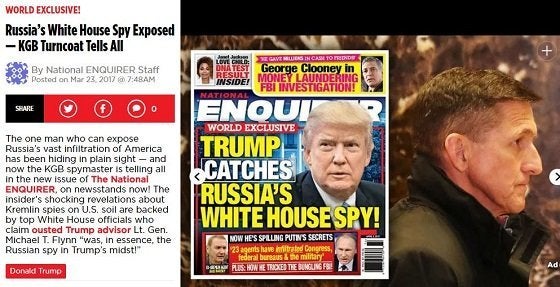 Now, let's be clear about something. I am in no way attesting to the veracity of this story or endorsing its publication. This is, after all, the National Enquirer, and the most charitable thing you can say about their journalism is "your mileage may vary." Sometimes, your mileage gets you to "former North Carolina Senator John Edwards is having an affair," but more often than not, it falls short of the mark.
Nevertheless, the Enquirer's decision to say something like this about Michael Flynn is significant for one reason:
That's right. Donald Trump and American Media CEO David Pecker ― who among other things (just last week American Media bought Us Weekly from Wenner Media) publishes the Enquirer ― have had a long relationship, dating back to the brief publication run of a glitzy homage magazine, Trump Style, which Pecker collaborated on when he was at Hachette Filipacchi.
Throughout the campaign, Trump and Pecker worked hand-in-glove to boost Trump's fortunes. As the Huffington Post's Michael Calderone reported in May 2016, it was the Enquirer that gave a big signal boost to the brief "health scare" flap that consumed a week of the Hillary Clinton campaign's attention. The tabloid was also the source of the bizarre story that linked Texas Sen. Ted Cruz's father, Rafael, to the conspiracy to assassinate President John F. Kennedy. Per Calderone: "The national media ignored the bizarre JFK plot story for two weeks before Trump injected it into the news cycle Tuesday morning on Fox News, just as Indiana voters headed to the polls."
Since his election, the Enquirer has only ramped up their efforts to support Trump. Politico's Jack Shafer, in a piece titled "Pravda on the Checkout Line," noted in great detail the extent to which the Enquirer went from being the an avid endorser of Trump's presidential ambitions to being a de facto "mouthpiece" of the Trump White House. As Shafer notes, business has been good, for both sides:
As a business move, the tabloids' Trumpian turn appears to have worked: Pecker says the "pro-Trump and anti-Hillary" covers do 23 percent better on the newsstand for the Enquirer.

As a journalistic move—and yes, you can call the Enquirer journalism—there's something bigger going on. Overtly partisan coverage is hardly noteworthy in 2016. What is noteworthy is the kind of partisanship the tabloids have exhibited. Their attacks on Trump's opponents have been, no other word for it, propagandistic in their approach: They've followed his lead in constructing blatantly false or half-true assertions and circulating them in banner headlines.
With the Enquirer having spent the last year working in lockstep with the Trump administration, serving as one of their more ardent boosters and defenders, you can't help but wonder how it came to pass that Flynn is now being hung out to dry as a "Russian spy" in its pages. None of this necessarily points to the likelihood that Flynn is such a thing. But if Donald Trump plans to blame House Speaker Paul Ryan for failing to muster the votes Friday to pass the American Health Care Act, he might find Flynn under the chassis as well.

Jason Linkins edits "Eat The Press" for The Huffington Post and co-hosts the HuffPost Politics podcast "So, That Happened." Subscribe here, and listen to the latest episode below.
Popular in the Community