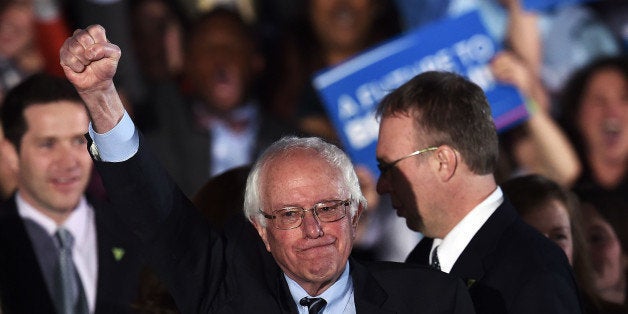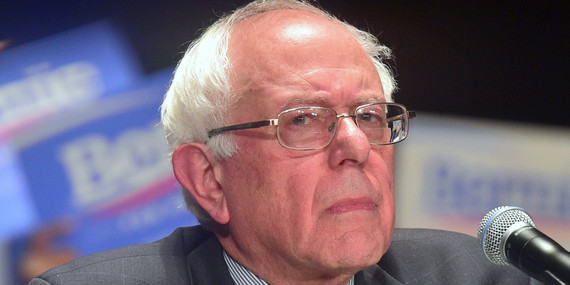 The win for Bernie Sanders in New Hampshire isn't only enormous in terms of momentum, it undermines the foundation of Hillary Clinton's campaign. NBC News reports 55% of female voters in New Hampshire chose Bernie Sanders, while 44% voted for Clinton. As potentially the first female president, Clinton still lost the women's vote to Sanders.
The 74 year old's lead among a demographic vital to Clinton's campaign is highlighted in a Bustle article titled Bernie Sanders Wins Women's Vote In New Hampshire & Beats Hillary Clinton On The Gender Turf:
Early reports about the voter breakdown in the New Hampshire Democratic primary may surprise some poll watchers: not only did Bernie Sanders win the New Hampshire Democratic primary, trouncing Hillary Clinton in a landslide...

Sanders won 53 percent of the female vote compared to Clinton's 46 percent, according to exit poll analysis by ABC News. Among young women, Sanders' numbers were even higher: 69 percent of Democratic women under 45 backed him in the primary, a statistic which includes 82 percent of female primary voters under the age of 30...

However, poor polling among younger voters, as well as the media firestorm ignited by highly controversial remarks by former Secretary of State Madeleine Albright and feminist activist Gloria Steinem made about women who opt not to vote for Clinton, have made many who assumed Clinton was a sure win among female Democrats second-guessing.
While the New Hampshire win showed that Clinton was extremely vulnerable among white voters (61% voted for Sanders while 37% voted for Clinton), it also proved women throughout the nation might also choose Sanders over the former Secretary of State.
An important statistic, and one that could factor enormously in a general election, is that "69 percent of Democratic women under 45 backed him in the primary."
When almost 70% of New Hampshire women under 45 vote for Bernie rather than Hillary, American politics is experiencing a revolution led by female voters.
Furthermore, the lead exhibited by Bernie Sanders among New Hampshire's female voters was foreshadowed by a Think Progress piece titled New Hampshire Women Say They're Voting Based On Policy, Not Gender:
Early Tuesday morning, high school senior Monica Johnson cast the first presidential ballot of her life for Sanders.

She made the decision after months of reading up on each candidate's policies, attending the town halls of some Republican candidates, and hearing Clinton, Sanders, and Martin O'Malley speak at New Hampshire's Democratic convention in September.

"After that I knew Bernie was my guy," she told ThinkProgress. "I agreed with his policies more than hers, especially on college affordability."

Johnson said she was also won over by Sanders' voting record and life story, growing up in Brooklyn's tenements with working-class, immigrant parents.

"People ask me, 'How does a young lady relate to a 74-year-old man?' But hearing about the financial struggles he faced as a kid, and how much he talks about the struggles everyday American are facing, that's what's resonating with me," she said. "And me being African American, the fact that he's been standing up for civil rights for so long definitely impressed me."
The Clinton campaign's theory that female voters would side with the former Secretary of State simply because of gender was shattered by an overwhelming loss to Sanders among this key demographic.
Most importantly, the New Hampshire primary showed that American women focus more on policy, than gender. In addition, New Hampshire showed that political power doesn't reside within Clinton's massive political machine, but rather among the electorate. Nothing exemplifies the shift in political momentum and power from Clinton to Sanders better than Terrell Jermaine Starr's interview of Ohio State Senator Nina Turner:
If you don't know who Turner is, you should. Turner served in the Ohio State Senate from 2008 to 2014. She made national news in 2012 when she introduced a men's reproductive health bill that would have required men to undergo psychological counseling before getting prescriptions for medications like Viagra...

When you decided to support Sen. Sanders, did you catch any heat?

"Oh, my god yes. I've had white Hillary supporters saying to me that I betrayed the Clintons and saying I'm not going to have a future in politics. I mean, they marked me for life, and I'm sitting back thinking: The Clintons never helped me to do a thing in my life, and all of a sudden they control my destiny? That was very condescending to me.

"I had a white woman here in Ohio who supported my Secretary of State run in 2014. I'll never forget this. I was at a Planned Parenthood lecture a couple of months ago and she came up to me and said how disappointed she was in me. Very condescending. And I let her know that I really didn't care about her disappointment and I'm not on the plantation. That's exactly what I told her.

"Then she said, 'After all we've done for you.' Now, see. That was it for me. I interpreted that as, 'After all we've done for you, Black girl, you owe us.' They would never say that to anyone else, but the fact you feel you can say that to a Black woman? I thought she was supporting me because I was the best candidate to be Secretary of State, because I was trying to protect access to the ballot box for all people -- not because you own me or I owe you."

How important do you think it is to for Black women to turn out and vote this election season?

"Black women are vitally important. We were the largest voting bloc in 2012, 29 million strong. Period. When Black women vote, we bring our families with us. It is vitally important to speak to the issues and the needs of Black women. I want to see my sisters take control and embrace their political powers. From the presidency down to the school board."

"I always go back to the senator's policies: Increase the minimum wage and address the five types of violence against Black people. Black women have children. Black women have husbands. Black women have brothers. Black women have people that they love. So if the system is unjust, then it impacts Black women. And black women are being knocked over the head, too. And when you talk about 12 weeks of paid family and medical leave, we're talking about Black moms, Black sisters, Black caregivers.

If you had 30 seconds on primetime TV to pitch Bernie Sanders to America, what would you say?

"I would say that people should cast their ballots for Sen. Bernie Sanders, because he has heart-and-soul agreement in terms of knowing this world is a much better place when all people are lifted."
Like many female voters who leave Clinton for Sanders, Nina Turner experienced the backlash, but still decided to campaign for Bernie Sanders because "he has heart-and-soul agreement in terms of knowing this world is a much better place when all people are lifted."
In Ms. Turner's case, this backlash was unique, and exemplifies a hidden and unpleasant element of the Clinton campaign. It was Hillary Clinton, after all, who ran a 3 a. m. advertisement against Barack Obama that contained a "racist sub-message" according to Harvard's Orlando Patterson.
In addition, Clinton's lead among non-white Democrats will take a hit once more is publicized about her prison lobbyist contributions. During this election cycle, Hillary Clinton has taken almost as much money from prison lobbyists as Marco Rubio.
As for Bernie Sanders and his quest to fix structural issues, Nina Turner eloquently states "if the system is unjust, then it impacts Black women."

Nina Turner is from Ohio, not New Hampshire, so the pundits who place African American voters into a poll number fail to realize that women of all backgrounds place greater emphasis on a candidate's policies, not gender. In Clinton's case, if New Hampshire women and Nina Turner foreshadow a future demographic shift encompassing women of all backgrounds, Bernie Sanders could also win female voters throughout the nation. As of now, he's got the youth vote by a landslide. In New Hampshire, 83% of voters 18-29 voted for Bernie Sanders, almost as high as the 84% of voters 17-29 in Iowa.
Popular in the Community