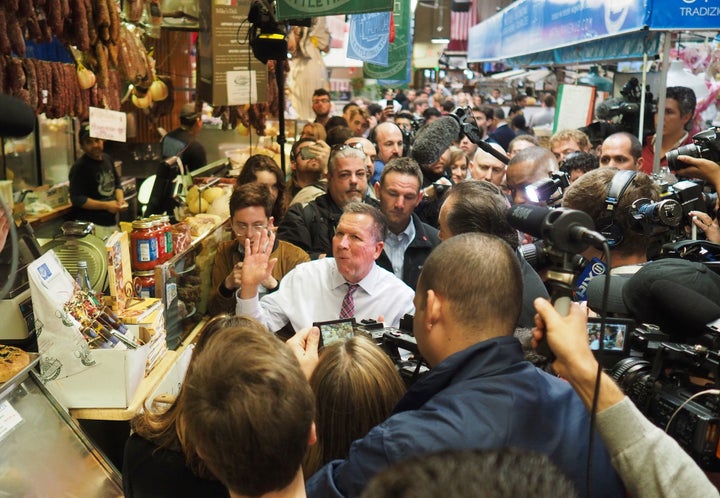 NEW YORK -- For the first time in decades, the New York presidential primary actually matters.
"It's been interesting to see national politics suddenly back, sort of like those cicadas that come out every 18 years or something," said Bob Hardt, political director for 24-hour local news station NY1. 
As a Columbia University freshman, Hardt reported on the 1988 New York primary for the school's paper, The Spectator. He recalled following Michael Dukakis as he shook hands in the Greek-American neighborhood of Astoria, Queens, and said Jesse Jackson drew strong support on campus.
Hardt, who later covered politics for the Associated Press and the New York Post before joining NY1 in 2003, said this week's presidential campaign frenzy, ahead of the April 19 primary, is "very, very rare."
"Now you have Ted Cruz in the Bronx, John Kasich in Howard Beach," Hardt said. "It's sort of like this Tom Wolfe novel run amok in a good way if you're a political reporter or if you're a voter in New York state."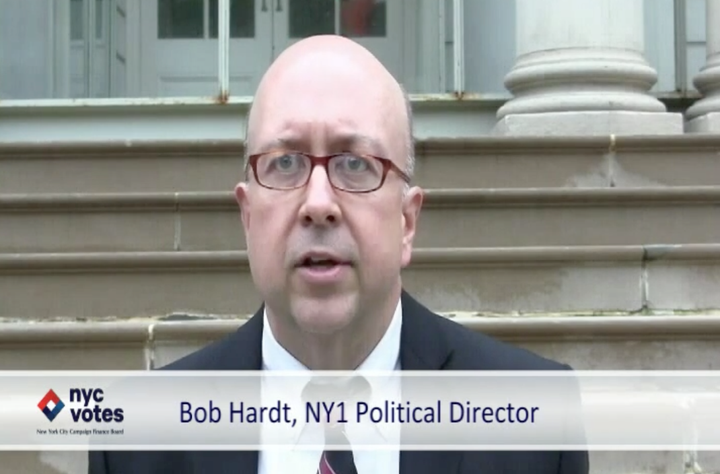 Campaigning in New York is typically an afterthought in presidential politics. Though candidates on both sides will try courting the city's wealthy donors, they're unlikely to hit the streets during the general election. The solidly blue state has gone to the Democrats in every presidential election since 1984. 
As for the primaries, both the Republican and Democratic contests are usually all but over by the time New York comes up on the calendar, or they're lopsided races lacking serious competition. The last time both parties campaigned seriously in New York was 1988, and the most recent Democratic contest to affect a presidential primary was won by Bill Clinton in April 1992.
The Time Warner Cable-owned channel has since emerged as a go-to destination for New Yorkers seeking local news, weather and transit updates, along with distinctive segments like anchor Pat Kiernan's daily flip through the city's broadsheets and tabloids. (The channel was rebranded in 2013 as Time Warner Cable News NY1, though New Yorkers don't actually call it that.)
It caters to political junkies through shows like "Inside City Hall," which is hosted by political anchor Errol Louis.
"Primary voters watch our show," said Hardt, who supervises the daily program. "They're the people who are like the Star Trek fans at the conventions who don't want to leave that Star Trek convention. They are very, very devoted viewers and they're also devoted voters."
While NY1 has hosted numerous mayoral, gubernatorial and senate debates, the channel will be getting its first shot to participate in a presidential primary debate on Thursday night. CNN anchor Wolf Blitzer will moderate a debate between Clinton and Sanders in Brooklyn, while chief political correspondent Dana Bash and Louis, who is also a CNN contributor, will ask questions.
"I think it was sort of a logical connection for both of us to be the local voice here in New York and for them to get more of a New York approach to the debate," Hardt said of the partnership with CNN. "While there's a lot of national issues to be discussed, it's also a rare time for New York to sort of be important on the presidential stage. After the primary, I really don't think you're going to see the candidates here unless it's to raise money."
CNN has longstanding relationship with NY1, which, like other Time Warner Cable channels, serves as a local affiliate for the national cable network. And Louis can regularly be found on CNN commenting on the 2016 election.
"In many ways, the stars were in alignment for CNN to do a New York debate with NY1," CNN Washington bureau chief Sam Feist told HuffPost.
CNN selected the Duggal Greenhouse at the Brooklyn Navy Yard as the site of the 9 p.m. debate, its seventh this election season. "It's almost in the shadow of the Williamsburg bridge, said Feist, adding that it "will really be a unique space for a presidential debate."
Hardt was reluctant to discuss NY1's plans for questions at the debate, though he noted that urban issues haven't come up much in previous contests. Still, he said not to expect Louis to make the candidates weigh in on hyper-local concerns like the long-awaited Second Avenue subway. 
Though NY1 sends reporters to early voting states and the summer political conventions each cycle, the channel has been more invested in the 2016 election given that three of the remaining five candidates have deep New York ties. NY1's journalists have looked at Sanders' upbringing in Midwood, Brooklyn, and produced a three-part series on Donald Trump's business dealings in the 1980s and 1990s. The channel has revisited Clinton's eight-year record as a New York senator and interviewed her this past week.
NY1 can team up with colleagues at Time Warner Cable channels in markets such as Syracuse, Albany, and Buffalo to cover candidates criss-crossing the state. And it's well-equipped to handle campaign stops anywhere in the five boroughs. 
"In terms of spreading our resources, putting trucks out there, that's our bread and butter," Hardt said. "We know the drill and how to do this. So that part's very, very comfortable. It's much harder for us obviously finding, getting the GPS in Iowa. Knowing where exactly someone is in Bay Ridge or Arthur Avenue in the Bronx, it's muscle memory to us."
Calling all HuffPost superfans!
Sign up for membership to become a founding member and help shape HuffPost's next chapter
BEFORE YOU GO