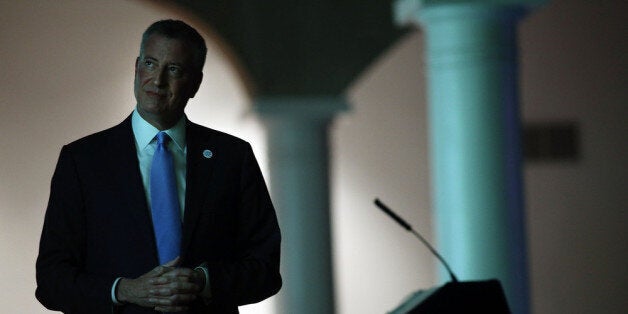 NEW YORK -- Mayor Bill de Blasio made headlines in March when he appointed the first inspector general for the New York City Police Department. But a separate oversight body that is supposed to keep an eye on police surveillance is languishing in a state of near non-existence.
The NYPD's widespread surveillance of Muslims, disclosed in a series of Pulitzer Prize-winning Associated Press articles, has sparked two lawsuits. But the surveillance oversight board, called the Handschu authority, has not received a single civilian complaint since 2003. And one of the board's members is not surprised.
"We don't have any power to do anything. We can only make recommendations," said one of the board's members, private attorney John H. Doyle III.
Doyle was appointed by then-Mayor Rudy Giuliani, whose second term ended in 2001. He said the de Blasio administration has not contacted him about the board's role since the mayor's inauguration.
The three-person Handschu authority was created under a 1985 consent decree in a long-running lawsuit against the city. It has been virtually invisible since 2003, when federal Judge Charles Haight, at the NYPD's request, vastly expanded the department's surveillance powers and reduced those of the board. Instead of pre-approving police surveillance operations, the board is now empowered only to investigate civilian complaints about police violations of the Constitution.
"For a number of years I was on the authority when we were having actual meetings," Doyle said. But after the Sept. 11, 2001, attacks, he said, "the whole situation changed."
"The way it stands, since they made the changes, I really haven't done anything," he said.
The Handschu authority is composed of Doyle, NYPD Deputy Commissioner for Legal Matters Douglass Maynard and NYPD Internal Affairs Chief Joseph J. Reznick. An officer answering the phone at the internal affairs office had never heard of the board. Neither the New York City Law Department nor the NYPD responded to queries on how a civilian might actually make a complaint to the board.
Civil liberties lawyer Jethro Eisenstein, who has worked on the Handschu case since its inception in 1971, suggested a potential complainant could perhaps pick one of the board's members, "go to them and say, 'I understand you're a member of the Handschu authority.'"
"Then, when they stop laughing, you could probably explain to them what your complaint was," Eisenstein said. "That's what we've got here."
Activist Harry Bubbins is trying to figure out why the NYPD spied on two organizations he is involved with. Friends of Brad Will, a group organized to pressure Mexican and U.S. authorities to investigate the death of an American journalist, and Time's Up, the environmental activist group known for its Critical Mass bike rides, were both targeted according to reporting by former AP journalists Matt Apuzzo and Adam Goldman.
"These are overbroad, over-extensive investigations based upon the flimsiest of reasons," said Bubbins.
Bubbins intends to make a complaint to the Handschu authority about the surveillance of his groups -- if he can find out how to do so. He hopes that de Blasio, who said on the campaign trail last year that he wants any police surveillance to be conducted in a manner consistent with the Constitution, will make the Handschu authority relevant again.
"We are hopeful that the new mayor will live up to his rhetoric," said Bubbins.