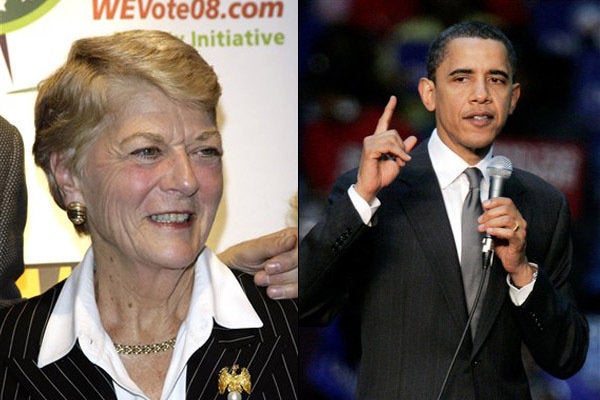 "Geraldine Ferraro has stepped down from her role as a member of Hillary Clinton's finance committee," CNN reports.
Ferraro said thousands of people are part of the finance committee, saying it is not a staff position, but a voluntary one for those who raise money for the campaign. She also said she has raised $125,000 for Senator Clinton.

When asked if she had any regrets about what she said, Ferraro replied, "absolutely not."

"I am who I am and I will continue to speak up," she said. She added that she thought it was a shame that the Obama campaign was trying to block her First Amendment rights, and that she felt that was no way to conduct a campaign....

Ferraro said David Axelrod, Obama's campaign manager and an acquaintance, should have called her to ask her the intention of her remarks, which she says the Obama campaign used to hurt Clinton.

When asked how she felt about Hillary Clinton distancing herself from her remarks, Ferraro replied, "I am perfectly fine," and that there were no hard feelings. She said she understands what Clinton is going through, and understands that being part of a presidential campaign is "very hard."
Ferraro's Letter To Clinton: The full text:
Dear Hillary -

I am stepping down from your finance committee so I can speak for myself and you can continue to speak for yourself about what is at stake in this campaign.

The Obama campaign is attacking me to hurt you.

I won't let that happen.

Thank you for everything you have done and continue to do to make this a better world for my children and grandchildren.

You have my deep admiration and respect.

Gerry
Ferraro Still Unapologetic: The New York Times notes:
Geraldine A. Ferraro resigned Wednesday from Senator Hillary Rodham Clinton's campaign finance committee but remained unapologetic for citing Senator Barack Obama's race as the decisive factor in his success.

"I feel terrible for the fact that Hillary is stuck in this thing," Ms. Ferraro said in an interview Wednesday night. "Why put her in that position?"

Ms. Ferraro said that she was not asked by anyone in the Clinton campaign to leave the committee but that she did it on her own, sending an e-mail message to the senator's campaign Wednesday afternoon, as the political dust-up over remarks she made last week went into its second day.
Former Vice Presidential candidate and Hillary supporter Geraldine Ferraro has sparked a fury on the campaign trail after commenting that Barack Obama was "lucky" to be black:
"If Obama was a white man, he would not be in this position. And if he was a woman (of any color), he would not be in this position. He happens to be very lucky to be who he is. And the country is caught up in the concept."
The Obama camp has responded strongly to the remark, seeking to contrast the response of Sen. Clinton to that of Obama in handling controversial comments by supporters.
Campaign manager David Axelrod has repeatedly called for Ferraro to be removed from her position with the Clinton campaign:
"The bottom line is this, when you wink and nod at offensive statements, you're really sending a signal to your supporters that anything goes," Axelrod said in a conference call with reporters on Tuesday.

"There's no other way to send a serious signal that you want to police the tone of this campaign," he added. "And if you don't do those things then you are simply adding to the growing compendium of evidence that you really are encouraging that."

Axelrod said Clinton has encountered problems because people view her as a "divisive and polarizing force."

"The best way to address those concerns is to not allow divisiveness and negativity to flourish among your supporters," he said. "And this is an opportunity for her to address that."
Barack Obama has called the comments "patently absurd," saying also:
"I don't think Geraldine Ferraro's comments have any place in our politics or in the Democratic Party. They are divisive. I think anybody who understands the history of this country knows they are patently absurd," he told the Allentown Morning Call. "And I would expect that the same way those comments don't have a place in my campaign they shouldn't have a place in Senator Clinton's either."
Clinton said, "I do not agree with that," and later added, "It's regrettable that any of our supporters _ on both sides, because we both have this experience _ say things that kind of veer off into the personal."
Ferraro appeared on Fox News to defend her comments, warning Obama not to "antagonize" Democratic supporters like her:
UPDATE: Ferraro, in a follow-up interview with the Daily Breeze, claimed she is being attacked because she is white:
"Any time anybody does anything that in any way pulls this campaign down and says let's address reality and the problems we're facing in this world, you're accused of being racist, so you have to shut up," Ferraro said. "Racism works in two different directions. I really think they're attacking me because I'm white. How's that?"
Ms. Ferraro is speaking for herself. We have made clear that we reject her remarks.
UPDATE: The Clinton camp has released a memo insinuating that Barack Obama is playing the race card by focusing on Ferraro's comments. Here is the full text of the memo:
In January, NBC's Tim Russert confronted Senator Barack Obama with a four page memo from his campaign characterizing statements they claimed the Clinton Campaign had made about race. Asked in hindsight whether he regretted pushing this story, Senator Obama said:

Well, not only in hindsight, but going forward. I think that, as Hillary said, our supporters, our staff, get overzealous. They start saying things that I would not say. And it is my responsibility to make sure that we're setting a clear tone in our campaign, and I take that responsibility very seriously, which is why I spoke yesterday and sent a message in case people were not clear that what we want to do is make sure that we focus on the issues."

We agreed then. We agree today. Supporters from both campaigns will get overzealous. Senator Clinton today reiterated that when asked about Geraldine Ferraro's recent comments:

"I do not agree with that and you know it's regrettable that any of our supporters on both sides say things that veer off into the personal. We ought to keep this focused on the issues. That's what this campaign should be about."

Senator Obama's campaign staff seems to have forgotten his pledge. We have not. And, we reject these false, personal and politically calculated attacks on the eve of a primary. This campaign should be about the leadership we need for a better future and these attacks serve only to divide the Democratic Party and the American people.
UPDATE: The Ferraro story has continued on the morning news shows. Ferraro has said she is "absolutely not" sorry for her comments:
"I am sorry that people think this was a racist comment," Ferraro said in an interview with ABC's Diane Sawyer on "Good Morning America."
"David Axelrod, his campaign manager, has chose to spin this as a racist comment because everytime anybody makes a comment about race who is white _ he did it with Bill Clinton, he was successful; he did it with (Pennsylvania governor and Clinton supporter) Ed Rendell, he was less successful; and he is certainly not going to be successful with me," Ferraro told CBS' "The Early Show." "He should have called me up ... He knows I'm not racist."
"Part of what I think Geraldine Ferraro is doing, and I respect the fact that she was a trailblazer, is to participate in the kind of slice and dice politics that's about race and about gender and about this and that, and that's what Americans are tired of because they recognize that when we divide ourselves in that way we can't solve problems," Obama said on NBC's "Today" show.
Popular in the Community