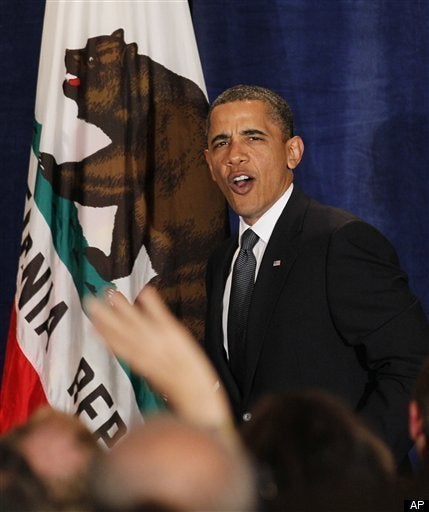 Making a second fundraising appearance for Sen. Barbara Boxer (D-Cali) on Tuesday evening, President Barack Obama got heckled by a protester demanding quicker action on Don't Ask Don't Tell. And then he heckled the heckler.
Speaking to a larger crowd and this time from teleprompters, Obama was in the middle of, as he called it, a trip down memory lane about the economy, when a man yelled out: "Move faster on 'don't ask, don't tell.'"

"It's good to see ya," Obama said to the man as the crowd started to boo, and the man continued to shout something your pooler couldn't hear amid all the noise

"I have to say, you know what? I saw this guy down in LA," Obama said. (POTUS was also heckled about DADT at the last Boxer fundraiser he headlined in Los Angeles.)

"Two points I want to make," Obama said of the heckler, "he really should like buy a ticket to, if he wants to demonstrate, buy a ticket to a guy who doesn't support his point of view."

The other point, Obama said, "is maybe he didn't read the newspapers because we are working with congress as we speak to roll back 'don't ask, don't tell.'"

POTUS further dinged the man: "I actually think he does read the newspapers because he wasn't as - his heart wasn't in it - he said 'Do it faster.' C'mon man..."
This is a tad more aggressive than Obama has really ever been with the progressive protesters who occasionally interrupt his speeches. It may be because, as he notes, it's tough to take heat for slow-footing Don't Ask Don't Tell one day after endorsing a path forward for its repeal.
That said, these types of demonstrations won't necessarily cease in the near future -- certainly not if (as possible) the votes for a DADT repeal don't materialize in the Senate or it's perceived that the White House is not lifting a finger to move it legislatively.
One more interesting, albeit unrelated, note from Tuesday night's remarks. Reflecting on his meeting with Senate Republicans earlier in the day, the President seemed to offer his most sober-minded reflection about the state of bipartisan cooperation. Again, from the pool:
He said he told Senate Republicans "I'll be with you, but you've got to meet me on solving the problem long term. It's not enough just to talk about national guard down at the border."

He also said he told them: "You don't even have to meet me half way. I'll bring most Democrats on these issues. I'm just looking for eight or ten of you."

He added: "The day has passed when I expected this to be a full partnership."

He said he understands the GOP "sitting on the sidelines."

"Politically it hasn't been bad for them," he said.
UPDATE: A spokesperson for GetEQUAL, which describes itself as "new, national direct action lesbian, gay, bisexual and transgender civil rights organization," claims that the heckler was Kip Williams, one of the group's co-founders. GetEQUAL is affiliated with Lt. Dan Choi, a prominent figure in the movement to repeal DADT and noted recently for chaining himself to a fence outside the White House.
Popular in the Community