If President Barack Obama is able to forge bipartisan consensus on tackling the opioid epidemic roiling the nation, it will be with an assist from David Grubb.
Grubb is not a scientist working on a breakthrough medication to combat heroin addiction. He's not a public health advocate arguing for a major investment in recovery clinics. He's not a member of Congress, shepherding a bill to devote hundreds of millions of dollars to law enforcement and medical facilities.
He's a former state senator in West Virginia who now heads a consumer protection and employment law firm in Charleston. He has a story -- heart-wrenching and all-too-common -- about the toll that heroin takes on a life. His second-oldest daughter was introduced to the drug in 2009 and has since been in rehab multiple times. And, on Oct. 21, 2015, he had an audience when Obama hosted a community forum on opioid abuse in his hometown.
"Last month, the middle of August, our daughter overdosed," Grubb said then, standing amid a room full of fellow West Virginians, his voice cracking as he held back tears. "We found her in her bedroom, tourniquet on her arm, syringe next to her. She was already turning blue. My wife administered CPR. We called 911. While we were waiting, I held her and said, 'Don't leave us yet.'"
It was her fourth overdose, Grubb went on. "It usually takes more than one time. And we think this one will be the one. We are full of hope. But we understand the pain -- the pain in this room, the pain the families feel. The concern we have is access -- where do you get the treatment? How do you get the treatment?"
Four months later, those questions still confront Obama as Grubb's story continues to resonate with him. Multiple sources said the president discusses that meeting in West Virginia as a moment when a brighter light went on, a time when it dawned on him just how pervasive this epidemic has become.
"He said the stories were heartbreaking and that it was striking how many high-ranking officials there were whose own families had been affected," said one governor who has met with Obama on the opioid crisis.
"He got very emotional," a White House official said of the president's town hall moment with Grubb. "You're in this deep-red [conservative] environment, but people are just opening up their hearts on this. [The president] sort of was taken aback at how candid people were talking about this."
It's one thing to hear heartbreaking stories from the stage at an opioid event. But everywhere Obama went in West Virginia, he ran into people affected by the crisis. And often, those people were elected officials, something Obama found surprising enough that he remarked about it multiple times privately, according to people he spoke to about the trip.
Obama "might have been coming thinking it was going to be the low end of the socioeconomic ladder, people who are challenged, poor people, and he saw an array of people," said Sen. Joe Manchin (D-W. Va.), who accompanied Obama. "He sat by a lady who sat up on that stage and talked about losing her son and this is a lady who has done well in life. This epidemic doesn't have any home. It is getting them whether you are Democrat or Republican, poor or rich, it makes no difference."
Grubb is a Democrat. Charleston Mayor Danny Jones, who served in the state legislature with Grubb, is a Republican. When Obama travels to towns and cities around the country, he's usually met at the airport by the local mayor, and it was no different in Charleston. But it wasn't a typical car ride.
"I'd never ridden in a car with a president before," Jones recalled, even one not all that popular statewide. For Jones, though, this was no abstract political event. As he told the president, his own son Zach, now 26, has long struggled with heroin addiction, and had been clean less than a year at that point.
"There's a T-shirt that says, 'Everything's relative here in West Virginia,' but we all know each other. Shelley [Moore Capito, the state's Republican senator] and Joe and I came up politically together," Jones said. "The four of us rode in the car and we talked about Zach, and they talked about Zach, because Zach was pretty notorious here. The last time he got bopped I was running for re-election, and that was 13 months ago. If it was anybody else's son, you'd never have heard about it."
It wasn't by coincidence that so many current and former lawmakers were coming to Obama with stories. Plenty of others could have, too. Heroin has touched the lives of almost everybody in West Virginia in one way or another. Gov. Earl Ray Tomblin's brother has struggled with addiction and was charged in 2014 with selling pain pills. In January, the governor invited two first responders, who administered the overdose reversal medication naloxone to save the life of a user, to his State of the State address, and singled them out during his speech. In July, the 25-year-old son of state Senate minority leader Jeff Kessler, Jacob, pleaded guilty to selling oxycodone.
Since that forum in West Virginia, the Obama administration has upped its push to direct substantial resources and attention to the opioid epidemic. The day of that town hall, the president announced public-private partnerships to address prescription drug and heroin abuse, including a multi-million dollar public service announcement campaign with major news outlets and sports leagues.
In December, Obama signed a $400 million budget agreement to address the epidemic. The Office of National Drug Control Policy has continued to boost youth drug abuse intervention programs. The Department of Justice, along with state governments, has established prescription drug monitoring programs. In January, Obama ad-libbed a reference to heroin right at the top of his State of the Union address.
The biggest nod, however, came in February, when the president proposed $1.1 billion in new funding to confront the opioid epidemic, the vast majority of which would go to medication-assisted treatment.
Aides to the president said he is firmly committed to getting a handle on the crisis, which resulted in nearly 29,000 overdose deaths in 2014. And if he is able to do so -- with the help of a Congress that has awakened to the problem as well -- it will be a testament to how personal stories still have the power to persuade. But it will also be a stark reminder that it often takes people of political or social influence to tell those stories in order for action to be sparked.
After Grubb spoke, a question was read from the principal of an elementary school, who said she saw the harm being done to the children of addicts. Obama remained engaged and methodically went through the importance of investing in early childhood education and in-home inventions with at-risk moms. But those watching sensed his demeanor change.
After the town hall ended, Obama sought out Grubb and his wife Kate in the crowd. "He whispered in her ear that moms need hugs and he gave her a big hug," Grubb said of what Obama told him. "It was so touching and so moving."
The event had lasted about an hour. But it could have gone on far longer. Around the president were many more people touched by the epidemic with stories to tell.
They included Chelsea Carter, 28, of nearby Madison. Her uncles were doctors and dentists. Her dad was the mayor. But at the age of 12, she started experimenting while hanging out with a girl whose dad would supply her with drugs. By 15, it was becoming constant. By 16, she turned to oxycodone. When her grandmother and best friend died on the same day, her life went out of control. At 19, she started dating her drug dealer, who was 40 at the time.
"You think it is so wonderful because it is the best of both worlds," Carter said. "You have whatever you want at any time. You don't see you life spiraling out of control."
At 20, she decided to let her friend shoot her up. And then, she started selling her body to fund her drug habit. She never overdosed, she said. But there was that one time when she shot up with eight or 10 doses of oxycodone, passed out and woke up with a needle in her arm. "That was an eye opener."
She eventually turned to theft, got arrested and was thrown in jail, where her life started to turn around. She's been clean since September 2008. She's working on a masters degree in social work, speaks at drug courts, and goes around to schools to tell kids her story.
"I felt like he needed to hear our voices," she said of her decision to attend the Obama town hall. Asked what she would have said to the president if she had been given the opportunity, she replied: "I would have thanked him for coming down here and would have hoped he would have heard our cries that we need treatment and help. I've buried a lot of friends from drug addiction and I don't want to bury another one."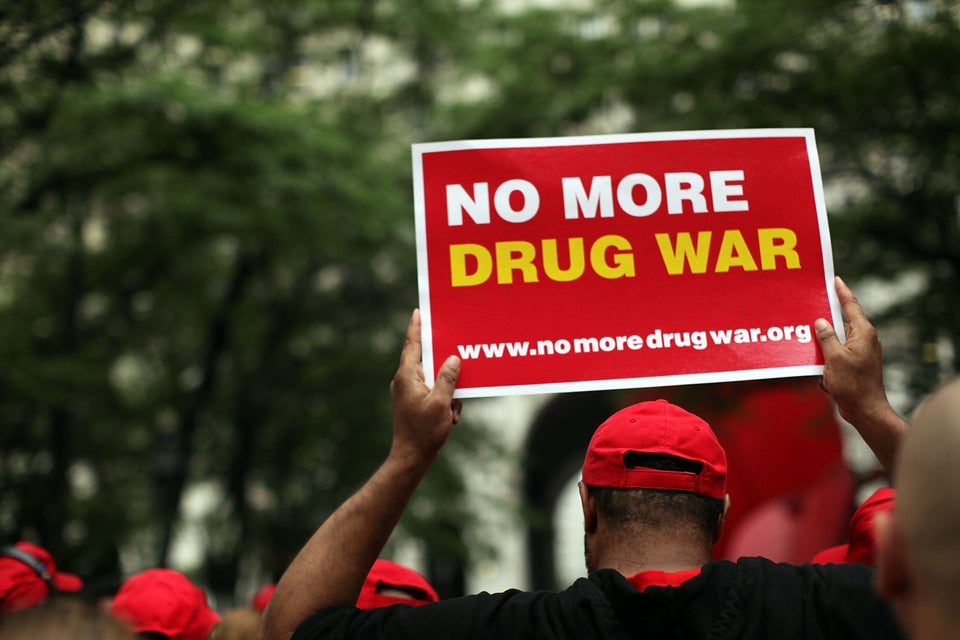 27 Reasons Why The U.S. Shouldn't Lead The War On Drugs
Popular in the Community