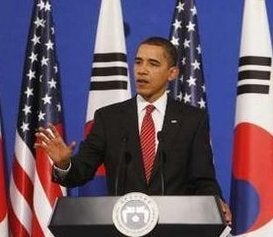 President Barack Obama just got back from visiting the Pacific Rim. While he did not solve the trade imbalance with China or Japan or win any allies for continuing the war in Iraq or expanding the war in Afghanistan, the good news is that at least he discovered a model for reforming education in the United States. After observation and careful consideration, President Obama decided that American schools must look more like schools in South Korea. He wants longer school days and a longer school year to ensure extra time to prepare children for standardized tests. Of course, that may not be such good news.
President Obama told a meeting of the U.S. Hispanic Chamber of Commerce:
Our children spend over a month less in school than children in South Korea every year. That's no way to prepare them for a 21st-century economy. We can no longer afford an academic calendar designed for when America was a nation of farmers who needed their children at home plowing the land at the end of each day. That calendar may have once made sense, but today it puts us at a competitive disadvantage.
Expect Education Secretary Arne Duncan, New York City Mayor Michael Bloomberg, and New York School Chancellor Joel Klein and a long line of politicos and supposed edu-experts to make the pilgrimage to South Korea any day now, so they can view this educational miracle first hand.
Everybody is not as enamored with the Korean educational system as President Obama is. According to one Korean news source, "Obama's remarks came as a surprise to many South Koreans as the country's education system has been under constant public criticism due to its lack of creativity and heavy dependence on private tutoring." But their kids do get high scores on standardized tests and apparently that is all that counts.
One critic of the Korean educational system, Dr. Samuel Kim, a senior research scholar at the East Asian Institute of Columbia University, reported that 44% of Korean students who enter "top" American universities drop out before graduating. This is much higher than the dropout rate for students from China (25%), India (21%) and even the 34% dropout rate for American students at the same universities. Essentially, years of extra tutoring prepares Korean students for college entrance exams but not for acquiring a college education.
Clay Burell, an American high school humanities teacher, who currently lives with his family in South Korea, reports on his blog that Korean students are forced to study in "hagwons" -- private night, weekend, and summer classes where the overwhelming emphasis is on learning English. The Korean Education Ministry estimates that as a percentage of GDP, South Korean parents spend four times more on average on private education than their counterparts in any other major economy. Most of what they study is "worksheet-based, scripted, and devoted to passing college examination tests, the SAT, TOEFL, and all the other tests these classes teach to." What Burell finds ironic is that despite all of this investment and high test scores, Korean students are notoriously poor at reading, writing, and speaking English. In other words, they can't use what they are supposed to have learned and what they test well at.
President Obama's children do not really have to worry about American public schools going Korean. The Obama girls attend Sidwell Friends School in Washington, D.C., a private school that charges $29,000 a year in tuition for each of them. According to its website, at Sidwell, Sasha and Malia get to participate in community service programs such as helping seniors, recycling efforts, and food drives, casting, and sculpture workshops, international exchanges with schools in York, England and in Moscow, extended camping trips, outdoor education activities, and a range of teams. And in case they have any adjustment or academic problems there is a nurse and counselor on duty on campus at all times. There is also a learning specialist available to assist students who are having academic difficulty. Parents are encouraged to express concerns in any of these areas to the adviser or homeroom teacher or to the Student Concerns Committee, which consists of the counselor, learning specialist, and assistant principal.
One argument business and political leaders always seem to make in defense of their proposed "school reforms" is that the United States has to prepare the next generation for 21st Century jobs. Supposedly that is what Korea is doing. My question of course is "What jobs?" Our children can become the world's greatest experts on test taking, but that will not stop profit hungry businesses from shipping the next generation of jobs overseas to Mumbai, India, Beijing, China, Manila, Philippines, and Seoul, South Korea, where standards of living are much lower than in the United States and people are prepared to work for much less. Has President Obama tried calling tech support lately? Probably not.
If American students knew that there was work at the end of the tunnel and a better life, I suspect they would work harder and achieve more in school. Let President Obama and the corporate capitalists get the economy straightened out and ensure a measure of equal opportunity to all of America's children and then our schools will work just fine.
Related
Popular in the Community