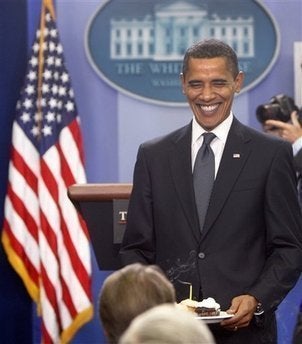 Despite confronting near absolute opposition from the Republican side of the aisle on health care, President Obama and Senate Democrats stressed during a lunch on Tuesday that reform still needed to be done in a bipartisan fashion, a White House aide said.
With nearly the entire Senate Democratic Caucus at the White House for lunch, the president spoke for ten to fifteen minutes on insurance reform. He also insisted, according to an administration aide, that he remained committed to working with the Republican Party to get reform passed.
"I think there was just really a sense about the importance of making progress and getting a bill done," the aide, who was in attendance, said. "And that they are committed to working with Republicans to do it. The president believes that that is important."
The continuing push for bipartisanship come at a time when progressive voices within the party are urging the White House, and Senate Finance Committee Chairman Max Baucus (D-Mont.) in particular, to stop looking for Republican votes. Democrats have 60 caucusing members in the Senate, their logic goes,so there is no need to water down the legislation for the sake of political comity.
Whipping votes, of course, is never that simple. And outside the White House, even the more liberal members of the party acknowledged that they were willing to sacrifice on principles in order to get enough Democratic support.
"We understand this is a process," Sen. Dick Durbin (D-Ill.) told the Huffington Post. "And let me tell you I wish I had 60 progressives voting the way I want to vote in the Senate, and I don't."
The other side of the debate was not as accommodating. In a conference call with reporters roughly an hour before the president convened his lunch, America's Health Insurance Plans' President and CEO Karen Ignagni said her group would likely not support a compromise proposal for the public option: The establishment of regional co-ops for insurance coverage.
"We have some co-ops already around the country and one has to wonder what would be the purpose of a co-op competing in certain markets where there are health care plans that are co-op models," Ignagni said. "We would be right back with the problems that have been identified not only by our community, but leading hospitals, major medical societies across the country, employers and a number of consumers."
Aides said there was little talk of co-ops or public options at Tuesday's lunch. The entire meeting lasted about an hour, with all Senate Democrats in attendance -- except for Ted Kennedy (Mass.) and Robert Byrd (W.V.), both suffering from poor health. According to the aide, Senate Majority Leader Harry Reid spoke first, for roughly five minutes. After Obama addressed the crowd, a lengthy question and answer session followed. Finishing up the meal with a bit of chocolate cake, Obama offered words of advice for how to handle the upcoming August recess.
"The president urged them to, as they were holding town hall meetings, to make the case pretty clearly about why this is important, why it is important to our economy, why it is important to our fiscal situation as a country and how it would benefit Americans," said the aide. "Both those Americans who are looking for health care and those who have it but would like to see lower costs."
It was, attendees stressed, an opportunity to regroup after a hard-fought few weeks. As they left the lunch, the senators tried to present a united and confident caucus, even as the debate over reform approaches its most contentious stage yet.

"It was really a wonderful meeting, led by a terrific man, our president, Barack Obama," Baucus said. "One of the senators was saying to me, as we walked out, 'You know, it's just so wonderful to hear him speak.' You know, it's like a symphony. It's like just a great -- it's just -- he is so good. He just has it together."
Popular in the Community