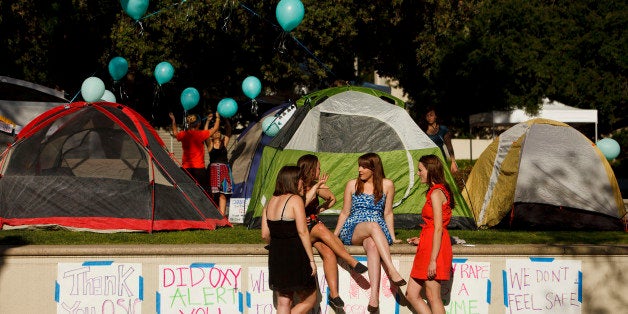 Faculty and students at Occidental College in Los Angeles are accusing school administrators of tracking individuals who use an online form to anonymously report sexual assaults.
Two students and one faculty member were contacted for meetings with school officials after using the form, according to Occidental sociology professor Danielle Dirks and politics department chair Caroline Heldman.
The students -- both sexual assault survivors -- said they were contacted for meetings with Lauren Carella, the college's Title IX coordinator, who oversees Occidental's handling of sexual violence cases. At a faculty senate meeting Wednesday, an instructor disclosed that she, too, was contacted after using the form.
Dirks and Heldman said they are not trying to discourage survivors from seeking help from the college, and they argue that anyone who feels comfortable reporting an assault should do so. But they added that maintaining the anonymous nature of the form is essential.
"The reason [sexual assault survivors] are using the anonymous reporting form is because they're not convinced they want to be interfacing with the school," Dirks said. "They worry it may be retraumatizing."
One of the two students told HuffPost that she had agreed to a meeting with Carella in September to find out how the office learned of her assault. She was careful whom she told about the attack, so she assumed someone close to her had betrayed her trust and told the college.
The student, who asked not to be identified, said she was raped as a freshman in spring 2012 by a fellow student who was set to graduate that semester. As detailed in a federal complaint filed with the U.S. Department of Education in April, she later learned that he had been found responsible by the college for three other sexual assaults during his time at Occidental but was not removed from campus. Because of what she saw as a failure by the college to protect her from this individual, she was hesitant to work with administrators on anything regarding her case.
In her meeting with Carella, she said, she asked multiple times how the administrator had obtained information about her. Carella would not tell her how she got the information, the student said.
The complaints allege that Occidental administrators mishandled reporting of sexual violence, failed to properly investigate such cases and did not adequately punish students found responsible. Representatives for the school admitted in October that the college had under-reported the number of sexual assaults on campus in recent years, which it is required to disclose under the federal Clery Act.
The college created the online reporting form in the summer of 2012 to encourage students to report assaults so the school could more accurately track how often sexual violence occurs on campus. Administrators maintain they're not tracking who's using the tool.
"Occidental makes no attempt to identify people who file an anonymous report, has no reason to do so, and encourages all survivors of sexual assault to choose whether to report, when to report, and by which means they report," said Occidental spokesman James Tranquada.
Carella did not respond to requests for comment. Tranquada said he could not disclose information about specific student cases.
"Because the college does not know who has made an anonymous report, it is possible that the Title IX coordinator could contact a survivor who filed an anonymous report based on separate information about that specific student from a third-party source," Tranquada said.
Brett Sokolow, attorney and president of the National Center for Higher Education Risk Management, explained there are situations in which a college would not be required to tell a sexual assault victim how it learned of the attack.
If the school found out about the assault through an anonymous report, the victim would be entitled to see it, Sokolow said. But if the school learned of the assault from another student, he said, the school would not have to tell the victim that person's name unless it had the person's consent. (He was speaking generally and not about the specifics of Occidental's situation.)
"If the reporter was not a student, the institution's policy -- not Title IX -- would typically govern what they would be willing or able to disclose," Sokolow said.
Dirks pointed to another incident that she felt raised questions about the anonymity of the online reporting form. She said she had received an unsolicited email from Erica O'Neal Howard, associate dean of students, about logging into the form after she had attempted to access the form in the summer of 2012.
These recent allegations add to previous privacy concerns. In September, a number of Occidental faculty and staff had their computers and cell phones confiscated by the college so it could make copies of certain data for the ongoing federal investigation. At the time, Tranquada told HuffPost that the faculty and staff whose materials were seized were involved in handling sexual misconduct cases. The Department of Education confirmed to HuffPost that it did not require that move.
"The end goal is campus safety," Heldman said. "It's disheartening to see that while [Occidental President Jonathan Veitch] is saying he wants to be a national leader and that we're on that path to being one in addressing sexual violence, his actions and the action of his administrators demonstrate the opposite."
Popular in the Community