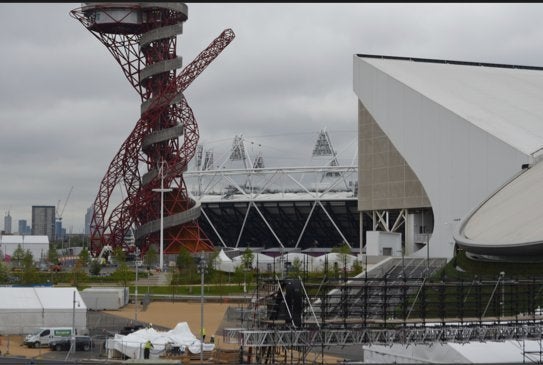 Let's be honest, nobody will be staying up until 2 a.m. this summer to watch Olympic racewalkers (joggers pretending to "speed walk") on USA or MSNBC. Not to take anything away from the racewalkers, nor the equestrians, synchronized swimmers, and badminton players, either, but these events are for most people... well... boring. Other sports, like soccer and the recently removed baseball, have more prestigious events (the World Cup and the World Series) and are pretty irrelevant as Olympic events. Going forward, the Olympics need a shakeup -- an extreme shakeup.
Recently, the IOC has done well to adapt to the modern trends in athletics, adopting sports like snowboarding and BMX for the winter and summer games, respectively. Following this trend, the IOC should continue to link itself with the extreme sports community. With the announcement that the X Games will be expanded to a global market, including Asia, Europe and South America, some of the fastest growing sports among youth today are poised to continue their upswing in popularity. In addition, extreme sports generally attract innovative marketers that could breathe fresh life into Olympic marketing and engage entirely different demographics than the summer games typically do (looking at you, Red Bull).
More importantly, the Olympics are supposed to represent the best from the sports people compete in all over the world. Why not include the events to which the masses can actually relate? Walk down the street and you could find five kids who own a skateboard with no problem, but you'd be hard pressed to meet someone who just finished their rhythmic gymnastics routine.
With that said, here are five sports that should make their way into the Olympics sooner rather than later (some contenders that were scrapped because of logistical and geographical issues were surfing, free diving, and high lining):
1) Skateboard Vert (Half-Pipe): The IOC already took the step to include the winter version of skateboard vert ramp (the snowboarding half-pipe), why not round it off by adding the summer event, too? If the IOC could find a way to incorporate the event while Shaun White, the multi-sport athlete and international brand name, is still competing, it would give the event a huge kick-start from the word "go". Skateboarding takes place all over the world, and unlike its rebellious roots, it's big business now. The hardest thing for viewers would be the terminology; goofy names aside, though, it's easy to admire the acrobatics skaters perform on each flight off the ramp.
2) Bouldering: A form of rock climbing, bouldering is a blossoming sport that requires all the skill of technical rock climbing, but no ropes or harnesses. Rather, a foam pad is positioned below the climber as they scale a relatively short route (usually no more than 20 ft. high). More and more people each year are flocking to bouldering because of the minimal gear expense, accessibility in gyms, and the shorter time to complete routes. Able to compete on synthetic rock walls indoors, this could be one of the easiest sports to add to the Olympic lineup, logistically speaking. Plus, with more kids gravitating toward climbing as opposed to traditional sports, the ceiling for bouldering currently looks sky high. Even babies are getting in on the action.
3) Parkour: What's not to love about Parkour, also known as free running? A physically demanding sport, athletes combine martial arts maneuvers with sheer brass to duck, dive, roll, jump, and overcome everyday obstacles with grace and precision. Parkour has become a dream sport for urban athletes bold enough to take on steel and concrete, but Parkour training grounds and parks have also begun to spring up. If Olympic competitions mimick these training grounds, participants could easily participate without the added city dangers (cars, grumpy old people, police, etc.). Probably most famous for the Casino Royale chase scene, Parkour possesses the perfect blend of skill and excitement to reawaken bored Olympic viewers.
4) Obstacle Course Racing: Arguably the biggest trend in sports today is the explosion of obstacle course races. The list of competitions is endless, and growing longer each year. People love this stuff. Suddenly, working out has become a sport, and why not? We gawk at the Olympians' bodies, strength, speed, and power. Why not put a combination of every aspect of athleticism on full display? Typically, these races range anywhere from 3-15 miles in length and force participants to run through mud, freezing water, fire, over and under logs, up ropes, and just about around anything else possible that will challenge the mind and muscle. You know what's better than watching an athlete run countless miles around a circle? Watching them run through mud and fire. Now that's good television.
5) Adventure Racing: Adventure racing is a team relay event that typically involves 3-5 legs, including sports like orientating, climbing, paddling, cross-country running, and mountain biking. Orientating could be axed for simplicity sake, and with the addition of bouldering (or rock climbing), every other sport is already included in the summer games in some form or another. It only seems natural that the sports be combined to form one monster race with the countries' best across multiple sports.
Calling all HuffPost superfans!
Sign up for membership to become a founding member and help shape HuffPost's next chapter