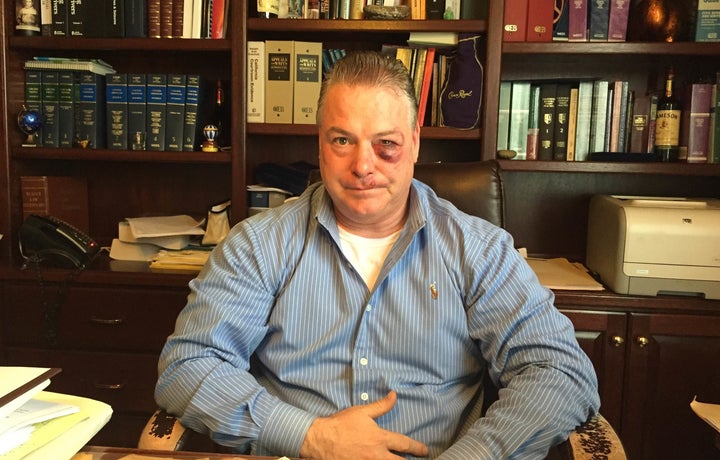 LOS ANGELES -- Two of the largest associations of criminal defense attorneys in California are calling for an independent investigation into the beleaguered Orange County District Attorney's Office, following accusations that an investigator from the office beat up a local defense lawyer last week.
The full story about that altercation is not yet public. But "one thing is clear: the brutal, bloody beating of [attorney James] Crawford by a law enforcement officer must be condemned and further calls into question the integrity of the Orange County District Attorney's Office and the Orange County Sheriff's Department," said Michael Ogul, president of California Public Defenders Association, in a statement Monday.
Ogul's group also renewed its call for a U.S. Department of Justice investigation into the DA's office over allegations of misconduct stemming from the county's jailhouse informant program -- an unfolding scandal that has been roiling the local criminal justice system since 2014.
Matthew Guerrero, president of California Attorneys for Criminal Justice, repeated his group's call for a "thorough, independent" investigation into the courthouse altercation in a statement Tuesday. Declaring that his organization will not stand by in "silence," Guerrero pledged that it will be making a public records request for evidence in the case, including any video.
Last week, Crawford alleged that he was beaten by Dillon Alley, an investigator with the DA's office, following a heated argument inside a courtroom. His attorney, Jerry Steering, told HuffPost that the disagreement escalated into violence after Crawford mentioned the jailhouse informant scandal.
As Crawford exited the courtroom, said Steering, the investigator jumped him from behind and began "bashing his brains out" on a bench in the hallway and "punching his lights out."
Steering said police finally pulled the investigator off Crawford. But no arrests were made. And Alley was not immediately put on administrative leave. 
Alley's attorney, Paul Meyer, told the Los Angeles Times that his client was also injured in the incident, but would not say how specifically.
This [altercation] is just another symptom of that larger malady: an office that may need outside monitoring, including possible federal oversight.

Daniel Medwed, a law professor at Northeastern University
Almost immediately after the news broke, Tom Dominguez, president of the Association of Orange County Deputy Sheriffs, said in a statement that Crawford's "one-sided version" of events was false and that the defense attorney was trying to "drum up a payday."
For their part, the criminal defense groups said that law enforcement's response to the incident has been woefully inadequate. They also condemned Dominguez's rush to defend the investigator when all the facts weren't yet available, with Guerrero calling his statement "disgraceful."
Guerrero criticized law enforcement for "circling the wagons" and for not being transparent about the incident. 
"[O]ne might reasonably wonder how the Association of Orange County Deputy Sheriffs could certify that Mr. Crawford's 'version' is 'not true' before the Sheriff's Department has completed their investigation," Ogul said.
Ogul and Guerrero both lambasted the DA's office for failing to express any criticism of its investigator or make any denunciation of the violence generally.
"Indeed, so far as we can tell, the District Attorney has taken no employment action whatsoever against Mr. Alley," Ogul continued, "not even merely placing him on administrative leave during the investigation."
The DA's office said that all information about the incident must be reviewed before any action can be taken against the investigator. Lt. Mark Stichter, spokesman for the Orange County Sheriff's Department, told HuffPost that all facts and information in the investigation have now been turned over to the California state attorney general's office. 
A Change.org petition calling for the arrest and prosecution of Alley has received more than 1,000 signatures since it began circulating at the end of last week.
The DA's office was already facing tremendous scrutiny over allegations that it illegally withheld evidence gleaned through a formerly secret jailhouse informant program and thereby violated the rights of multiple defendants. Fallout from the snitch scandal has derailed multiple murder cases, with some accused murderers even walking free. Crawford himself won a new trial for client Henry Rodriguez last month when a judge ruled that county prosecutors had hidden jailhouse informant evidence in the double-murder case. 
Just four months ago, a group of former prosecutors and legal experts -- including both criminal defense groups speaking out over the beating -- called on the DOJ to conduct a full investigation of the DA's office and the sheriff's department over the informant program. 
It remains unclear exactly how many cases may have been affected by tainted informant evidence. Deputy Public Defender Scott Sanders has argued that any murder case in Orange County over the last 30 years in which a jailhouse informant was used deserves to be re-examined. Sanders first unearthed the alleged misconduct, as well as internal records from the program that may have been improperly concealed for decades.
Tony Rackauckas, district attorney of Orange County, has maintained that no one in his office intentionally behaved inappropriately in relation to the jailhouse informants program, and he has invited the DOJ to investigate his office's practices in that area.
Daniel Medwed, a law professor at Northeastern University who has written in depth about prosecutorial misconduct, sees the situation in Orange County differently. He told HuffPost that last week's courthouse violence is yet another sign, "among many," that the DA's office is not functioning properly.
"The fact that the informant scandal went on for so long and on such a broad scale, of course, suggests significant dysfunction and a lack of an ethical compass in the office," Medwed said. "This [altercation] is just another symptom of that larger malady: an office that may need outside monitoring, including possible federal oversight."
Calling all HuffPost superfans!
Sign up for membership to become a founding member and help shape HuffPost's next chapter