Oregon Democrats on Monday made a major concession to striking Republicans by killing two bills ― one that would have strengthened the state's gun laws and another intended to tighten vaccine compliance amid the worst measles outbreak the country has witnessed in 25 years.
Senate Democrats abandoned the two bills in an effort to bring Republicans back to the Capitol after they walked out last week over a different bill, HB 3427, which would generate an annual $1 billion business tax to fund school grants and other education programs.
The deal was confirmed to HuffPost by Rick Osborn, a spokesman for Oregon Senate Democrats, and state Rep. Mitch Greenlick (D), one of the chief sponsors of the vaccine bill.
"I heard yesterday that those bills were killed as part of a deal to get the Republicans to return to work," Greenlick told HuffPost on Tuesday. "Nothing regarding those two bills is likely to happen during this session."
Senate Bill 978 included a package of gun control measures that, among other things, would have allowed Oregon gun retailers to refuse service to people under the age of 21. Current state law permits people aged 18 years and older to buy rifles and shotguns.
Though they are in the minority this session, Senate Republicans who walked out last week denied Democrats the quorum needed to vote on legislation. They issued a list of demands to Senate Democrats that included sending HB 3427 back to committee and abandoning HB 3063 and SB 978.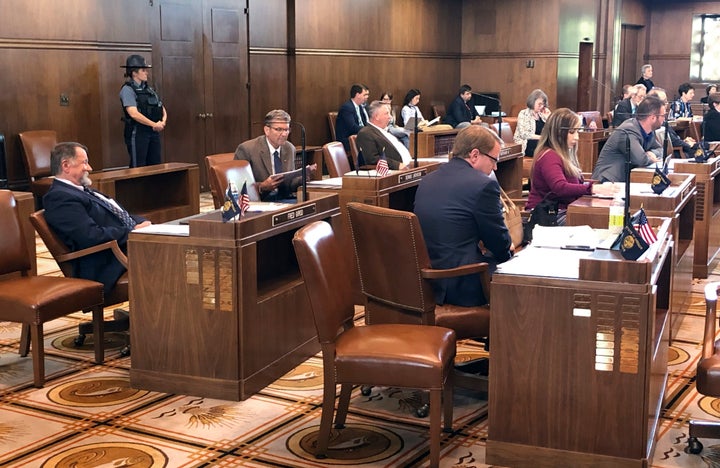 Senators approved the tax plan by an 18-11 vote on Monday after the striking Republicans returned to the building. The bill goes now to Gov. Kate Brown (D) for a signature.
Republican state Rep. Cheri Helt, another chief sponsor on the vaccine bill, called Monday's deal "disappointing."
"This bill was about saving lives, protecting children and ensuring our shared immunity from dangerous and preventable diseases," Helt said in a statement on Facebook. "It's disappointing that once again the loudest, most extreme voices in our politics prevailed and the sensible-center and thoughtful policy-making lost."
Popular in the Community