Marion Harris was, by her own account, a Connecticut housewife and antiques dealer when, in 1993, a hunt for old-fashioned treasures struck gold. She was scouring the Pier Show, a New York antiques fair, when she spotted an entire booth filled with with life-sized, porcelain doll parts surrounded by heaps of boxes.
"I didn't even know what was in the boxes," Harris told The Huffington Post in an interview. "But I knew viscerally it was something I wanted." She bought the entire lot, all of which once belonged to a recently deceased man by the name of Morton Bartlett.
When Harris returned to Connecticut, she began to reassemble the dolls, yielding anatomically accurate figures of young girls and boys rendered in striking detail, from their tongues to their toenails. All of their clothing was handmade for a perfect fit. The boxes were also filled to the brim with photographs of dolls posed in incredibly lifelike poses, innocent yet precocious. What verisimilitude the figures lacked in the not-quite-flesh, they gained in front Bartlett's lens.
Harris spent the next two years learning all she could about the man behind the dolls using the only clues she had: a Harvard yearbook and a Yankee Magazine that came with the dolls. She managed to piece together the story of a rather ordinary-seeming man ― an affluent, Boston-raised commercial photographer and graphic designer ― with an unusual, private pastime.
How does one go about exhibiting or selling wildly realistic, life-size dolls made by an unsuspecting, Harvard-educated hermit? Harris wasn't so sure, until she heard about an event called the Outsider Art Fair.
The Outsider Art Fair (OAF) was founded by New York art fair magnate Sandy Smith in 1993. Smith had been in the business of launching unprecedented art fairs since he established the Fall Antiques Show in 1979. When two of his closest advisors approached him with the idea of an art show entirely comprised of self-taught work ― a genre quickly gaining momentum in the art market ― Smith decided to give it a shot. At the time, such work was commonly described as "primitive." Smith, however, opted for different descriptor: "outsider."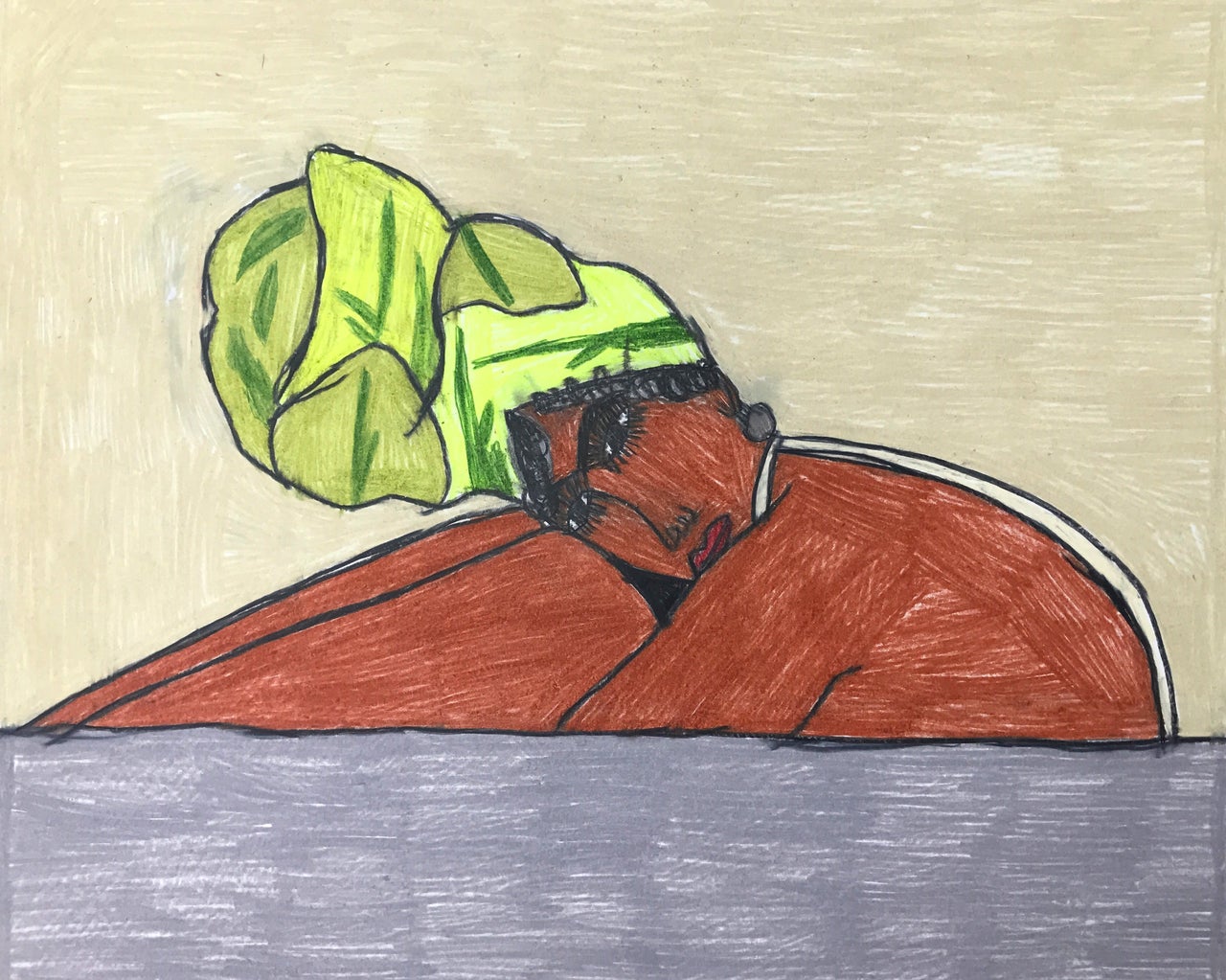 "We named it that because of that's what Roger Cardinal called it," Smith said in an interview with HuffPost, referring to the art historian whose book Outsider Art was published in 1972. Cardinal used the term as an English alternative to Art Brut ― a phrase coined by French artist Jean Dubuffet to mean "raw art," art that was unmediated by education, culture, or ego. "But nobody knew what outsider art was back then," Smith continued. "Many dealers were aghast that we called it 'outsider.'"
The term is still contested today. The word "outsider" is meant to denote artists working not only outside the art world, but outside of mainstream culture, whether due to physical isolation, incarceration, mental illness or other singular circumstances. In such an environment, at least ideally, the creative act is untethered by artistic precedent or market trends. The outsider artist creates not for fame, or money, or glory, but for sanity, peace of mind, and survival.
Of course, the circumstances necessary for an artist to create truly "raw" work are hardly ever just right, as few are wholly isolated from social connections and cultural associations. Furthermore, many critics who oppose the term believe the "outsider" distinction can ghettoize artists who are already disenfranchised enough. It's easy to imagine how quickly afflictions such as poverty, mental illness, and physical disabilities can be fetishized and exploited in the chase for "pure art."
But there is something powerful humming in the broad genre of outsider art that is impossible to deny. Stripped of pretension, irony, and cleverness, the best outsider artworks use a wholly individualized visual language brewed in the imagination to probe universal, unspeakable states that hit the viewer hard.
"It has a spiritual dimension to it," Henry Boxer, an outsider art dealer told HuffPost. "That's what I connect with. There is a very deep space we all have; the outsiders seem to have direct contact to that."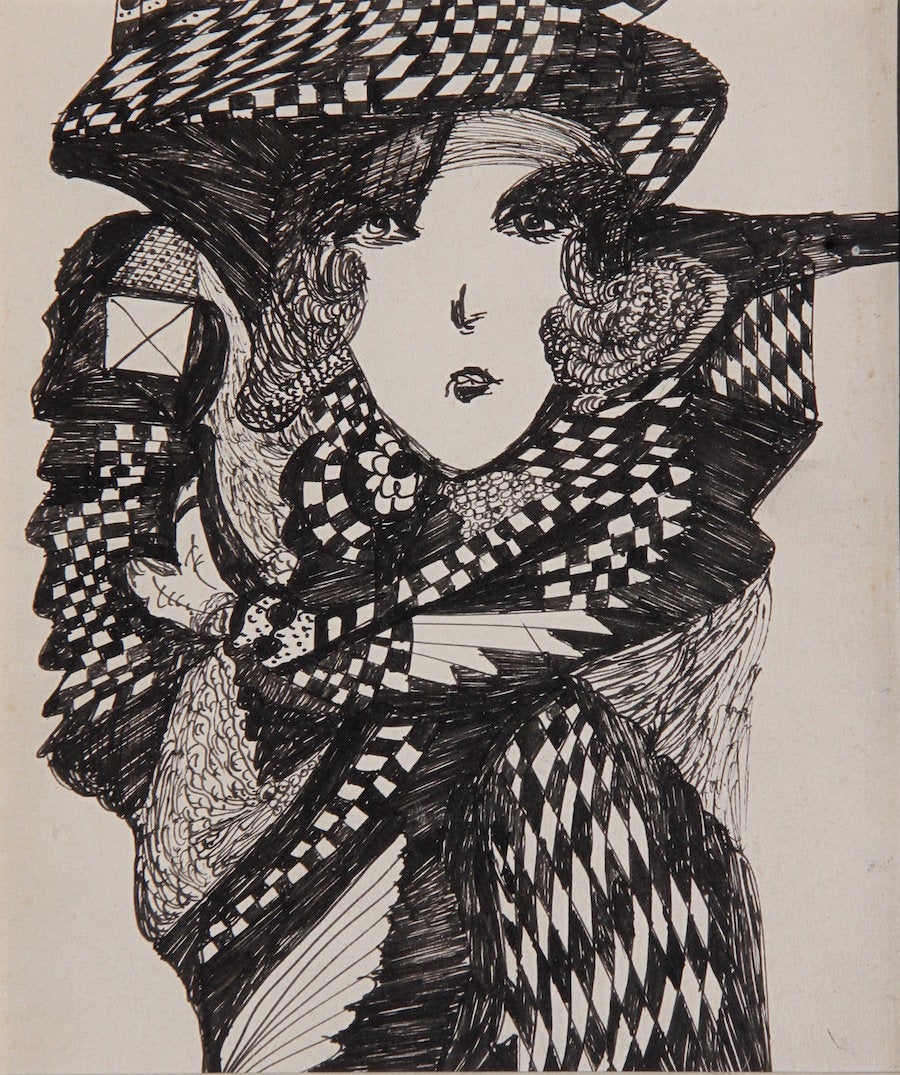 Boxer, who began collecting work seriously in 1975, has shown at every OAF since 1993. His first booth featured the work of Madge Gill, a mediumistic artist who began drawing obsessively after her daughter died shortly after birth in 1919. Believing that she was guided by a spirit called Myrninerest, Gill spent all hours of the night making drawings of anxiety-stricken women swallowed up by ornate fashions that spawned kaleidoscopic patterns stretching to the papers' edges.
"I'm a child of the '60s, there were lots of psychedelics," Boxer said. "We were interested in consciousness and things like that. Outsider artists are able to express these deep parts of ourselves without the use of any substances." Gill accounted for her mystical drawings by attesting she was merely a conduit for her spirit guide. Although she produced thousands of pieces in her lifetime, Gill never sold one, believing they never really belonged to her.
Gill is far from the only outsider artist to live a lifetime of art without ever selling her work. In fact, Harris identified this condition as one of outsider art's identifying factors. For him, it is often "art that is not made in order to be sold." And yet, strangely, it was an art fair that introduced most of America to the genre.
The first OAF was held in January of 1993 in Manhattan's Puck Building. (It was not yet, Smith noted, owned by the president-elect's son-in-law, Jared Kushner.) Around 25 galleries exhibited work, Smith estimated, and about 3,000 attendees showed up, far surpassing his expectations. "The press loved it," Smith recalled, specifically mentioning a full-page spread by Roberta Smith in The New York Times.
Smith ran the fair for the next 20 years, but as time went on, he found the exhibitor booths becoming more and more difficult to fill. "Dealing in outsider art, it was a small universe to pull from," he said. "I felt like we were getting less quality in some areas." The market crash of 2008 didn't help, with some of the more prominent gallerists dropping out in subsequent years.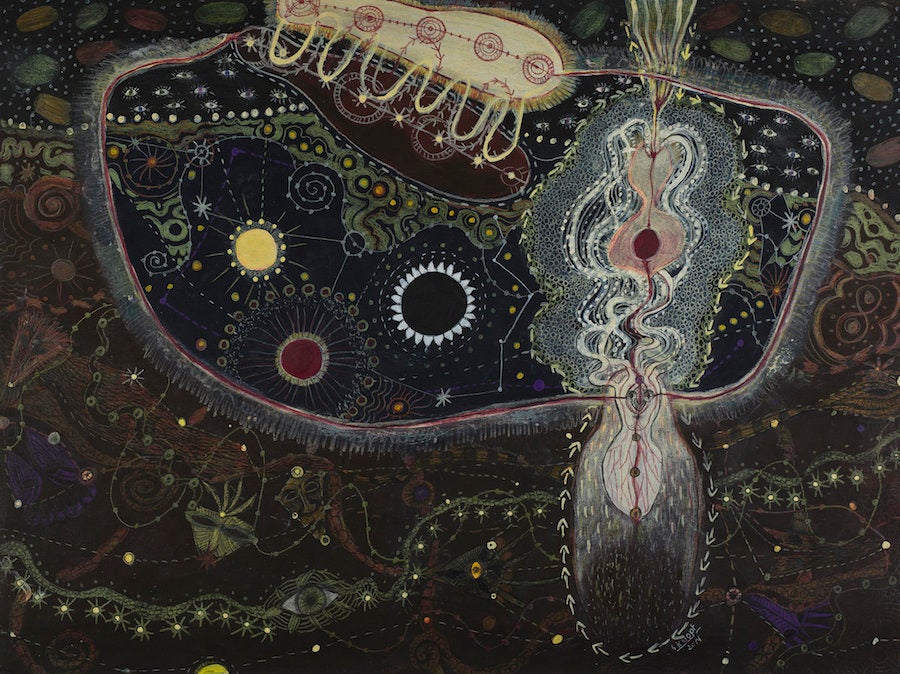 Outsider art dealer Andrew Edlin had been keeping an eye on the fair's recent trials. Edlin was introduced to the world of outsider art while trying to find a gallery to represent paintings made by his uncle Paul, who was deaf. "He didn't quite have access to the contemporary art culture," Edlin told HuffPost. He ended up finding a home for the work in the American Primitive Gallery, which exhibited at the OAF.
Edlin attended his first fair in 1995, he recalled. "I found the fair really eye-opening," he said. "At contemporary art fairs there is always great work. But there is a little bit of this feeling, when I go to a mega-fair, that I know what to expect." The OAF, however, was quite the opposite. Edlin remembered seeing a drawing by James Castle ― a deaf artist who used soot and saliva to chronicle the mundane details of everyday life with masterful, minimal precision ― for the very first time. "To see Castle drawing in a little booth, not even framed," he swooned. "You can't really replicate that feeling of excitement."
By 2012, Edlin had an outsider art gallery of his own, and offered to help Smith "put a little shot of energy" into the fading fair. Namely, he helped recruit prominent galleries to participate and instituted thematic panel discussions to round out the event programming. "The advice that I gave him had some level of success," Edlin said. "I thought, why don't I buy the fair and do that for myself?"
So he did. Edlin's company Wide Open Arts acquired the OAF that same year. For the first fair under Edlin's purview, held in 2013, he relocated the site to Chelsea's Dia Center for the Arts. By the end of the weekend, the fair's attendance "just about tripled." Edlin estimates there have been around 10,000 attendees each year in the time since.
What changed? "I think it's fair to say that Sandy is an art fair guy, and I'm more of an art world guy," Edlin surmised. "I saw the show not as much in terms of real estate, but as an opportunity to curate the biggest show of outsider art in the world."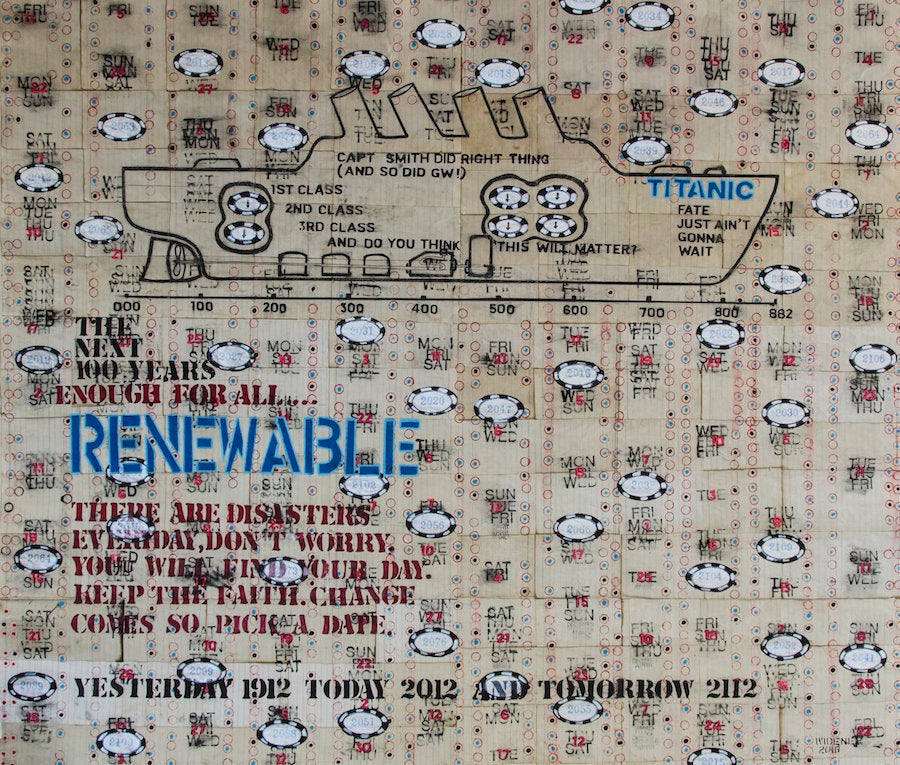 One of Edlin's major changes was instituting a strict vetting committee, an anonymous team of dealers and curators, to review all artists submitting work to the fair. Part of the task is ensuring outsider artists are truly "outsiders" ― as Edlin said, "every once and a while we'll do some research and the artist will have an MFA." But then again, the delineation between the inside and the outside is blurry and controversial. "Charles Steffen was schizophrenic, but he became ill when he was in the middle of his first year of art school," Edlin said.
The other challenge the vetting committee faced was determining the good from the bad. Because outsider art doesn't adhere to many of the classic traditions and techniques which help critics and curators evaluate work, this was a particularly difficult task. So much of an artwork's value, for better or worse, can become bound up with the biography of the artist. On the one hand, artist's backstories are often dramatized to increase the mystique of their creations. More beneficially, however, the interaction between viewer and dealer can consist of genuine storytelling, empathizing, and imagination. While conversations between sellers and buyers in the larger contemporary art world can feel pretentious or just plain cold, the talks that take place at the OAF are can be like impromptu folktales.
Another crucial shift the OAF underwent during Edlin's ownership was a matter of context. Under Smith, outsider art's next of kin, in terms of related art movements, was folk art ― decorative or utilitarian objects made by untrained artisans as part of a communal tradition. While folk art often resembles outsider art in style, the distinction lies in the context of their creation: was the artist participating in a traditional ritual or engaged in a solitary surge of vision? With Edlin, the conversation shifted from one between outsider art and folk art to one between outsider art and contemporary art.
In part, this resulted from the success of the fair itself, which led more and more contemporary artists to familiarize themselves with outsider work, and sometimes pull from its aesthetic. For example, a 2015 group show called "Character Traits" featured a crop of young artists whose work, in some way, tapped into the outsider state of mind.
In an earlier interview with HuffPost, curator Matthew Craven explained his thoughts on why contemporary artists were so drawn to the work of outsiders. "I think what artists are typically trying to do when you see that 'outsider aesthetic ― it's trying to tune out everything you've learned before, to really approach your work in a different way," he said. "Getting rid of things you've learned in the past is sometimes a bigger skill than focusing on the skills you've learned over time."
Edlin is well aware of just how porous the boundary separating outsider art from contemporary art can be. Rather than overzealously guarding the partition, Edlin uses the OAF to embrace the overlap. "We look at [outsider art] as part of the greater art world and less of an island unto itself," he said.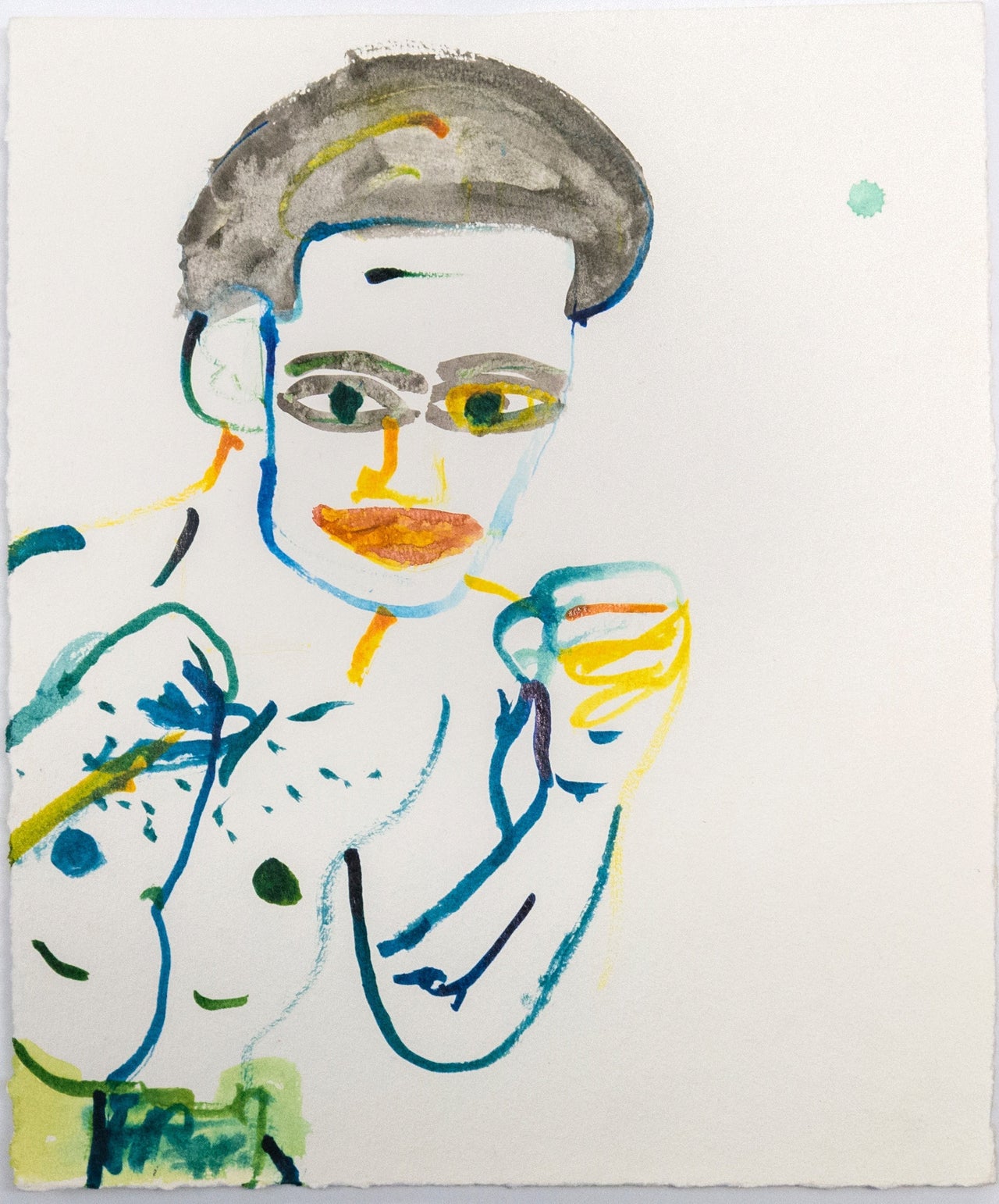 Much has changed since the OAF's first edition, 25 years ago. For one, the fair is now held in Chelsea's Metropolitan Pavilion. But more importantly, the field of outsider art has gone from near obscurity to a genre that's exhibited at venues from the Brooklyn Museum to the Venice Biennale. As a result, the prices of some of the artists' works have increased dramatically. "A Henry Darger, 25 years ago, that would cost $10,000," Edlin estimated. "Now they're $600,000." Still, the OAF remains one of the most affordable in terms of art fairs, with plenty of works not by Henry Darger available for under $1,000.
Another happy consequence of the fair's growing prestige is the increase in international galleries submitting work. "It's been easier to open up the field to new discoveries from all around the world," OAF director Becca Hoffman told HuffPost. "With the knowledge of the fair in the furthest reaches of the world, we see new artists bringing work from Japan, Australia, Europe, and South America. The fair has really opened up those boundaries to the non-Western canon."
Yet much has remained consistent throughout the OAF's 25-year run, a summary of which will be featured in the curated booth "The Outsider Art Fair: 25 Years." Curated by Edward M. Gómez, the exhibition will feature works originally shown each year of the OAF's existence, including pieces from nine exhibitors who have been with the fair since the beginning.
For the many who treasure the spirit of the OAF, which Hoffman described as "a breath of fresh air" amongst the sea of contemporary art fairs, that too remains intact, perhaps now more than ever. "There is a warmth," Harris said when describing the OAF's magic. "I think it balances out the huge rise in technology, with everything a little bit sanitized now. This is real."
Above all else, throughout its 25 years, the OAF has retained what is perhaps its signature trait: its complex and paradoxical nature. Selling work that was never meant to be sold, the fair ushered the artists and movement it represented into the public sphere. Works made in attics, hospital beds, and other private spaces are now featured in the world's most preeminent museums. There is a magic that pulses through the fair to be sure, and a tension as well. Because, at its core, the OAF is a fair that generously and miraculously and sometimes dangerously shows work that was never meant to be shown.
Before You Go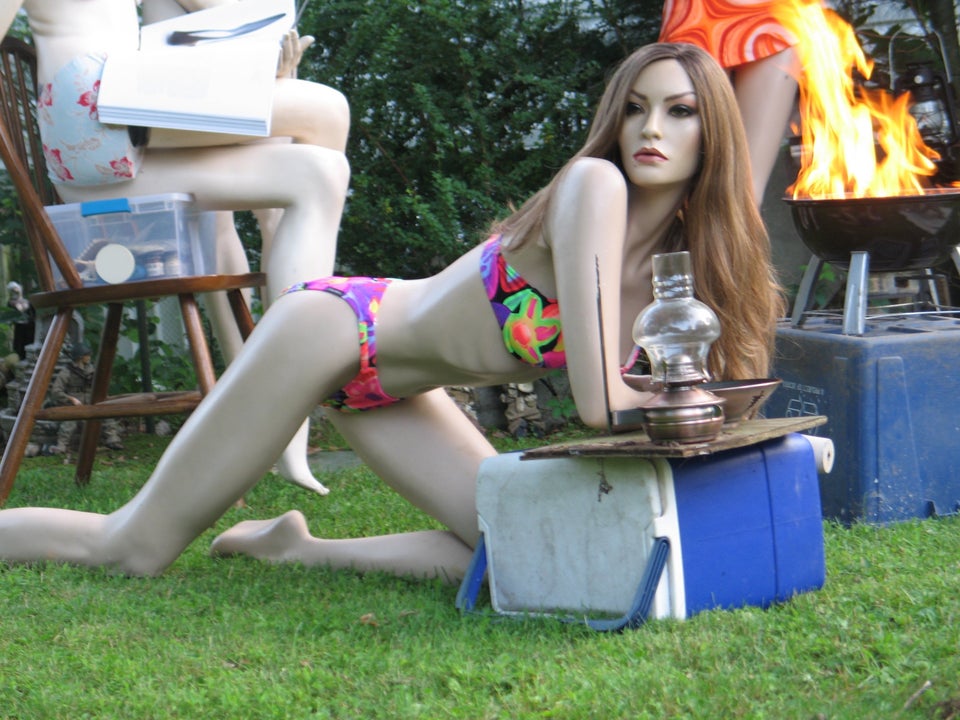 Outsider Art Fair 2016
Popular in the Community