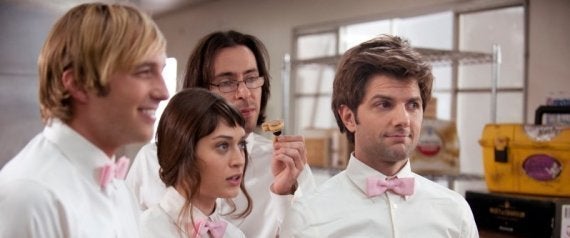 Party time is on its way. Just don't expect a great feast.
Long rumored and teased, the big screen continuation of the cult hit Starz comedy "Party Down" is on its way, series star Megan Mullally confirmed on Sunday. Mullally revealed that John Enblom, the series' co-creator, is in the midst of writing the script.
The news is yet another juicy morsel for fans of the show, which ran for two seasons in 2009 and 2010. Starring Adam Scott as the aforementioned Pollard, a failed actor who is employed by the subpar Party Down catering service, the series also featured Lizzy Caplan, Martin Starr, Ryan Hansen, Ken Marino and Mullally as his miserable co-workers. Jane Lynch appeared in season one; Mullally replaced her in season two.
"I think we're going to see Lydia's ex-husband -- Ed I think is his name --- who was really racist and a misogynist," Mullally said of her character Lydia's storyline in the work-in-progress script.
Since its cancellation, various cast members have hinted that they are both willing and in talks to turn the series into a film.
In April, Caplan told The Huffington Post that "It's something that we all really want to do. People are busy with their television shows and whatnot, but it's definitely something that we all want to do, so I think we'll do everything we can to make it happen."
That progressed to co-creator Rob Thomas telling an audience at the Alamo Draft House in August that "We are pretty far down the deal-making process... Ideally, if it works out we could be shooting in television hiatus time next spring. Hopefully that deal will close, and we'll all tweet about it when it does."
Scott told Marc Maron in November that another production company was interested in making the film and that they were waiting on Starz to give the okay.
"I don't know if Jane [Lynch] will do it, we'll certainly invite her, but I'm not sure," he said of the cast for the film. "But definitely the Season 2 cast, which is all of us and Megan Mullally."
REAL LIFE. REAL NEWS. REAL VOICES.
Help us tell more of the stories that matter from voices that too often remain unheard.