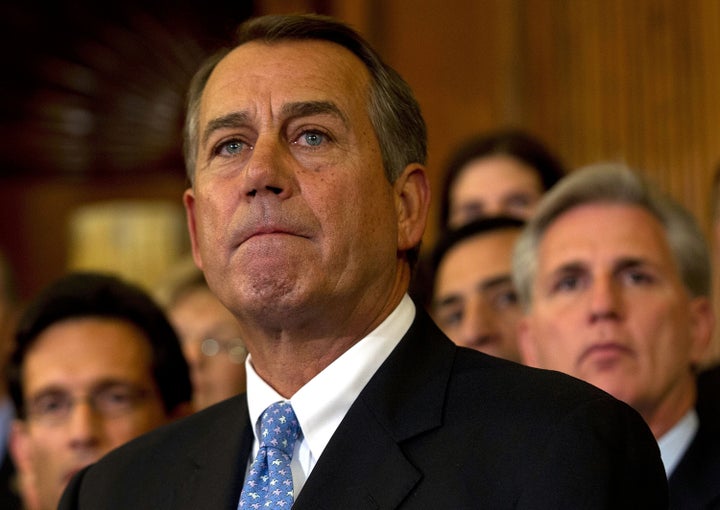 WASHINGTON -- Ending a dramatic, weeks-long political standoff, House Republican leaders agreed Thursday to pass a Senate-endorsed short-term extension of the payroll tax cut in return for House-Senate negotiations on a year-long package.
The House will take up and pass the bill as soon as Friday at 10 a.m. The bill will come up under unanimous consent, which means it can pass on a voice vote with only two lawmakers present: one in the speaker's chair and one to offer up the bill. Under that scenario, the Senate can take up the bill immediately afterward and also pass it on a voice vote, clearing it for the president's desk.
President Barack Obama, who has been pounding House Republicans all week for preventing the Senate-passed bill from going through, hailed the news of a deal.
"Today, I congratulate members of Congress for ending the partisan stalemate by reaching an agreement that meets that test," Obama said in a statement. "This is good news, just in time for the holidays. This is the right thing to do to strengthen our families, grow our economy, and create new jobs. This is real money that will make a real difference in people's lives."
The agreement ensures that a 2 percent tax break for about 160 million people will not expire on Jan. 1, and that Medicare payments will not be slashed for doctors. Emergency unemployment benefits also will continue.
House GOP leaders had been adamant about passing a year-long extension of the tax cut, arguing that a two-month version would create economic uncertainty. They reaffirmed that position as recently as Tuesday morning.
But pressure to secure the tax break kept rising, with everyone from Senate Republicans to the Wall Street Journal editorial page warning that the holdout was damaging the Republican Party's image. On Thursday, Senate Minority Leader Mitch McConnell (R-Ky.) became the latest to nudge House Speaker John Boehner (R-Ohio) into backing down, urging him to take the two-month deal in exchange for a guarantee from Senate Majority Leader Harry Reid (D-Nev.) that he would appoint conferees to hash out a longer package.
"I think the general mood was that this was bungled from early on," a GOP source said. "After what the Wall Street Journal and [Karl] Rove said, it became clear that Obama had the upper hand."
"When people are living from paycheck to paycheck, it's tough to take the long view talking about trillion dollar deficits," the source added. "The leadership simply didn't understand that."
Boehner held a conference call with members on Thursday evening to lay out the agreement. The call lasted about 10 minutes, according to aides, and Boehner took no questions. Shortly after, he held a press conference to announce the plan moving forward.
"Senator Reid and I have reached an agreement that will ensure taxes do not increase for working families on Jan. 1 while ensuring that a complex new reporting burden is not unintentionally imposed on small business job creators," Boehner said.
"We will ask the House and Senate to approve this agreement by unanimous consent before Christmas. I thank our members -- particularly those who have remained here in the Capitol with the holidays approaching -- for their efforts to enact a full-year extension of the payroll tax cut for working families."
In a statement, Reid praised Boehner for agreeing to the Senate-passed deal. "I am grateful that the voices of reason have prevailed," he said.
While the final deal represents a fairly stunning defeat for House GOP leadership, on strict policy terms, the Republican Party was able to secure some major concessions. Democrats initially wanted to impose a new tax on incomes above $1 million as a way to pay for the measure. That was scrapped. The president had also vowed to oppose any payroll tax extension that forced his administration to build the Keystone pipeline, a pending project that would carry crude oil from Canada through the United States. The final bill doesn't force construction, but it does require that a decision be made within 60 days. However, those victories became obscured by the fumbled effort by House Republican leadership to lock in even more concessions. Their efforts to hold out for a year-long bill were driven by a desire to attach even more spending cuts to a final package.
Boehner acknowledged that engaging in a payroll tax fight "may not have been politically the smartest thing in the world to do."
He demurred when asked if, during the conference call, his members gave assurances that they wouldn't oppose the Friday vote. "I don't know that," Boehner said, "but our goal is to do this by unanimous consent."
He also declined to say whether this was the worst week of his tenure as speaker, saying only, "Sometimes it's politically difficult to do the right thing."
Despite being the one who ultimately broke through the partisan logjam on the issue, McConnell nevertheless took a shot at Obama for "castigating House Republicans" throughout the process. The president's criticisms of House Republicans "amounted to the kind of unhelpful political opportunism Americans are tired of," McConnell said in a statement. "The President seems to forget that the only reason we are even discussing an extension of temporary measures like the payroll tax cut and unemployment insurance is his own failure to turn our nation's economy around nearly three years into his administration."
If all goes as planned, the House and Senate will both take up and pass the deal and be done with it by Friday. But it still may not be smooth sailing ahead. House Republican rank-and-filers rebelled last week when Boehner presented them with his initial deal with Reid. Those same frustrated members could oppose Friday's vote and force the House to come into session next week for a record vote.
Boehner said he would "absolutely" call the House back in next week if someone objects to the expedited vote on Friday.
But given the week-long pummeling they took from the White House, the Senate and even some in their own party, House Republicans were already throwing their support behind a short-term deal before the new detente was announced.
Critical for the deal, at least for House Republicans, was the resolution of a highly technical payroll administration matter. The final agreement will eliminate a Senate provision that had irked the National Payroll Reporting Consortium. In order to prevent high earners from taking undue advantage of a reduced rate that might last just two months, the Senate bill would have required employers to pay at the full 6.2 percent rate on income above $18,350 during that time.
Workers pay Social Security taxes only on their first $110,000 worth of annual income. If someone earned more than one-sixth of that amount in January and February and the payroll tax cut expired in March, the thinking went, high earners could fulfill their yearly obligation to Social Security at a lower rate than everybody else, and get a break worth some $2,000 in only two months.
Citing the consortium's letter, Republicans had called the bill totally unworkable, though consortium president Pete Isberg told HuffPost it would have been difficult, but not impossible, for employers to implement the new wage cap.
"It's not impossible, it's just it would be very disruptive and costly for lots and lots of businesses," Isberg said.
Making the tweak was no problem for Senate Democratic leaders if it meant House Republicans would sign off on the deal.
"Our staff was happy to make the technical correction, as that concern had not been raised previously," said a senior Democratic aide. "The price tag and pay-fors for the bill remain exactly the same [costs $33 billion, raises $36 billion]."
Best of all, the eleventh-hour deal likely means quick passage of the bill and everyone making it home for the holidays. The Senate won't be in session on Friday "any longer than it takes to read the UC agreement," said the aide.
Calling all HuffPost superfans!
Sign up for membership to become a founding member and help shape HuffPost's next chapter
BEFORE YOU GO