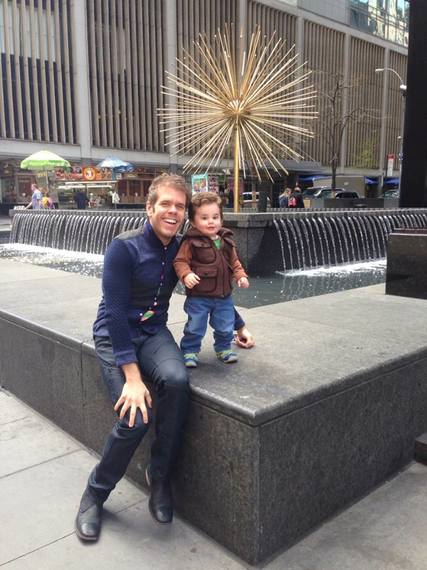 There's a lot of insight in a little Twitter bio. Celebrity blogger and TV personality Perez Hilton's (@PerezHilton) reads first and foremost, "a proud dad."
It's a shock to many, yet Perez says, "What surprised me the most about being a dad was how much it surprised other people." His son, Mario Armando Lavandeira III, born via surrogate, is now a beautiful 14-month-old.
Looking back he says, "When news first broke that I had a son, I was a trending topic on Twitter for over a day. Some of the reaction was negative, but it didn't bother me. Most, however, was positive. Children bring people together. There is a bond parents have with other parents."
While his public persona was a mix of gossip and glam, Miami-born Mario Armando Lavandeira Jr., professionally known as Perez Hilton, insists he always had the ideal of family at his core, in part from his Cuban upbringing.
Perez felt destined for fatherhood and was open about his love of children and desire to have a baby. In fact, he wrote a children's book, The Boy With Pink Hair, which was released in 2011.
So now, on the subject of having a second child, it isn't as surprising when Perez says, "I would be blessed to have more children! Having more kids would make us all happier!"
I wanted to get in-depth with the iconic blogger about the past year of his life as a single, gay dad living in New York and had the opportunity in a candid and thoughtful interview. He opens up about dating and relationships, the joys of parenthood, concerns about discrimination, balancing work and family, as well as the future sexual orientation talk with his son.
Single Dad and Dating?
"I'm not seeing anyone at the moment. But I'd like to be seeing a great man! I've definitely raised the bar for potential paramours after having a child," says Perez.
It's not in his proactive framework to sit back and put off what he wants most. He creates his destiny when he can. The 36-year-old decided not to wait for a husband to start his family.
In terms of a husband, the realization is, "I can't control when or if that will happen! I am hopeful that's in my future, but it's not a certainty."
Then he muses about the joys and challenges of being a single dad:
The joy of being a single dad is getting the love of my son every single day... and the biggest challenge is I put more guilt and pressure on myself because I am his only parent. As a result, my life completely revolves around him. What will make him happiest. And that includes me not being away or traveling as much as I used to. I still have to take the occasional work trip, but we have never been apart longer than two days.
The New Sex Talk
For this generation, the birds and the bees talk has expanded. I wondered at what point Perez is going to have the sexual orientation talk with Mario. "When he asks," responds the proud dad simply. "That will probably be sooner than I would have anticipated telling him. Besides, my son will just always know."

For many supporters of gay rights, it's an exciting time of progress now, but also setbacks. I ask Perez how he feels about the state of society and the world Mario is going to grow up in. He remains cautiously optimistic: "It's my hope that there is not just tolerance, but acceptance and equality nationwide! Soon! We're far from that now."
Old Friends: New Friends
Sometimes when people become new parents, their set of friends changes. Maybe because they want to hang out with other overtired, overwhelmed people like themselves, there's a changing of the guard.
"I haven't changed or dropped any friends. I've made more," explains Perez. Yet one of the biggest challenges he faces right now is not knowing many other parents with children the same age as Mario:
He doesn't have any little buddies yet, unfortunately. So, to make sure I exposed him to other kids his age I have signed him up for a bunch of classes, almost all of which I take him to myself. He has different classes -- from baby gym, to swimming, to music -- every single weekday. He loves it! And I do too!
A Changed Man
The paradox of parenting is that while it can be a soul-soothing experience, it can also be a stressful and exhausting one.
Perez explains how baby Mario has changed his personality for the better: "I'm a lot calmer since having my son -- more centered -- grounded. My son is like an anchor! He's a constant reminder of what matters most!"

He also discusses his biggest frustration as a parent which is learning how to cope with being more tired and stressed: "It's not easy. But the biggest joy from being a parent is knowing my son is happy -- that smile -- and that makes all those difficult and trying days so much easier."
He also adds, "Each day gets better! That's been another surprise. How much more fun it gets with every passing day... This past year with my son has been magical."
My biggest worry now is preschool! It's such an ordeal in New York City. So I'm trying to be proactive. I've enrolled him into a pre-preschool program and am just being as informed as possible and working every angle for him.
Perez also says he tries not to think about how his celebrity affects him and his son since it's out of his control: "I just sincerely hope -- especially in regards to education and the competitive school system here in NYC -- that my son isn't discriminated against or rejected because I'm his dad."
Career Dad -- What's Next?
PerezHilton.com is one of the most popular online celebrity news sites with over 300 million hits a month. There are also spin-offs including: Perezitos (kid-focused), TeddyHilton (pet-focused), CocoPerez (fashion) and FitPerez (fitness).
What's next for Perez Hilton career-wise? "I'd love to find a regular home on television. I love doing it and think I'm good at it. And, of course, still making all my websites a huge focus -- as always."
Yet his attitude toward work has changed since becoming a father. He emphasizes, "I still work insanely hard, but I no longer let work consume me. My life is more rounded and full."
The Best Advice He's Received And The Best He's Got To Give
Out of all the advice new parents receive, there's usually one recommendation that stands out from the rest. For Perez it's something his pediatrician said: "She told me not to over-think things. Books don't have answers. Every child is different. And no one knows your child -- what they want and need -- better than you do."
Perez also has advice for those who want to have it all: a successful career and family. "Just do it," he says. "Don't wait for that which you want. Human beings are incredibly resourceful. You will find ways to make it work!"
Calling all HuffPost superfans!
Sign up for membership to become a founding member and help shape HuffPost's next chapter