Two African American women have disappeared, only nine days apart -- one in Atlanta, one in St. Louis -- and in both cases, their cars were found with the engine still running.
Also in both cases, the investigation was slowed down because the cars the women were driving had been impounded -- a fact that neither police department realized until several days into the investigations.
The family of 23-year-old Phoenix Coldon of Missouri is now trying to determine if her case could be linked to the disappearance of 36-year-old Stacey English of Georgia.
The young woman's mother, Goldia Coldon, told The Huffington Post that the eerie similarity of the two cases has not escaped the attention of police or support groups for missing persons.
"They are very similar," Coldon said. "[Saint Louis County Police] Captain Troy Doyle, who is working on my daughter's case, said he saw some similarities also."
Atlanta Police Department public affairs manager Carlos Campos also said that investigators are "aware" of the Coldon case and "are planning to reach out to authorities in the St. Louis area as part of our investigation" into English's disappearance.
"If the cases are connected, we are looking at a possible traveling serial kidnapper/killer and there could be more," said Deidra Robey, the organization's CEO and founder.
Coldon was last seen by her mother in the driveway of their St. Louis County home at about 3 p.m. on Dec. 18.
"She was sitting in her vehicle," Coldon said. "She does that often. She'll sit in the car and talk on the phone. That's what I thought she was doing. When I looked out again, her vehicle was gone."
Coldon said she initially thought her daughter had gone to the store, but she did not return that night. Coldon said the following morning she reported her daughter and her black 1998 Chevy Blazer missing to police.
According to Coldon, her daughter's disappearance is highly out of character.
"She is very responsible, very sweet, very athletic and very intelligent," she said. "Phoenix is a regional fencing champion. She plays the piano and plays in the handbell choir at church. Phoenix is loved. Her name stands for a beautiful, unique person of distinction -- that's Phoenix."
Stacey Nicole English was last seen on or about Christmas day. Following a Christmas gathering at her grandmother's, English went to her home in the exclusive Vanderbilt complex on Lenox Road in Buckhead.
English's step-father, Rev. Kevin Jamison, told HuffPost on Wednesday that Robert Kirk, a resident of St. Louis, had been visiting with her, but the two allegedly got into an argument.
"The gentleman said they got into a dispute and she put him out of her house on Dec. 26 around 10:30 p.m.," Jamison said. "That person has now gone back to Missouri."
On Dec. 27, English's disappearance was reported to police. Her vehicle, a white, four-door 2006 Volvo S60, was also reported missing. The disappearance of English, an active churchgoer with a bachelor's degree in political science, is also "very out of character," according to her father.
"She talks to her family and friends two or three times a day, and no one has had any contact with her," Jamison said earlier this week.
On Jan. 1, Coldon's family found out her missing Chevy Blazer had been impounded at about 6:23 p.m. on the day she went missing. The vehicle was discovered about a 25-minute drive from her home, at 9th and St. Clair in East St. Louis. The keys were in the ignition with the vehicle running, and the driver's door open.
The car had been towed and entered into the police computer as an abandoned vehicle.
"We were never officially notified the car was towed," said Goldia Coldon. "We found out through friends of the family. The car is in my name. All they had to do was run the license plate."
It remains unclear why the vehicle's discovery was not announced sooner. The East St. Louis Police Department, the agency assisting in the case, did not immediately return a call for comment from HuffPost. St. Louis County Police declined to discuss the case.
"We're not talking about an active investigation," St. Louis County Police Officer Rick Eckhard said.
According to Coldon, her family had to complain to the mayor's office to get the impound bill -- in excess of $1,000 -- waived.
In another apparent similarity between the two cases, English's vehicle was also impounded around the time she is believed to have gone missing -- and it appears police failed to realize this.
Ten days after the search for English began, on Jan. 5, Atlanta police admitted that the woman's vehicle had been in possession of city authorities all along. It was impounded on Dec. 27, the day she was reported missing, and was recovered in southwest Atlanta.
Atlanta Police Crimes Commander Maj. Keith Meadows said the engine was running when English's car was found. The vehicle had been towed from 215 Lakewood Way, which, according to English's step-father, is about 15 to 20 miles from her apartment.
"When my Missing Persons detectives ran the vehicle, it didn't show as being in impound," Meadows said at a recent press conference. "What we're trying to find out is what happened during that process."
While authorities in Atlanta dealt with the situation surrounding English's vehicle, police in St. Louis on Jan. 5 were conducting searches around the area where Coldon's vehicle had been found weeks earlier. Members of the St. Louis County police department searched the area with the assistance of cadaver dogs.
"They did one search with the cadaver dogs in that area," Goldia Coldon said. "My daughter is not lying in weeds in the cold. She's not. I know that. I know in my heart."
On Jan. 6, authorities in Atlanta intensified the search for English. Mounted police and K9s conducted searches around the area where her vehicle was found.
English's mother, Cindy Jamison, questioned why the search had not been conducted sooner. "I'm not sure why they had waited until yesterday. I'm really not sure," she told The Huffington Post Saturday.
"We are out here today at two different locations with hundreds of her friends canvassing the area and handing out flyers," Jamison added.
Speaking with the Atlanta Journal-Constitution, Keith Jamison said the family has not felt "completely in the loop" in regard to the police investigation.
The Atlanta Police department, according to Campos, wants to "speak further with Mr. Kirk."
Earlier this week, WSB-TV and several other media outlets reported that Atlanta police had named Kirk a person of interest in the English case. But in an email to The Huffington Post, Campos denied the veracity of those reports, saying that Kirk had not yet been named as a person of interest.
Atlanta authorities released on Friday the police incident report regarding English's disappearance. The report alleges that Kirk told detectives English began "acting peculiar and out of character" the night of Dec. 26. He said she began "screaming in the apartment and shouting biblical scriptures and indicating that the world was coming to an end." Kirk said that he left around 10:30 p.m., after English "began asking him if he was Satan" and told him to leave "her residence immediately."
READ THE POLICE REPORT: (Article Continues Below)
The report also mentions English's friend, a woman named Michelle Strothers, who allegedly told police that when she last saw English, her friend "appeared upset" and told her "she felt as if someone was attempting to hurt her."
English's parents have said they noticed no indication of any erratic behavior and do not believe the statements about their daughter.
Contacted by HuffPost, Kirk referred questions to his attorney, Scott Rosenblum.
"Mr. Kirk has completely cooperated in every way with the authorities and provided all the information that he could. He has nothing to hide," Rosenblum said.
Meanwhile, the search for answers for both families continues.
"I pray that the Lord will send his angels to surround them with love and will send his warrior angels to conquer whatever evil is around here to the extent that evil will go," Goldia Coldon said.
Phoenix Coldon is described as 5 feet 6 inches tall and weighs approximately 125 pounds. She has reddish brown hair and pierced ears. She was last seen wearing gray sweatpants with the word UMSL printed vertically down one pant leg, a dark hoodie and tennis shoes. Anyone with information on the case is asked to call St. Louis County Police at 314-889-2341. The family has a group about her case on Facebook.
CORRECTION: A previous version of this article incorrectly identified Rev. Kevin Jamison as the father of Stacey English. He is the step-father. English is the biological daughter of Anthony English.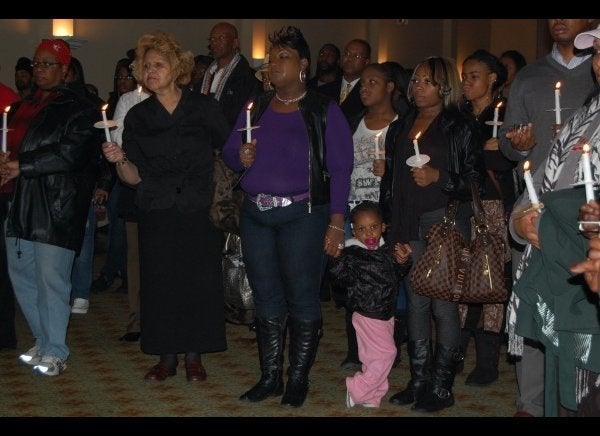 Stacey English
Related
Popular in the Community